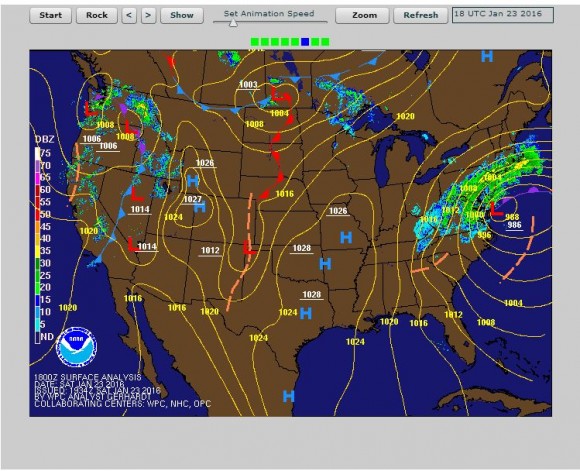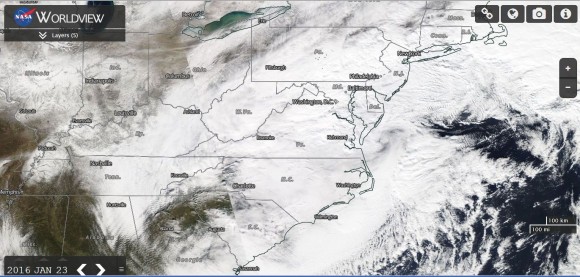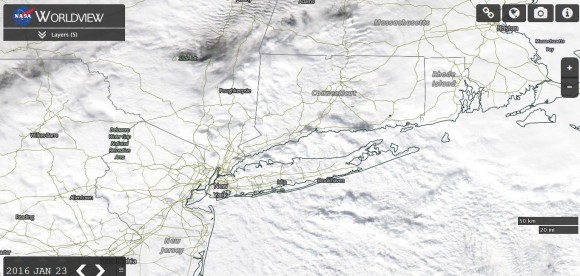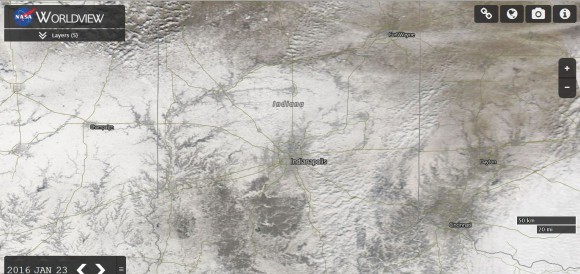 The snow storm impacting the North east United States is creating havoc and grinding cities to a halt. Major cities across the north east impacted are New York, Washington DC, Baltimore, Philadelphia, Pittsburg, Boston, Wilmington, Hartford, Indianapolis, Cincinatti and Louisville. It soon becomes clear how 85 million residents are impacted by this event simply due to the number of major cities in its path.
This storm is now proving to be deadly and it appears that there are 14 casualties to date mainly from road accidents and people attempting to shovel snow but suffering heart attacks in doing so.
It is such a powerful storm that the National Weather Service is forecasting blizzards to impact Washington DC, New York City, Philadelphia, Long Island and other cities.
Coastal flood warnings are also in effect from Virginia to Massachusetts.
At 9 pm (EST), the core of the low pressure cell with a minimum pressure of 986 MB was located off the Virginia eastern shore line approximately 209 km south east of Wallops Island.
Some incredible snow falls to 9 pm (EST) has been recorded:-
Monroe - Connecticut (21 inches or 425 mm).
National Zoo - Washington DC (22 inches or 450 mm).
Anacostia - Washington DC (19 inches or 375 mm).
Lawson - Kentucky (19 inches or 375 mm).
West Harwich - Massachusetts (13 inches or 325 mm).
Redhouse - Maryland (38 inches 965 mm).
The National Weather Service is reporting exceptional snow falls across Maryland including North Potomac 36.5 inches (927 mm), Maugansville and Pecktonville (3 miles NNW) (36 inches or 914 mm).
Jacksonville - Maryland (27.5 inches or 698.5 mm).
Baltimore - Maryland (16 inches or 400 mm).
Madison - New Jersey (28 inches or 711.2 mm).
Newark Airport - New Jersey (16.5 inches or 419 mm).
New York City
New York City / JFK Airport (27.7 inches or 704 mm).
Central Park (925.1 inches or 637.5 mm).
Somerset - Pennsylvania (35.5 inches or 901.7 mm).
Ohilomont - Virginia (39 inches or 990.6 mm).
Gainsboro - Virginia (38 inches or 965.2 mm).
Glengary (1 mile SE) West Virginia (40 inches or 1,016 mm).
These are selected locations with the heaviest falls but they provide an idea of the scale of the event.
There have been peak wind gusts to 75 miles per hour at Dewey Beach (120.6 km/h) and a peak wind gust of 73 miles per hour (117.4 km/h) at Siasconsett (Massachusetts).
The core of the low appears to be moving away from the Mid Atlantic Coast and snow should taper off during Sunday.
(National Weather Service storm summary 10.32 pm Sat Jan 23 2016)
Reports in CNN suggests that this is the third heaviest snowfall for Central Park (New York) since records began in 1869 and CNN also reports 7,421 flights cancelled and 150,000 without power.
This is shaping up to what is termed a "Nor Easter". A Nor Easter is a powerful storm that occurs between October and April which has a counter clockwise centre of rotation like a hurricane with winds from the north east. There are two elements that create the necessary conditions being a warm low pressure system from the Gulf Stream providing counter clockwise winds and a cold high pressure system from Canada with a clockwise rotation. The warm air cutting up through the cold air creates an unstable front. A nor easter brings large cloud masses, heavy rain or snowfall, flooding, storm surges and even gale force winds. Robert Coenraads (Natural Disasters) 2006 pp 313
These sort of storms are responsible for some major snow events or winter storms in recent years including "The Blizzard of 2003" (February 15 and 16 2003) and Boston (Saturday January 22 2005). Perhaps the worst such event was the storm of January 1922 in which Washington DC experienced record snowfalls of 61 cm in 48 hours with the roof of the Knickerbocker Theatre collapsing under the weight of the snow resulting in 98 fatalities. Robert Coenraads (Natural Disasters) 2006 pp 296 - 312.
The storms often feature such heavy snow falls resulting in transport systems shutting down. Fatalities often result from car accidents and unfit people attempting to shovel snow. The weight of snow and ice on trees can fell tree limbs and disrupt power systems.
Another frightening aspect of these storms are the ice storms that can accompany them. They do fell power lines and in wet conditions, there is a threat of electrical shock if touched.
People have become marooned on highways in past storms due to vehicles becoming buried by snow sometimes with fatal consequences.
The kind of weather currently unfolding across the north east United States is similar to what is described here.
One of the satellite images shown is a view of Indianapolis. The storm has cleared to the east leaving the entire city snowbound with heavy snowfall evident. The disruption to that city will be replicated elsewhere across the region. Another issue to contend with is the melting snow and the probability of flooding in low lying regions as snow melts.
CREDITS
1 - CNN 23/1/2016 (Verify number of cancelled flights, power disruptions and known fatalities)
1 - Robert Coenraads (Natural Disasters) 2006 pp 296 - 312.
2 - National Weather Service storm summary 10.32 pm Sat Jan 23 2016 and synoptic chart.
3 - NASA (MODIS WORLDVIEW 23/1/2016) of Indianapolis and North East United States acquired 23/1/2016.
Related Terms: