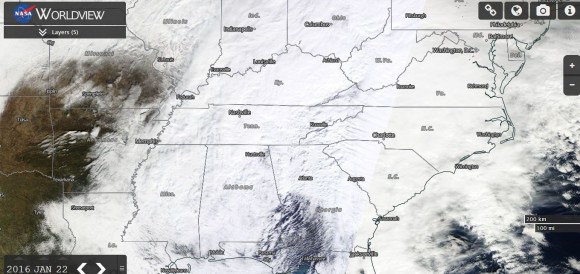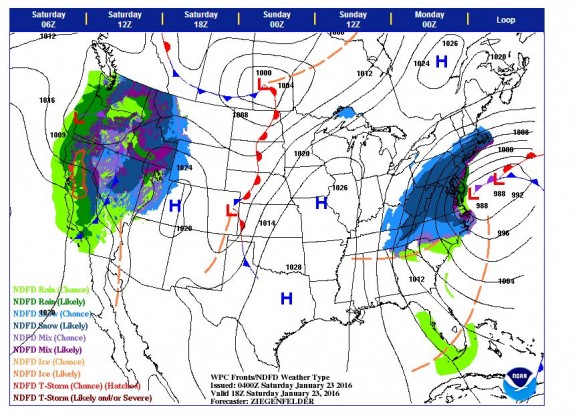 A powerful and deep low pressure cell and associated cold front is making its way along the eastern third of the United States and is expected to move north east over the next 2 days.
This is no ordinary weather event because this is a powerful and potentially deadly winter snow storm with the primary impact being deep snow falls and bitter cold temperatures. This storm has the potential to impact tens of millions of residents in cities such as New York, Washington DC, Philadelphia, Boston and others.
The National Weather Service is forecasting rapid accumulation of snow of 6 to 10 inches (150 mm to 250 mm) in some areas during the course of the winter storm. Wind speeds of 10 to 15 miles per hour (16 to 24 km/h) with gusts to 50 miles per hour (Approximately 80 km/h) are also forecast for many areas. This is combined with the amount of snow and below freezing temperatures.
For example, in Charleston (West Virginia), 5 to 9 inches (125 to 175 mm) of snow is being forecast with a maximum high of 26F (Minus 3C) for Saturday.
In York (Pennsylvania), 11 to 17 inches of snow (225 mm to 425 mm) is forecast for Saturday with a maximum high of 29F (Minus 2C).
In Philadelphia, 8 to 12 inches of snow (200 to 300 mm) is being forecast for Saturday with a maximum high of 31F (Between 0C and minus 1C).
In New York City, 5 to 9 inches of snow (125 to 175 mm) is forecast for Saturday including blowing snow and poor visibility.
In some areas sleet is expected including snowfall.
This would be repeated across swathes of the north east United Sates including New York State (Including New York City), Pennsylvania, southern Ohio, eastern Tennessee, much of inland North Carolina, New Jersey, Delaware and surrounding areas.
An NDFD Graphic / Weather Type of the United States from NOAA clearly shows the likely areas to be affected by the powerful winter storm. It is identified that extreme coastal areas are likely to see more rain than snow but snow will certainly feature further inland.
Such events often cause havoc with road transport with dangerous road conditions and disruptions to air traffic and essential services in cities. Traffic accidents are common and fatalities also occur. It is estimated that 85 million residents reside in the path of the storm and hence its impact is expected to be significant.
The attached NASA Worldview satellite image for eastern United States clearly shows the winter snow storm with thick cloud evident. The size of the event makes this a potentially damaging event across a wide region.
Conditions are expected to ease throughout during Sunday as the winter system moves further north east away from the affected area.
CREDITS
National Weather Service (USA) for weather data 22/1/2016.
NASA (MODIS WORLDVIEW Satellite photo) dated 22/1/2016.
Related Terms: