Winter storm, cold and snow SE Australia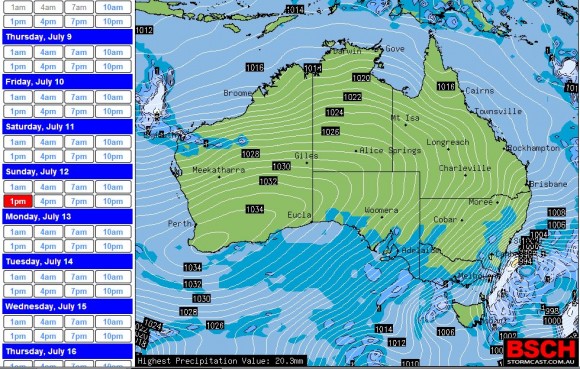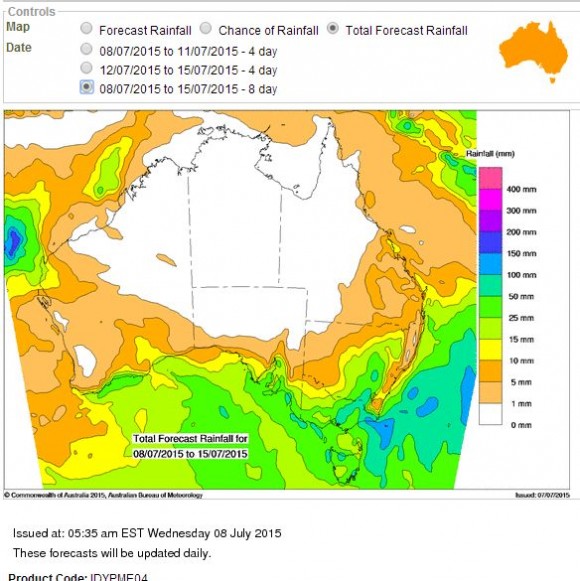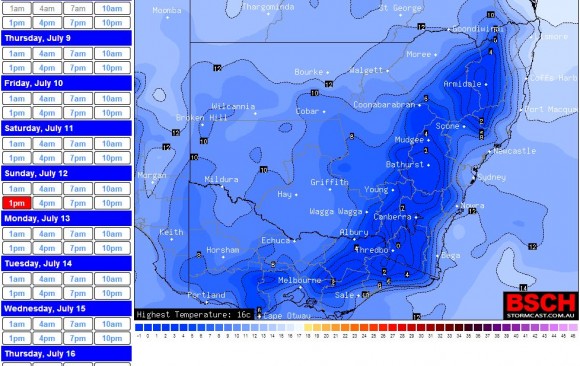 The attached satellite photo acquired from NASA of the Snowy Mountains and the high country of North east Victoria dated 8 July 2015 is showing little snow cover across elevated regions. Light snow fell on July 3 across the higher areas and there is an official cover of 8 cm at Spencers Creek (Snowy Hydro). The snow season has been described as poor due to lack of natural snow cover.
However, a very significant weather system according to various weather models is expected to pass over south east Australia commencing on Thursday and Friday with the main system and cold air coming through on Sunday and Monday. This system should it eventuate will result in some rainfall across the central and southern inland of New South Wales and much of Victoria especially the east and north east. The best falls for New South Wales are expected to occur over the central west slopes (The hillier regions) and the south west slopes (The hillier regions) with precipitation occurring as snow at higher levels. The attached model from the Water and Land (BOM 8/7/15) is the forecast rain covering the whole event. The model also suggests a distinct rain shadow along the coastal fringe.
Weather models point to a major surge of cold air from the south and south west as the system passes over. The models suggest that the air is so cold that there is the potential for snow to occur right along the ranges to low levels. So much so, forecasts are being made for some snow to fall at Lithgow, Oberon, Crookwell and Katoomba for Sunday and Monday.
Some suggested early forecast maximum temperatures for Sunday and Monday include:-
Katoomba - Sun - Max 6C. Mon - Max 7C.
Orange - Sun - Max 3C. Mon - Max 5C.
Lithgow - Sun Max 5C. Mon - Max 6C.
Goulburn - Sun Max 5C. Mon - Max 7C.
Cooma - Sun Max 6C. Mon - Max 8C.
Crookwell - Sun Max 4C. Mon - Max 5C.
Oberon - Sun - Max 3C. Mon - Max 4C.
Oberon sits at 1,177 metres above sea level and there are hills that are higher in elevation nearby. It would be reasonable to suggest that more snowfall would fall across the Oberon Plateau given its elevation.
Even Sydney will feel the cold outbreak where maximum daily temperatures are forecast to be within the range of 13C to 15C with cold south to south west winds prevailing.
The attached synoptic chart from the BSCH (GFS - acquired 8/7/15) suggests an intense low pressure cell off south east Australia (1 pm period Sunday afternoon) driving very cold south and south west winds over the whole of the south east. A temperature plot suggested for the same 1 pm period (BSCH) equally shows the cold temperatures.
This event should it eventuate would provide a significant boost to the snow cover for the ski resorts. However when conditions settle down, another bout of very cold overnight conditions are likely to occur across the south east as the next high pressure cell moves across.
Related Terms: