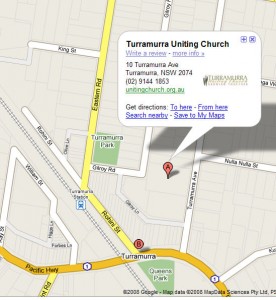 Location: Turrumurra Uniting Church, Turrumurra - 10 Turrumurra Avenue, NSW
The next meeting of the AMOS Sydney Weatherwatch Group will be held at our Turramurra on Wednesday 28th August 2013 at 7:30 pm (19:30) for a 7:45pm (19:45) start.
OUR GUEST SPEAKER will be will be John Dailey from the Turramurra Community Garden who will speak on "Gardening and Weather; The establishment and growth of the Turramurra Community Garden".
Additionally, Jimmy Deguara will show a video of the "The Oklahoma Tornado, the widest tornado in history (4.2km)" and Michael Scollay will present an update about "The Disappearing 2013 Snow Season" which will see +60cm by late August!
PLEASE RSVP to Alan Williams if you have not done so already.
Alan's Contact Details: Phone (02) 9488 9975 or e-mail: [email protected]
Also use Alan's Contact Details for apologies, enquiries and to update your email address etc.
PARKING is available in the Council car-park accessed from Turramurra Avenue, north of the Pacific Highway. The Turramurra Uniting Church entrance is on the north side of the car-park.
Regards,
Michael Scollay
0423 555 240