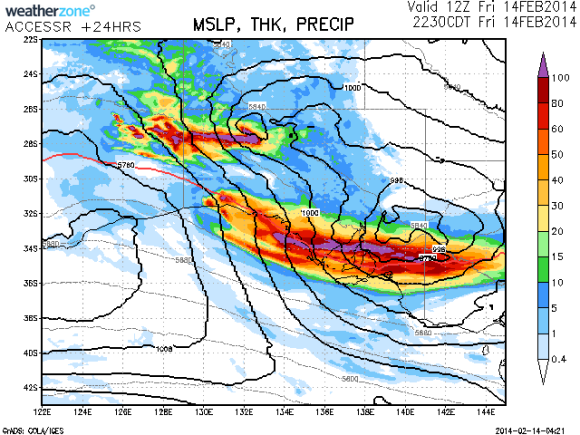 South Australia southern and south east region is expected to receive substantial falls of rain today and hopefully this will be sufficient to put out any bush fires! South Australia has been experiencing drought and some record heat wave conditions with temperatures into the 40C and above on many days this summer including Adelaide. More than 70mm of rain and flooding due to blocked drains have occurred in Adelaide causing chaos on the roads with their heaviest rain in 40 years! More rain is predicted today as the system winds across the state!
Rainfall totals would be mostly in the 50mm range but falls of up to 100mm are possible if the models hold correct. The system which was in north western Australia creating moderate to major flooding has begun to break down and the associated cloud band will spin off into the southern parts of South Australia in spectacular fashion! Significant rainfall should also be experienced in the deserts across the north of the state from another region of activity.
The associated low pressure system and trough with cloud band should exist the region and move into NSW today and over the weekend providing much relief from one of the worst droughts on record!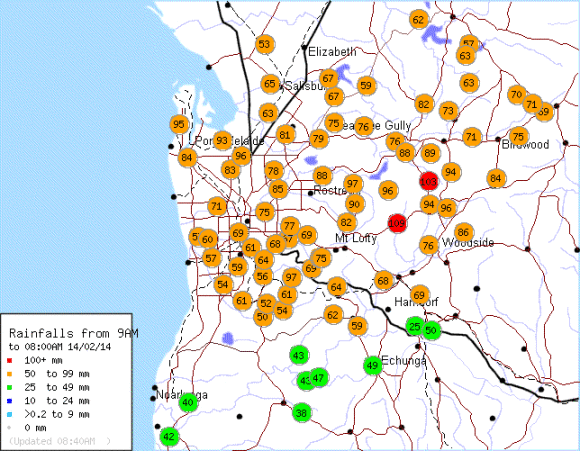 Related Terms: