The Weather Channel Vehicle from Mike Bettes and crew that thankfully and luckily survived the tornado!

This picture above sent shock waves being that it was from a storm chaser. Little did I know that it was from The Weather Channel team caught in the infamous video taped tornado escape.

This photograph is a closeup view of the vehicle across the road - chances of survival becomes slim when the vehicle is crushed and with glass breaking debris being hurled around at high speeds.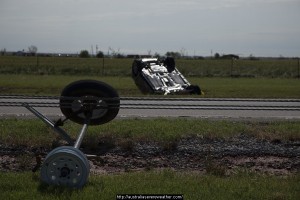 This vehicle was one of the victims if this tornado. The axle lay on the opposite side of the road - was not sure from which vehicle it came from.