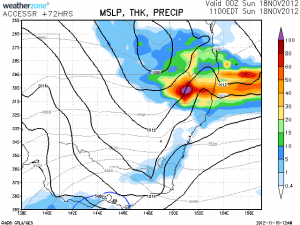 There is the potential for some decent rainfall totals over northern NSW as a system winds up in the region particularly overnight Saturday into Sunday. This has been on the cards for some days. Interestingly, the usually excited GFS model was in disagreement this morning on the positioning of this event moving into SE Qld. Storms are possible immediately behind the rain region.
Some storms if the right conditions occur could become quite severe with very large hail and strong winds. Some are even talking the possibility of tornadoes given the low level wind shear environment.
There is a little concern in terms of the mid-level cloud and now the SE change that is expected into Brisbane.
Related Terms: