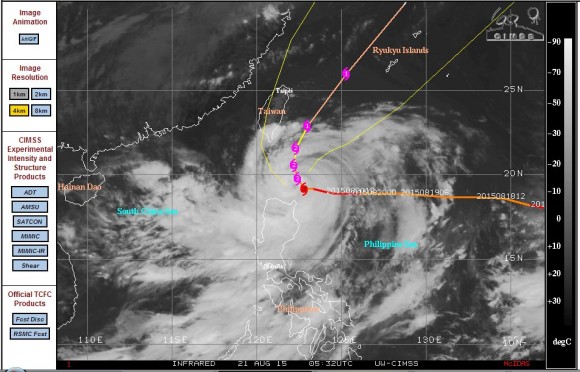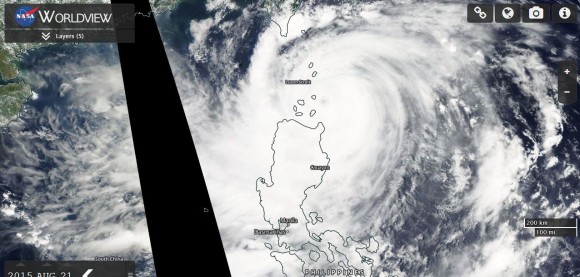 Typhoon Goni (Ineng according to PAGASA) is giving northern Luzon (Philippines) a glancing blow. The storm appears to have come closer to Northern Luzon Island than originally anticipated. While the eye of the storm remains out to sea, much of the southern portion of the storm is passing across northern Luzon Island producing potentially flooding rains.
The storm is currently moving over the Balintang Channel and is presently located at 19.3 degrees north and 122.4 degrees east.
Winds at the centre are calculated at approximately 170 km/h with higher wind gusts to 205 km/h according to PAGASA.
PAGASA is forecasting a slow movement of 7 km/h towards the north west.
The storm has become more of a threat to northern Luzon Island and it is possible that the storm may come to within 60 km of Basco Batanes.
Due to heavy rain, a flood warning is now issued for the Cagayan Valley and wind alerts are issued for coastal northern Luzon Island.
The CIMSS Model attached (Acquired 21 August 2015) has suggested that the storm would move towards Taiwan and pass to the east of Taiwan but a closer view of that shows the eye of the storm further west than forecast.
It is not clear whether the storm will follow the course as suggested. The storm is moving very slowly at the present time and it is clear that the storm has slowed.
It will be interesting to see whether the storm does change course and take a more northerly path. If not, then a new forecast would be required.
The MODIS (Worldview) acquired from NASA dated 21 August 2015 is showing the storm affecting a significant portion of northern Luzon Island north of Manilla. However the visible eye remains out to sea. Given the slow movement of the storm, it is likely that flooding will be an issue for areas of northern Luzon Island.
Related Terms: