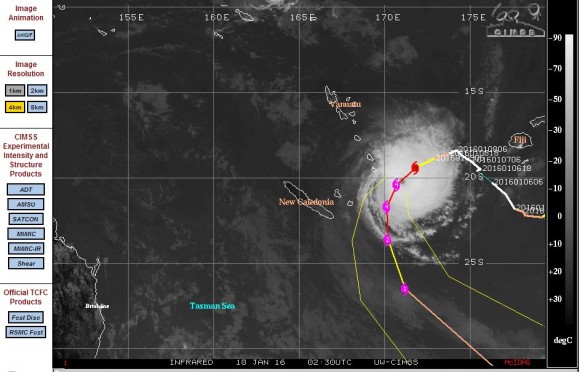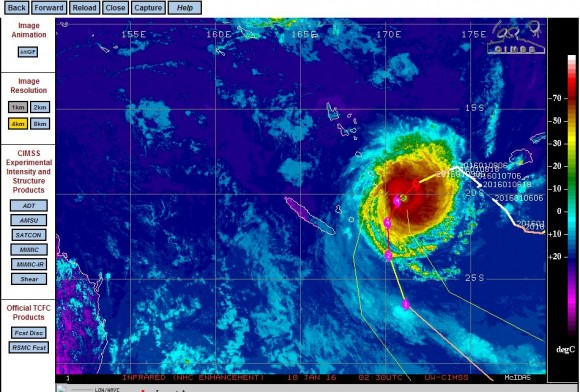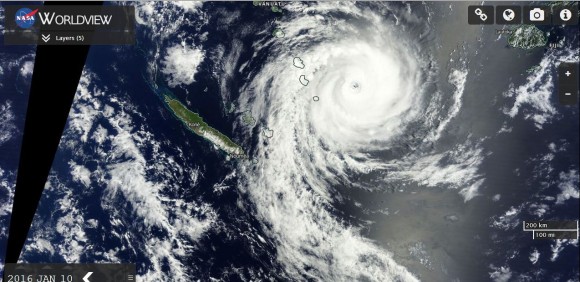 Tropical Cyclone Ula initially formed south east of Western Samoa but eventually decayed to a tropical storm over open ocean. The storm has since redeveloped into a tropical cyclone a second time which was not expected.
To date, the storm appears to have been taking an erratic path and has missed any population centre. The storm now a tropical cyclone is north east of New Caledonia and much closer to Australia.
Forecast models from CIMSS suggest the storm would track south then decay a second time over open ocean.
Most interestingly, the storm appears to have rapidly redeveloped within a favourable environment over waters that are only 28C. CIMSS forecast models suggest a storm reaching Category 4 on the Saffir Simpson Scale before decaying with maximum peak winds of 125 knots or approximately 231 km/h.
This is only a small storm but has an intense band of rain and wind surrounding a well developed eye.
The storm has encroached towards the north east Queensland coast and would be visible on local weather charts over coming days. Should the storm not follow the forecast track as per the model, then this could become an interesting storm to watch as it would effectively be within Australian waters.
CREDITS
1 - CIMSS Forecast track for the tropical cyclone.
2 - NASA (Worldview with overlays) satellite image dated 10/1/2016.
Related Terms: