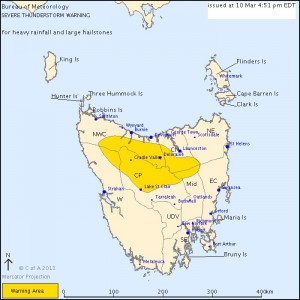 Not that common for Tasmania to get warnings and it seems the heavy rainfall has lead to a flood watch. This is good news in some ways given the extensive bushfires they have had to endure!
TAS Severe Thunderstorm Warning: Large Hail, Heavy Rain
Source: Bureau of Meteorology
---

For people in parts of the Western, North West Coast, Central North, Central Plateau and Midlands Forecast Districts.
Issued at 3:45 pm Sunday, 10 March 2013.
Severe thunderstorms are likely to produce heavy rainfall that may lead to flash flooding and large hailstones in the warning area over the next several hours. Locations which may be affected include Deloraine, Cressy, Lake St Clair and Cradle Valley.
Thunderstorms at Liawenee produced 23mm of rain in 30 minutes at 1pm and a total of 44mm has now fallen there.
Related Terms: