Update - you need to check this - easily to this date the best tornado footage ever filmed in Australia!
Original Source Channel 7
Posted for pure convenience.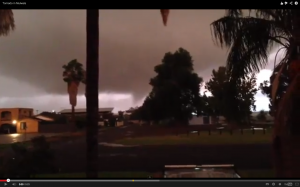 Tornado in Mulwala
There is a definite tornado confirmed by this video from last night. The evidence of this tornado is the tornadic funnel but the touchdown is also confirmed by the power flashes! This means that tornadic winds are shorting power lines in the vicinity of the tornado. Apparently damage has been reported.
Storms are expected in western NSW today and probably extending into northern and eastern Victoria.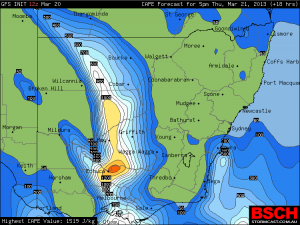 This is the beginning of an episode of storms for the next several days in eastern Australia!
Strong winds are also anticipated in Victoria perhaps accompanying or following this activity as the weather system impacts the region. A short wave trough is impacting the region and will extend further east over the coming days.
From the ABC
http://www.abc.net.au/news/2013-03-22/tornado-at-barooga-nsw/4588468
http://www.abc.net.au/news/image/4588468-3x2-940x627.jpg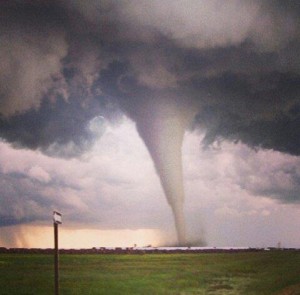 https://www.facebook.com/ron.longley.1/photos_stream
Yarrawonga tornado