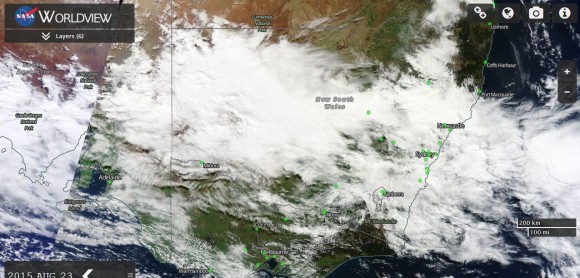 The MODIS (Moderate Resolution Imaging Spectroradiometer) flyover of New South Wales dated 23 August 2015 (Acquired from NASA 23/8/15) identifies a substantial cloud mass affecting the state of New South Wales. Only the far north east and south west portions of the state are not under cloud. Dense cloud affects the inland parts of the state as well as much of the coast where rainfall is occurring.
The cloud will be a feature of the weather over the next few days due to a series of low pressure cells moving through the state that is expected to produce widespread and sometimes moderate to heavy rainfall, especially across eastern areas.
Already rainfall is affecting the Hunter Valley and rainfalls have topped 50 mm for the period 9 am to 3 pm for Sunday afternoon being 53 mm at Careys Park. Increasing rainfall totals of 25 to 47 mm is a feature of much of the Hunter Valley including 46 mm at Cressfield, 38 mm at Wingen, 36 mm at Upper Chichester and 33 mm at Dungog.
This will continue for some time and larger rainfall totals will be expected over coming hours and days.
A feature of this event as identified in an earlier report is that it should be widespread with much of New South Wales, southern inland Queensland and at least eastern Victoria receiving worthwhile totals although the heaviest falls are still expected across eastern New South Wales.
It is also understood that some storm activity occurred overnight Saturday / Sunday and this morning, I observed a single lightning flash and ensuring thunderclap from an early morning rain cell that passed over Castle Hill prior to sunrise. Rainfall totals for Sydney from that event were not significant being within the range of 1.5 mm to 8 mm but with rainfall being forecast for the next few days, it is expected that rainfall totals will rise.
The MODIS satellite photo provided is from Worldview which has been modified using overlays. This provides a better account as to where the cloud mass is located and areas that are likely to receive rainfall over the next several hours.
Related Terms: