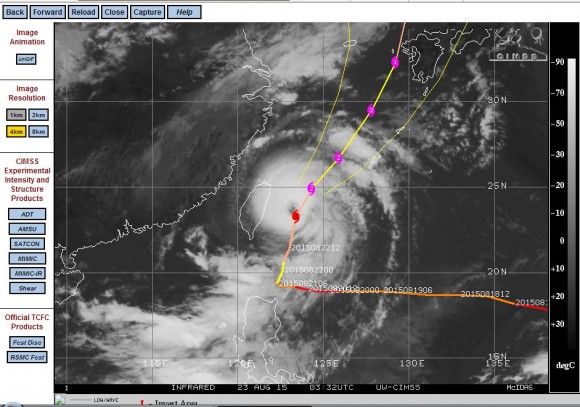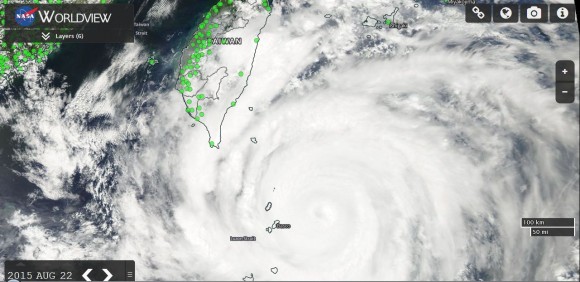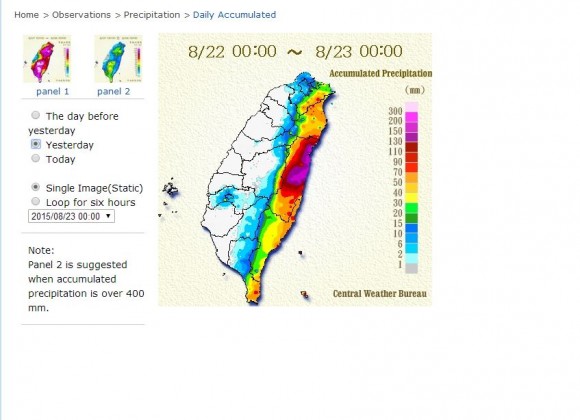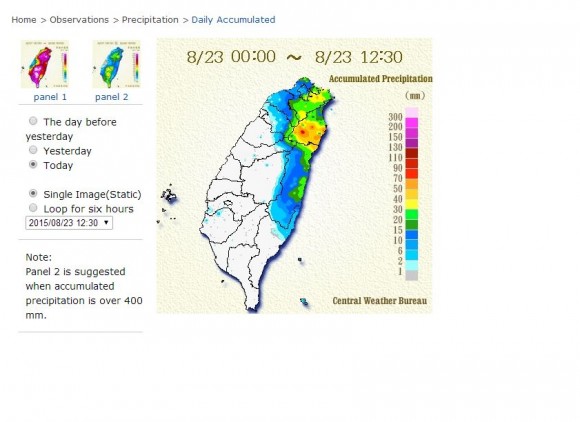 Typhoon Goni is one remarkable Typhoon. Following its close encounter with northern Luzon Island that brought heavy rain, the storm at one point ceased its movement towards the west north west and changed direction by approximately 90 degrees only to start a new course towards the north north east.
The storm has moved further away from northern Luzon Island and is now brushing the eastern side of Taiwan producing heavy rain. During the past two days, Typhoon Goni has reduced in strength from a Category 3 storm to a Category 1 storm producing winds of approximately 80 knots at the core (Approximately 148 km/h).
The Central Weather Bureau of Taiwan is forecasting the storm to move north eastwards at a speed of 19 km/h which may increase to 25 km/h towards southern Japan.
During its closest approach to Taiwan, the storm is producing some heavy rainfall. For the period 23 August 2015 from midnight to 12.30 pm, the heaviest rainfall includes:-
Station Number COU71 at Taipingshan - Datong Township in Yilan County - 84 mm.
Station Number 01U56 at TAI PING SHAN 1 - Datong Township in Yilan County - 83 mm.
Station Number C1USI at Gulu - Datong Township in Yilan County - 78 mm.
Total accumulated rainfall for the period 21 to 23 August to 12.30 pm 23/8/15 includes:-
252.5 mm at Lanyu Township (Taitung County).
229.5 mm at Hualien City.
180 mm at Punglin District (New Taipei District).
171 mm at Nan AO Township Yilan County.
112 mm at Nangang District (Taipei District).
The heavy rainfall is limited to the eastern side of the island with the mountains providing an effective barrier to any rain penetrating to the west coast. It is expected that little or no rainfall will occur across the western side of the island.
The latest CIMSS model for the storm acquired from CIMSS and dated 23 August 2015 is attached. Of particular interest is:-
1 - The change of direction just north of the Philippines towards southern Japan.
2 - The storm reached Category 4 status on two occasions.
3 - The visible eye.
4 - Typhoon Goni is a much smaller storm when compared to previous days.
NASA has calculated that the storm is producing as much as 88 mm of rain per hour at the centre.
The MODIS Worldview image with overlays of the storm is attached and dated 22 August 2015. The centre of the storm is just north east of Basco Island. (Image acquired from NASA dated 22/8/15).
Two images of the rainfall impacting eastern Taiwan is attached (Acquired from the Central Weather Bureau Taiwan 23/8/15). Eastern Taiwan was badly affected by Typhoon Soudelor and this storm follows on the heels of that event. Given the rainfall that is occurring, this will be making recovery efforts more difficult.
Related Terms: