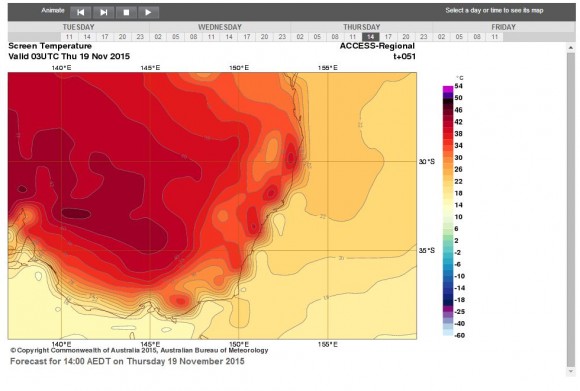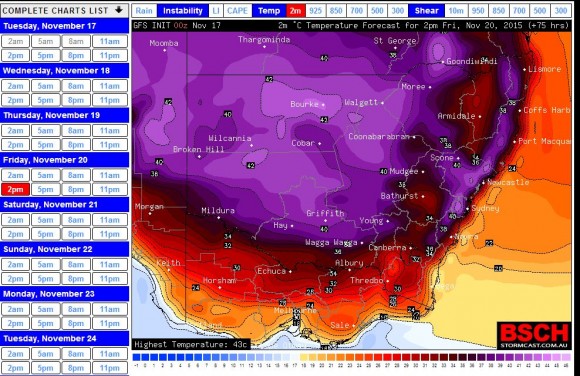 Following recent storms and heavy rain, a dramatic turn of the weather is now developing across south east Australia. The turn of events shows how variable and dramatic weather can be over the space of a few days across south eastern Australia.
A strong high pressure cell now in the Tasman Sea will dominate much of eastern Australia until Saturday. Hot dry north west winds should become a feature and maximum daytime temperatures are predicted to rise to well above average.
When compared to recent days, this is quite significant. It was only last Saturday at Blacktown where the maximum temperature struggled to reach 20C. However by Friday, the maximum temperature may reach 39C. This shows the contrast of what is occurring.
A burst of hot weather is expected to infiltrate much of inland New South Wales and much of Victoria probably except the coastal regions of south east New South Wales being the south coast, far southern coastal Victoria and the higher regions of both states (Alpine areas).
Forecast models and official forecasts suggests temperatures reaching as high as 43C at some inland centres such as Ivanhoe and Tibooburra. Additionally, many centres are expected to have their first 40C days for the summer season including Gundagai, Griffith, possibly Young and even Penrith.
Some maximum forecast temperatures for the three days include:-
Albury - (Wed 34C), (Thu 38C) and (Fri 37C).
Broken Hill - (Wed 39C), (Thu 41C) and (Fri 41C).
Corowa - (Wed 34C), (Thu 41C) and (Fri 37C).
Griffith - (Wed 40C), (Thu 42C) and (Fri 40C).
Gundagai - (Wed 34C), (Thu 37C) and (Fri 40C).
Hay - (Wed 41C), (Thu 43C) and (Fri 41C).
Ivanhoe - (Wed 40C), (Thu 43C) and (Fri 43C).
Penrith - (Wed 36C), (Thu 37C) and (Fri 41C).
Tibooburra - (Wed 39C), (Thu 42C) and (Fri 43C).
Young - (Wed 35C), (Thu 38C) and (Fri 40C).
A feature of the hot spell is:-
1 - It should last three days until a cooler change moves through on Saturday.
2 - It will be more prevalent across the inland.
3 - It will extend to parts of the coast such as Sydney, the Hunter Valley and north coast but the 40C temperatures should remain mostly an inland phenomena.
4 - The south coast of New South Wales is expected to miss much of the heat so places like Ulludulla and Narooma are not expected to experience much heat due to sea breezes.
5 - Far southern Victoria is expected to remain much cooler especially during Thursday and Friday.
6 - The hottest regions are expected to be around places such as Bourke, Cobar, Griffith, Hay, Mildura and Wilcania during the afternoons of Wednesday, Thursday and Friday.
The attached plots show:-
1 - The forecast temperature from the Bureau of Meteorology ACCESS model for 2 pm Thursday afternoon for south east Australia.
2 - The forecast temperature from the GFS model for 2 pm Friday afternoon.
Related Terms: