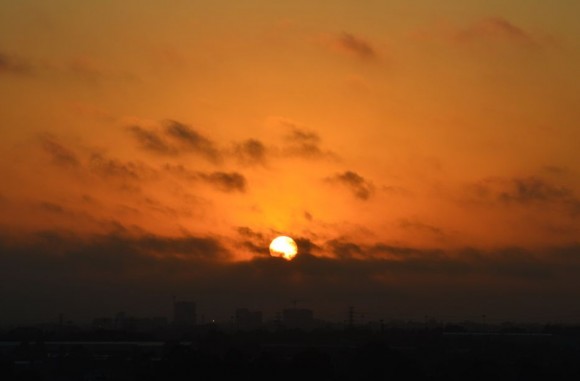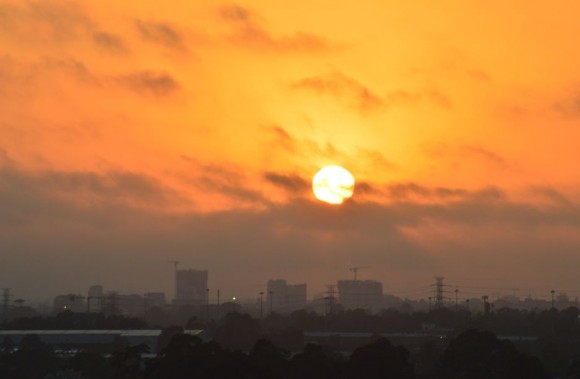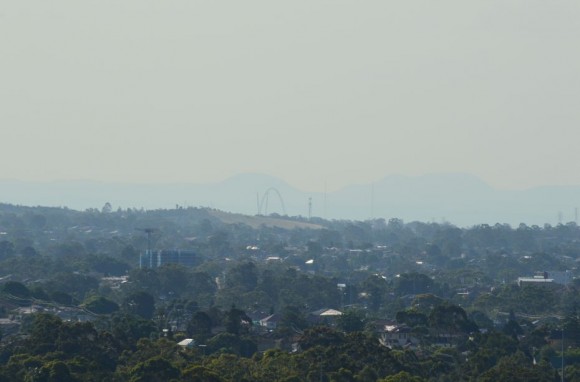 Friday 20 November 2015 was certainly hot across most of Sydney with most of the city experiencing 40C temperatures for the first time this season. Some maximum temperatures for the day include:-
Sydney Airport 42.6C.
Penrith 41.1C.
Camden 40.9C.
Sydney Olympic Park 40.5C.
Horsley Park 39.7C.
Richmond 39.6C.
Generally, most of Sydney reached 40C or just under that figure although some areas reached 41C.
The highest temperature appears to be 42.6C at Sydney Airport at 2.03 pm and interestingly the weather station at the airport recorded 42C between 2 pm and 3.30 pm.
It was only Friday 13/11/2015 one week ago when thunderstorms occurred and hence this is a significant change in the space of 1 week.
This was a unique day. In addition to catching the sunrise at around 5.50 am (Two photos attached), early morning presented a sunrise with low coastal cloud. It appears that at sunrise, light south east sea breezes or winds were impacting the coast. The cloud soon disappeared as the morning progressed and the day warmed. At sunrise, it was clear it was going to be a hot day despite the presence of low coastal cloud.
Hot dry north west winds featured across the city and by late afternoon, it was becoming more difficult to see the Blue Mountains due to haze. By late afternoon, a distinct haze dominated the western sky with the sky taking a more whitish colour. The two photos showing the haze late afternoon were taken from the Auburn City Council car park facing west.
The last photo shows a large expanse of the sky but this photo shows the colour of the sky late afternoon with the temperature still around 40C.
Many inland areas of New South Wales also reached 40C. The highest temperature occurred at Wilcannia Airport where 44C was recorded at 3.30 pm. It reached 40C in town at 10.30 am and dropped below 40C by 7.30 pm giving 9 hours where the temperature exceeded 40C.
Other hot localities included Fowlers Gap and Ivanhoe where 42C to 43C occurred. Generally 40C to 42C temperatures were common throughout.
Some other interesting and unique weather phenomena for the 20/11/15
Condobolin (Central West NSW). The weather station at the airport registered 30.9C at 7 am, 37.5C at 10 am and 40.5C at 12.30 pm. It reached 41.1C and at 5 pm, it was still 40.5C. As at 5 pm, the airport had experienced 10 hours with the temperature above 30C. The overnight low of 24.1C was recorded at 11.30 pm (19/11/2015) but the temperature had risen to 28.4C by 4 am making for an uncomfortable night.
Sydney Observatory Hill. The weather station had recorded 32.5C at 11 am then it cooled slightly to 29.8C at 1.30 pm due to easterly winds or sea breezes. Incredible, the hot dry north west winds arrived and by 1.57 pm, the temperature was 34.9C and at 2 pm, it was 37.8C. It reached 40.7C by 3 pm which is amazing due to a change in wind direction. From 1.30 pm to 2.30 pm, the temperature increase is 10.5C in 1 hour.
Belambi (Illawarra). A remarkable temperature change occurred between 3 pm and 3.30 pm. At 3 pm with easterly winds, the weather station had recorded 24.9C. By 3.30 pm with the hot dry north westerly winds arriving, the temperature rose to 38.9C which is a 14C rise in 30 minutes.
Nowra (South coast). A maximum temperature of 41.1C was recorded at 1.52 pm and it was still 40.5C at 4.29 pm. A southerly change dropped the temperature to 25C by 5.03 being a 15C drop in 34 minutes.
Mildura (NW Victoria). This regional city in north west Victoria sweltered in temperature of more than 30C from 9 am to 11.30 pm (19/11/2015). That is 14.5 hours where the temperature reached 30C or more.
Hay (Riverina NSW). The temperature exceeded 30C for a period of 13.5 hours during the 19/11/2015 from 8.30 am to 10 pm.
Penrith (Far western Sydney). The temperature was still 30C at 8 pm (19/11/2015).
This shows some of the more interesting temperatures being recorded during this hot spell which is now ending.
The South Coast of New South Wales being the exposed coast generally missed the heat and hence places such as Moruya, Ulladulla and Narooma had maximum temperatures in the twenties.
The heat has now ended across Sydney with the southerly change arriving after dark providing relief after three hot days.
Related Terms: