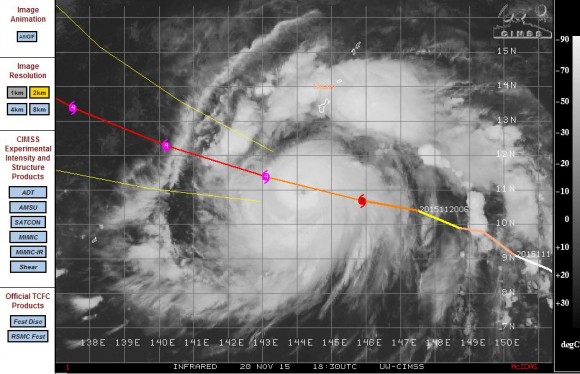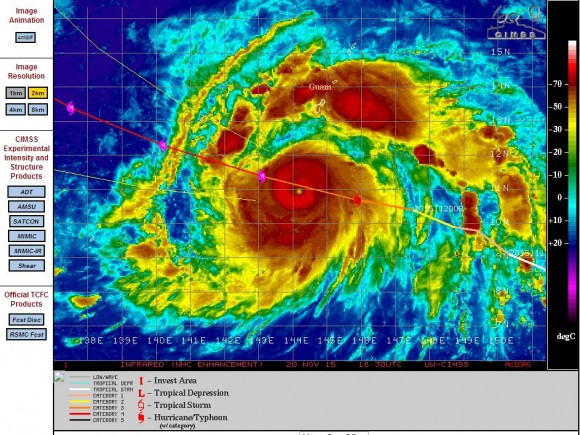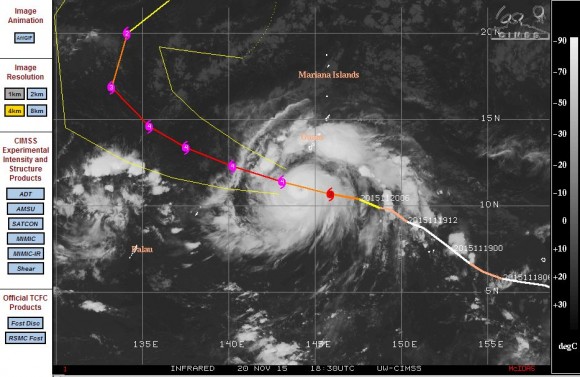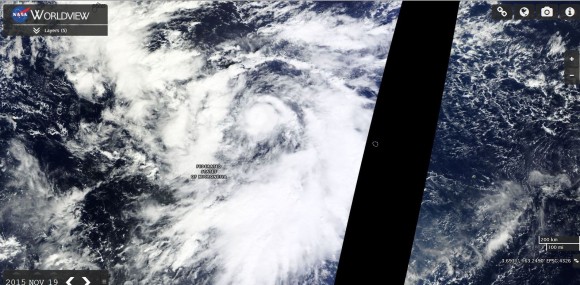 For the past few weeks, the western Pacific Ocean has been quiet in terms of storm activity and the number of typhoons forming has significantly reduced in number.
However, a typhoon has recently developed over open ocean although models do not anticipate landfall occurring with the storm expecting to spend its entire life over open ocean. Despite being mid to late November with the Earth's southern hemisphere more exposed to the sun, it is still clear that typhoons can form across the north west Pacific Ocean.
Typhoon In Fa has formed but it formed during Wednesday at only 5.8 degrees north of the equator and 155.8 degrees east. Its transition to a typhoon was unusually close to the equator. Such storms cannot form any closer because the Coriolis effect is too weak to influence their movement.
Typhoon In Fa is not a threat to any major population centre with its movement being north west. It is well supported by warm waters of 29C to 30C.
Typhoon In Fa according to the CIMSS model is set to become a powerful typhoon being a Category 4 storm in coming hours with peak winds in excess of 125 knots (231 km/h) making this storm quite significant for this time of the year. It is expected to curve move north west in coming days then northwards then weaken as it encounters cooler waters.
Strong convection is visible as well as a small eye and separate thunderstorms are visible to the north and north east of the main core. The storms are passing over Guam but the main core of the storm is passing to the south.
The plots showing the storm acquired from CIMSS 21/11/2015 are provided below.
A Worldview image of the storm from NASA (19/11/2015) shows the typhoon near the Federated States of Micronesia but north east of the islands. The image at the time shows the storm with a small compact core surrounded by clusters of thunderstorms.
Related Terms: