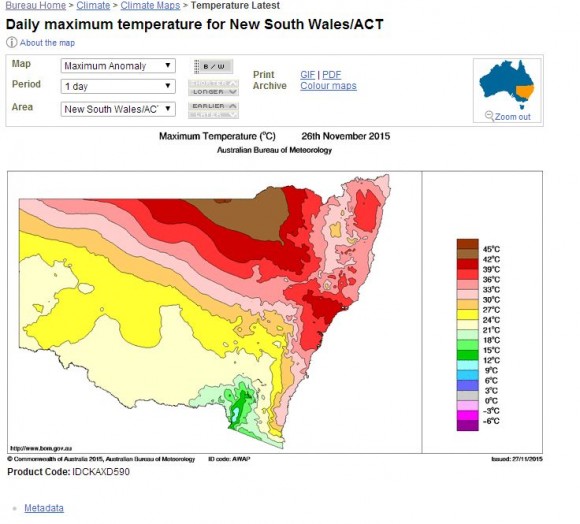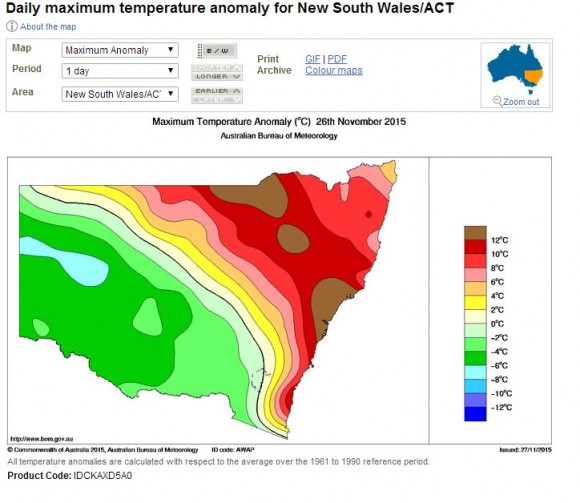 During the course of Thursday 26 November 2011, the state of New South Wales experienced a contrast of maximum temperature extremes in which both hot to very hot conditions prevailed across the northern and north eastern part of the state while cool maximums prevailed elsewhere, especially across the southern half.
In one extreme, hot dry north west winds prevailed ahead of a strong but dry cold front and temperatures soared to as high as 44C at Lightning Ridge.
In another extreme, places like Broken Hill experienced its coldest day of the month to date being 23.3C as its maximum.
In other cases where both hot and cold was experienced through the course of the day, the strong cold front and or southerly change along the coast created sharp temperature drops as the wind change passed through.
For example, at Sydney Olympic Park, the weather station had recorded 31.5C at 5.30 pm. By 6 pm, the temperature was recorded as being 21.3C which is a drop of 10.2C in 30 minutes due to the passage of the wind change.
Other unusual maximum temperatures for the day occurred at Orange (Central West New South Wales) where 24.5C was recorded as the maximum temperature. The city is 888 metres above sea level but it was warmer there than places such as Broken Hill (23.3C), Hay (22.8C), Mildura (23.5C) and Wagga Wagga (22.2C).
At Green Cape (Far south coast of New South Wales), the maximum temperature only reached 19C.
Even Oberon at 1,177 metres above sea level reached 24C making it warmer than the above mentioned towns.
It is usually towns located across western New South Wales that are usually warm or hot however this time, this was not the case. This shows how strong the cold front really was.
Other maximum temperatures for the day include Moree at 42.3C and Gunnedah at 41.5C.
Across Sydney, maximum temperatures included.
Sydney Airport 39.2C.
Penrith and Sydney (Observatory Hill) 37.8C.
Sydney Olympic Park 37.3C.
Parramatta 37.2C
Further north of Sydney, a temperature of 39.8C was recorded at Lake Macquarie at 2.30 pm and again at 3.30 pm to 4 pm.
At Cessnock (Lower Hunter Valley) a temperature of 39.5C was recorded for the day.
An interesting phenomena was identified across Sydney during the morning being the time when temperatures reached 30C. At Sydney Olympic Park, the temperature passed 30C at 7.30 am. At Penrith, the temperature reached 31.4C by 9 am. At Mangrove Mountain north of Sydney, a temperature of 30C was recorded by 9 am. Even at Sydney Airport weather station, a temperature of 30.2C was recorded as early as 7.30 am. Generally, such phenomena was observed right across Sydney.
This made for a day where temperatures across Sydney were at or above 30C for a long period under hot dry north west winds until the arrival of the southerly change late afternoon. The arrival of the southerly change had a dramatic impact on temperatures across Sydney as follows:-
Mangrove Mountain 6.30 pm (30.1C observed). 6.35 pm (24.5C observed) being a drop of 5.6C in 10 minutes.
Sydney Airport weather station 5 pm (33.1C observed). 5.11 pm (22.7C observed) being a drop of 10.4C in 8 minutes.
At Lake Macquarie (Central Coast), the cool change resulted in a temperature drop of 7.2C in 5 minutes from 34.1C at 6.30 pm to 26.9C at 6.35 pm.
While it was a dry change, it was a change that had a significant impact to temperatures creating interesting variations.
The attached plots from the Bureau of Meteorology "Water and the Land" shows the maximum temperature plot for the day for New South Wales (Plot 1) and the Anomaly created (Plot 2). Both show a sharp contrast for the state which shows how strong the cold front was for the state.
Related Terms: