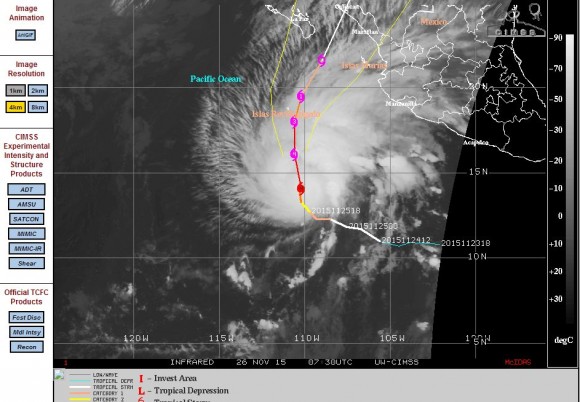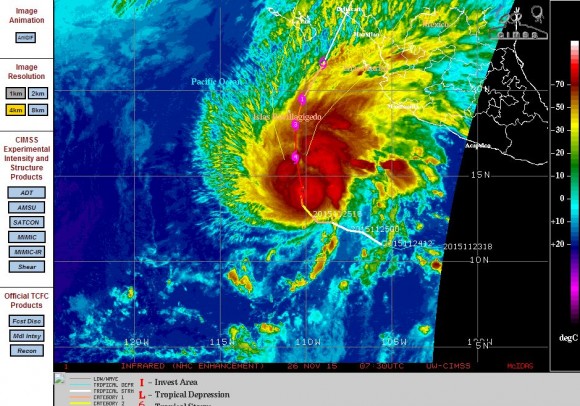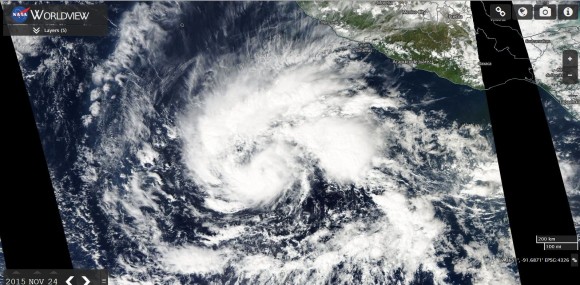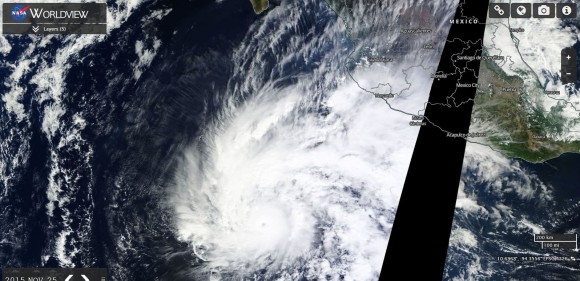 During the period 23 November to the 27 November 2015, an intense late season hurricane formed well to the south west of Mexico. The hurricane first formed as a tropical storm during the 23/11/15, then transitioned into a hurricane during the 24/11/15 and reached a powerful Category 4 storm during the 25/11/15.
The hurricane is now in a weakening phase as it approaches the coastline of Mexico and encounters strong shear. The storm should make landfall over Sinaloa State or Nayarit state as a decaying tropical storm with sustained winds of only 40 knots or 74 km/h. The storm should produce heavy rain as it encounters mountainous terrain.
The storm transitioned into a hurricane at latitude 12.3 degrees north and 108.5 degrees west and was named 'Sandy". Despite the southern hemisphere now receiving more direct sunlight and moving into summer, ocean temperatures in this part of the world still remain at 30C and it is clear conditions were still ripe for the formation of a strong hurricane.
The storm reached peak intensity at latitude 14.1 degrees north and 110.2 degrees west as a category 4 storm and the storm produced peak wind gusts to approximately 140 knots (Approximately 259 km/h) making it a powerful storm for this time of year.
After peaking, the storm encountered shear which began to tear the storm apart and hence it remained over ocean during its strongest phase.
Satellite photos showed Sandra having a small eye but with intense convection occurring close to the core and thunderstorms across the north east quadrant of the storm.
The storm will now decay as it makes landfall.
CREDITS
CIMSS (Forecast track of the storm acquired 26/11/2015).
NASA Worldview images of the storm acquired 24/11/2015 and 26/11/2015.
Related Terms: