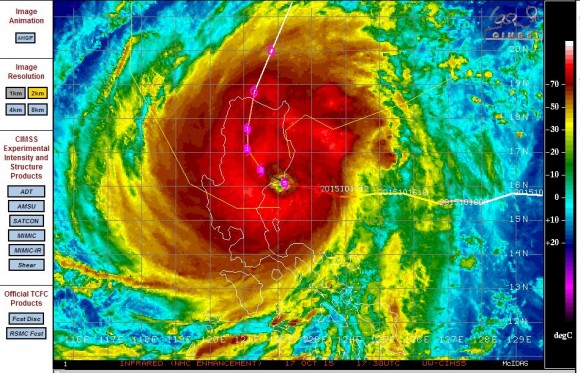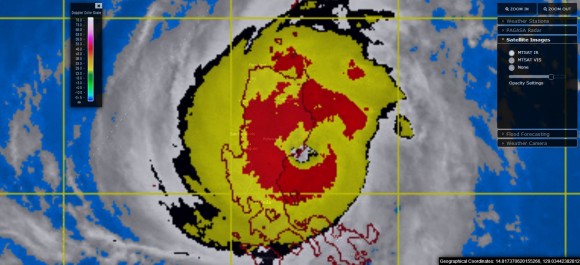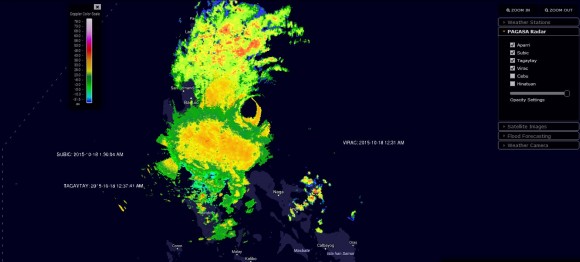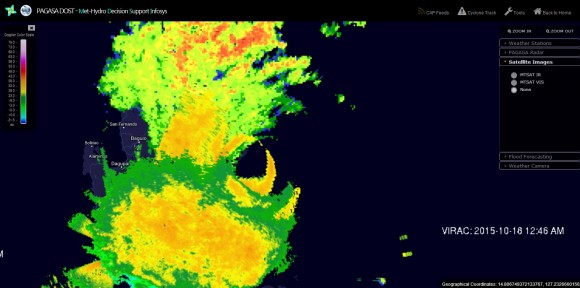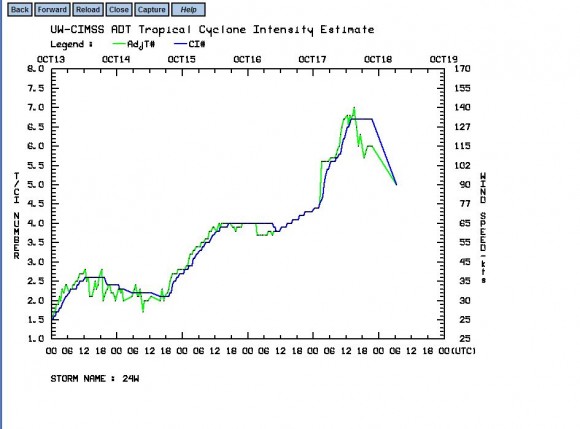 Typhoon Koppu (Lando) made landfall at around 1 am Philippine Standard Time 18/10/2015 at latitude 16.2 degrees north and 122.2 degrees east over Casiguran Aurora (Philippines).
At landfall, according to PAGASA, wind speeds were 185 km/h with peak wind gusts to 220 km/h.
A review of the local weather station appears to show wind gusts to 114 miles per hour (Approximately 183 km/h) although it is difficult to obtain much data as the weather station appears to be off line or damaged.
There is evidence suggesting that the storm attained briefly "Super Typhoon Status" immediately prior to landfall.
What is a super typhoon?
According to the Hurricane Research Division of NOAA, a super typhoon is defined as a storm or typhoon that reaches maximum sustained 1 minute surface winds of at least 65 metres per second being 130 knots or 150 miles per hour which is approximately 241 km/h. This is the equivalent of a strong Saffir Simpson Category 4 or Category 5 storm. (NOAA – Frequently asked questions contribution by Stan Goldenburg).
According to the CIMSS "Time Series – Intensity Estimate" wind plot of the storm, there appears to be a peak wind gust intensity of 140 knots which is approximately 259 km/h at 12 UTC. Such wind speed estimates is appearing in the attached plot from CIMSS. While there is a single brief peak before landfall, it would be enough to confirm a super typhoon.
The US Military Joint Typhoon Centre upgraded the storm to a super typhoon before landfall with winds of 150 miles per hour (Approximately 241 km/h). This would imply the storm just reaching the threshold of a super typhoon.
Accuweather research suggests peak wind gusts to 295 km/h before landfall.
When comparing CIMSS and the US Military Joint Typhoon Centre data, it appears that on evidence, the storm reached super typhoon status although briefly due to its proximity to the Luzon coastline.
The warnings prepared by PAGASA at the time landfall commenced included for Aurora and Southern Isabella:-
1 - Winds of 171 km/h to 220 km/h with very heavy damage to high risk structures, heavy damage to medium damage to medium risk structures and moderate damage to low risk structures.
2 - 75% total or partially destroyed structures of light weight materials.
3 - Total damage to banana plantations.
4 - Wave height to 14 metres and 3 metre high storm surges.
Heavy rainfall was being forecast as much as 650 km from the centre of the storm which included metropolitan Manila.
The storm has now weakened in intensity but heavy rain and flooding is a risk. Considering that the storm has been swirling over much of Luzon Island for two days, it is likely that flooding is occurring. In Bulacan region, flooding is occurring in low lying areas and warnings are issued for such events.
It appears that this is the strongest storm to strike Luzon Island in 5 years and hence given its size, its movement and strength, this storm event will have a major impact. Given that this is continuing, those impact are currently not well know.
It is known that forecasts are being made for 600 mm in places although it is difficult to obtain data across the affected regions. The heaviest rainfall is being made for the more mountainous regions of the island.
The satellite photo and radar image of the storm from PAGASA at landfall is provided with the eye of the storm directly over Casiguran.
Eventually the storm should move back out to sea as a weakened system. Should it move north towards Taiwan as suggested, then it is unlikely that it will regain the strength it did prior to landfall over Luzon Island. One factor in this is that ocean waters north of the Philippines are slightly cooler than recent months hovering at 26C to 28C. Nevertheless, it will still be a significant enough storm to watch over coming days.
CREDITS
1 - Accuweather wind data from Casiguran (18/10/15).
2 - CIMSS (Wind data plot and infra red image) acquired 18/10/15.
3 - NOAA (Definition of a super typhoon) 18/10/15.
4 - PAGASA (Satellite and radar image) acquired 18/10/15. The radar image is the combination of Aparri, Subic, Tagaytay and Virac networks.
Related Terms: