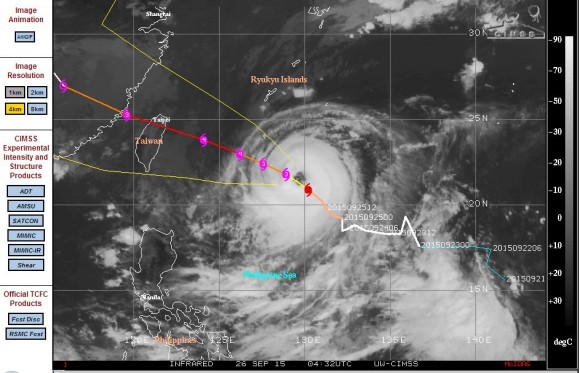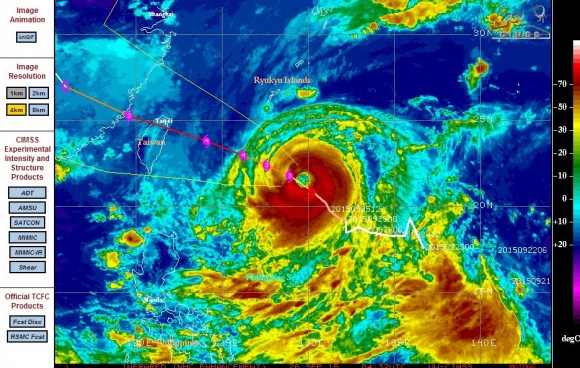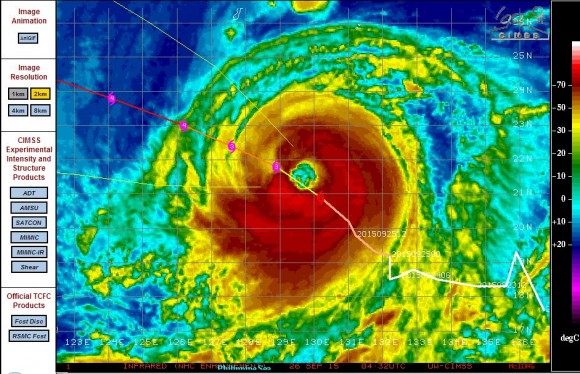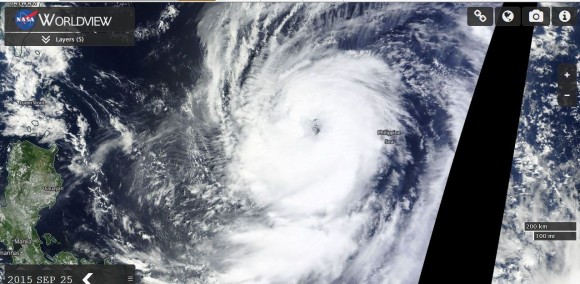 A tropical storm that formed east of the Philippines during Wednesday and Thursday is tracking west north west to north west towards the island of Taiwan.
Initially this storm was forecast to take a north west path towards Southern Japan but as suggested in a previous post, there was some doubt to this. The storm has not followed the initial path plotted. Instead, the storm is now threatening to pass close to or even strike eastern or north eastern Taiwan over coming days.
The latest model by CIMSS implies landfall on or near the north east coast of Taiwan. Should the storm follow the latest path, then this would be the third typhoon Taiwan endures this season.
According to the Taiwan Central Weather Bureau, the storm is now located at 20.9 degrees north and 130.2 degrees east and tracking west north west at 14 km/h. It has a central pressure of 965 HPA and wind speeds of 35 metres per second with gusts to 45 metres per second.
CIMSS places the winds close to the core at 100 knots or approximately 185 km/h.
The first weather alerts are expected to be issued shortly and based upon the forecast track, they are likely to apply to the northern and north east part of the island.
The storm features a solid band of storms and very heavy rain surrounding a well defined eye. One feature of this set up is that the storm is passing over waters of 29C to 30C and such waters reach all the way to Taiwan. In this case, there is abundant warm sea surface temperatures to sustain the storm.
The storm is likely at the present time to sustain Category 3 and possibly Category 4 status as forecasts are being made for winds to reach 115 knots (Approximately 213 km/h) east of Taiwan. Should the storm make landfall over north east Taiwan then it is likely that the worst of the impacts would occur within the same areas affected by Typhoon Soudelier earlier this season being the areas east of the mountain range.
It will now be interesting to see what occurs given the significant change to its forecast track having occurred.
CREDITS
1 - CIMSS (Modified forecast plots) acquired 25 and 26 September 2015.
2 - NASA (Worldview image of storm) acquired 25 September 2015.
3 - Taiwan Central Weather Bureau (Update of storm position) 26/9/15.
Related Terms: