Hurricane Matthew threatening Florida
Hurricane Matthew continues it's slow movement north towards the western portions of Haiti. The storm is moving at 9 km/h northwards as a powerful Category 4 storm sustaining winds of 120 knots at the core with higher gusts to 140 knots (Approximately 220 km/h with higher gusts to 260 km/h).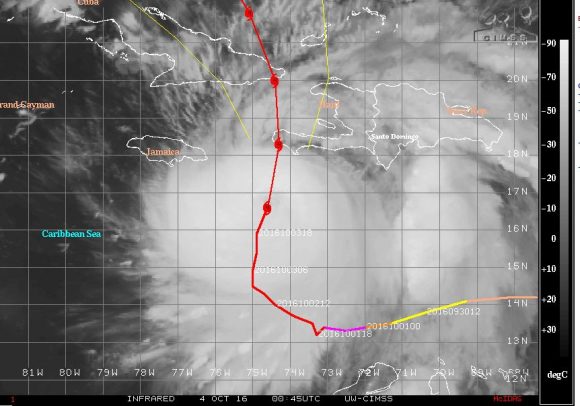 This is the most powerful storm since Hurricane Felix in 2007 and news reports already confirm 3 fatalities at the present time. Further fatalities cannot be ruled out especially across Haiti.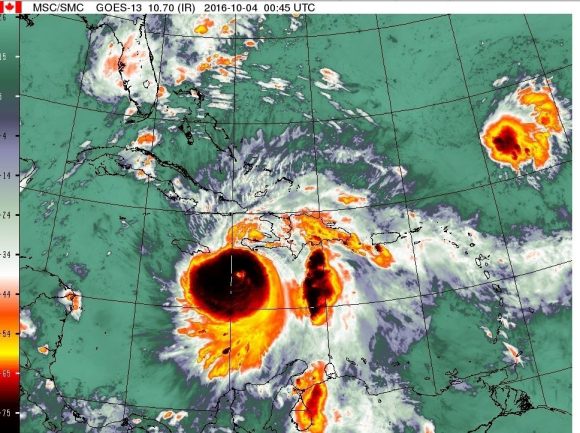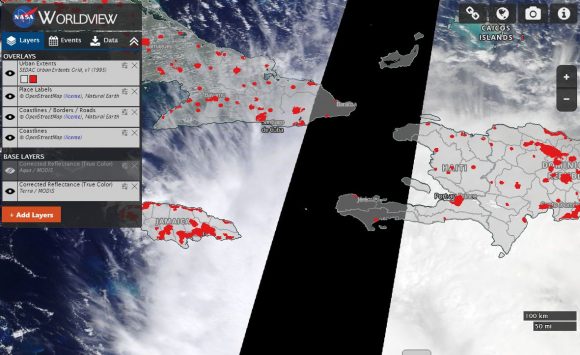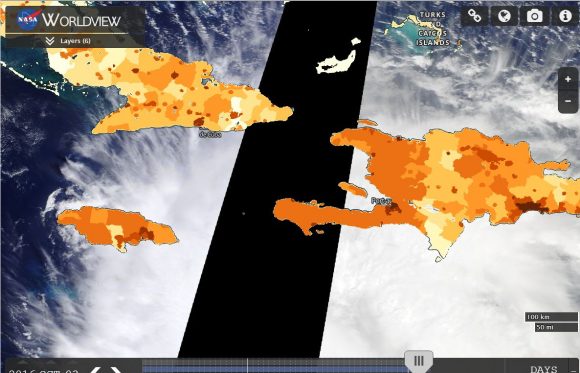 According to the National Meteorological Centre of Haiti, the Hurricane Matthew has a central pressure of 943 hPa. Hurricane winds are occurring within 45 km of the centre and storm force wind extend outwards to 315 km from the eye.
Western Haiti affected by Hurricane Matthew
The CIMSS forecast models suggests that the eye of Matthew would pass over the far western fringe of the country placing the towns / cities of Jeremie and Les Cayes at significant risk. Other smaller towns at risk include Dame Marie, Port A Piment and Tiburon
Haiti is an impoverished country and such a storm would have a significant impact and cause major disruption to the country.
Very heavy rainfall, storm surges and landslides are being forecast given the strength of the storm. The outer rain bands are starting to impact the southern coastal fringe of the country.
The western part of Haiti does not contain too many substantial towns or cities as shown on the "Urban Extents Map" but as shown on the population density map, the western side of the country is moderately to densely populated implying the region includes numerous small villages, farms, farming communities and rural towns. In this regard, the storm will have a major impact to the country.
The storm will also have a significant impact to eastern Cuba due to the number of large towns or cities within the region.
Forecasts are being made for rainfall to reach as much as 1,000 mm in isolated locations of Haiti which would cause landslides and serious flooding.
Forecast models suggests the storm emerging into the Bahamas within two days and traversing towards or close to Florida and possible impact within the Carolina's of the United States in six days. Major uncertainty exists beyond three days but it is clear that the whole south eastern sea board of the United States including the states of Florida, Georgia, South Carolina and North Carolina is now under threat from the storm. There is a possibility of landfall in eastern North Carolina in six days but this is to early to tell at the present time.
CREDITS
1 - CIMSS - Forecast model for Hurricane Matthew acquired 4/10/2016.
2 - National Meteorological Centre Haiti.
3 - National Weather Service (USA).
4 - NASA Worldview - Population plots for Cuba, Haiti and Jamaica.