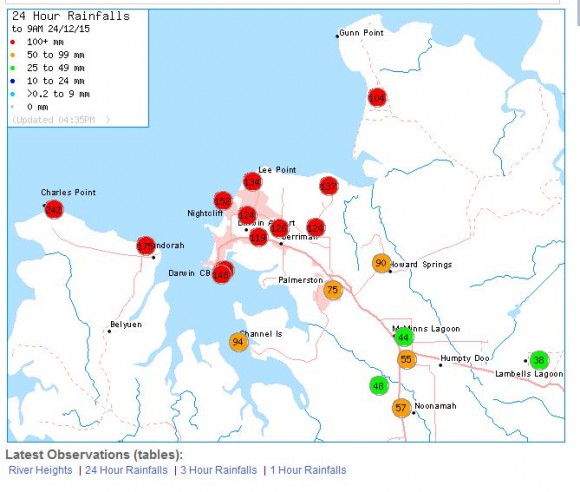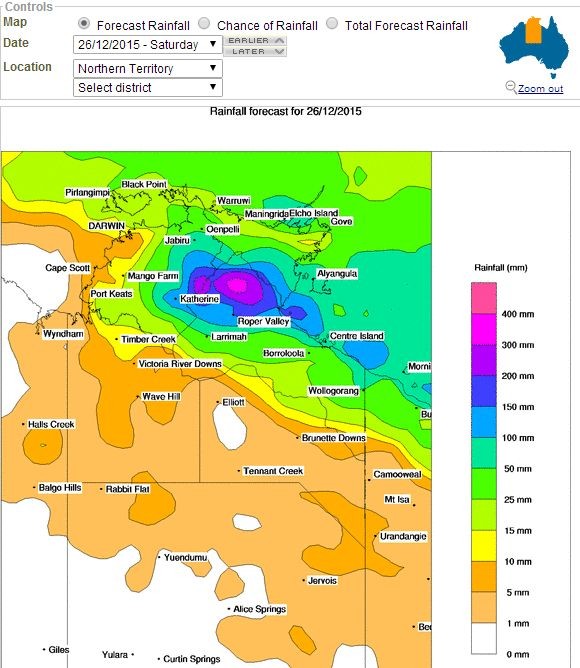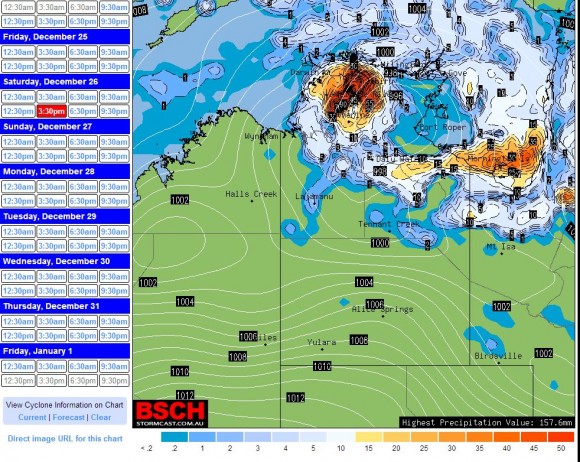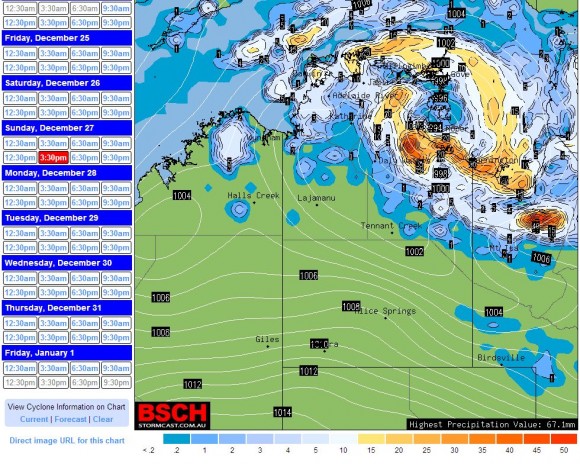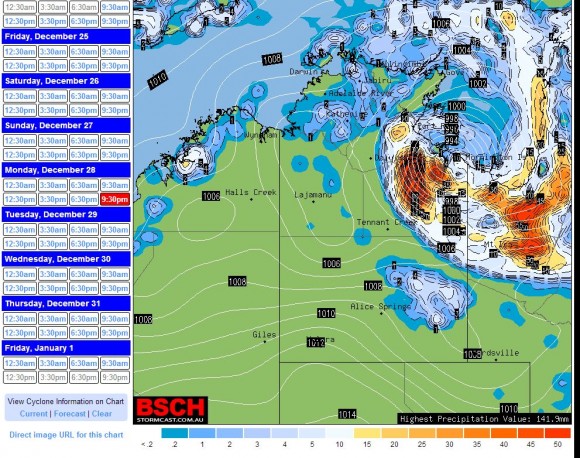 A strong and vigorous monsoon low across the inland or base of the top end of the Northern Territory has forecasters concerned. On Christmas Eve, the low pressure cell was inland but south of Darwin.
It is forecast to move east then south east. There is the possibility of the low crossing the coast and transitioning into Australia's first tropical cyclone of the season.
If it does not it will certainly cause heavy to very heavy rainfall and certain flooding in low lying areas of the Gulf Country of Queensland and Northern Territory.
Rainfall models are forecasting in excess of 400 mm of rain from the event across some regions.
During Thursday and Friday, the monsoonal trough and low signaled its early intentions across the Top End where heavy rain and flooding occurred. Fortunately other than Darwin, most of the top end is uninhabited and hence the flooding is occurring across rural areas and within creek and river crossings.
Up until 9 am 24/12/2015, 119.4 mm of rain fell at Darwin International Airport. A weather station at Dum In Mirrie recorded 235.8 mm. Other big rainfall totals include:-
Charles Point - 242 mm.
Adelaide River - 198 mm.
Wagait Beach - 175 mm.
Up until 3.00 am 25/12/2015, the following rainfall had been recorded:-
Upper Adelaide River 164 mm.
Port Keats 155 mm.
Dum In Mirrie 139 mm.
For Dum In Mirrie, this is 375 mm when combined which is easily enough for major flooding to occur.
The next four days will be difficult weather wise across the top end and Darwin. In particular, storms and very heavy rain is being forecast for large areas. For Darwin 30 to 80 mm is forecast for Christmas Day but heavier totals of 170 mm is not being ruled out during thunderstorm events.
The development of any tropical cyclone will also create further issues in coming days across the eastern top end. The storm has not been named at the present time but it is receiving very close attention.
To support this article, the following is provided:-
1 - Rainfall plot for Darwin to 9 am 24/12/2014 (Bureau of Meteorology).
2 - Forecast rainfall plot for the top end (Northern Territory) for the 26/12/2015 (Bureau of Meteorology Water and the Land).
3 - Position of the monsoon low for 3.30 pm Saturday 26/12/2015 (BSCH).
4 - Forecast position of the low (Possible tropical cyclone) 3.30 pm 27/12/15 (BSCH).
5 - Forecast position of the low (Possible tropical cyclone) 9.30 pm 28/12/15 (BSCH).
Related Terms: