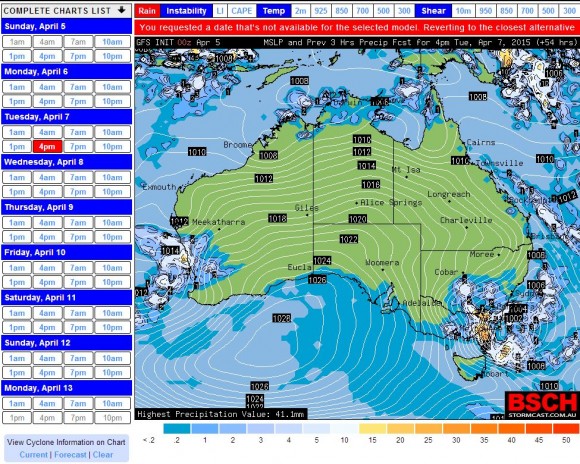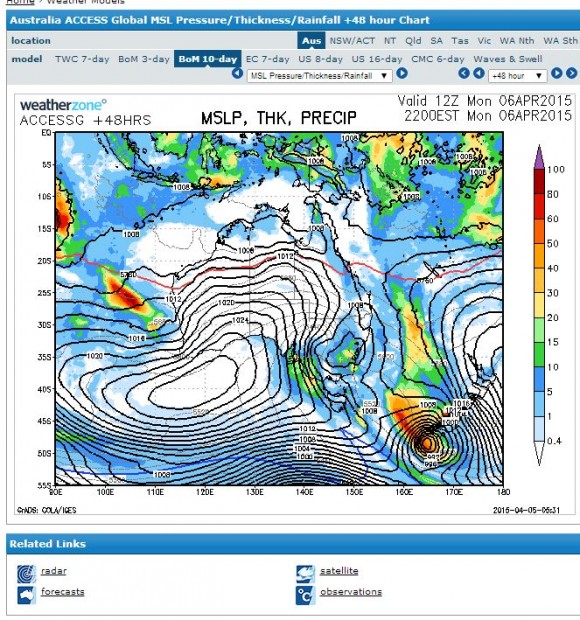 The strongest cold outbreak of this Autumn is forecast to pass over south east Australia Monday and Tuesday 6 and 7 April 2015. According to weather models and forecasts, this system is expected to drag a band of showers across New South Wales Easter Monday and even a few thunderstorms with it. More interestingly the air behind this front is rather cold for April. Places like Canberra are forecast to reach 15C for Tuesday and Albury is forecast to reach 14C which is more akin to winter.
The ski resort at Falls Creek (Mt Mc Kay) is forecast to reach 3C in southerly winds Tuesday while nearby Mt Hotham is forecast to reach 1C. There is snow being forecast on higher elevations. It appears the air will be cold enough and with some moisture available, snow could fall on Mt Hotham, Mt Feathertop, Mt Bogong and nearby higher peaks. The cold air should spill into New South Wales where snow could fall on the higher elevations of the Snowy Mountains.
Scattered showers and small hail is common over Victoria during these outbreaks with southern Victoria receiving most of the rain under cold and even squally south west winds. Here in New South Wales, scattered showers usually develops on the south west slopes and Central West Slopes usually west of the Great Dividing Range with the coast usually dry due to a rain shadow effect.
I have attached two weather plots for Tuesday showing the possible position of the weather system likely to cause this outbreak.
Related Terms: