During Thursday and Friday 28 and 29 October 2021, another burst of rain and storms crossed south east South Australia and parts of South West Victoria.
Information of these storms are somewhat limited as not all of these passed over official weather stations. It appears that some of these storms are significant enough to warrant mention and the following noteworthy events have been identified from local weather stations.
1 - Gawler - A storm dropped 11.8 mm of rain between 10 am and 10.09 am which is over 1 mm per minute. The weather station did not record any significant wind during the event.
2 - Nurioopta - A thunderstorm produced a maximum wind gust of 69 km/h between 10.25 am and 10.30.
3 - Mt Crawford - The weather station identifies 10.2 mm of rain falling from a thunderstorm between 10.11 am and 10.30 am with a peak wind gust of 61 km/h.
Online videos have emerged of a hailstorm passing over Uleybury producing hail of at least 2 cm to 4.5 cm in size although it appears to be short lived.
There are other videos showing hail falling across Adelaide suburbs.
There is also video identifying another hailstorm passing over Harrow (North West of Hamilton) in Western Victoria that appears to have produced hail of at least 2 cm in size.
Other storms impacted western and southern Victoria that damaged powerline infrastructure causing significant power loss in many areas including Ballarat, Bendigo, Kyneton, Point Lonsdale and Skipton.
The far south west portion of Victoria received between 50 and 100 of rain from this event with lighter totals elsewhere.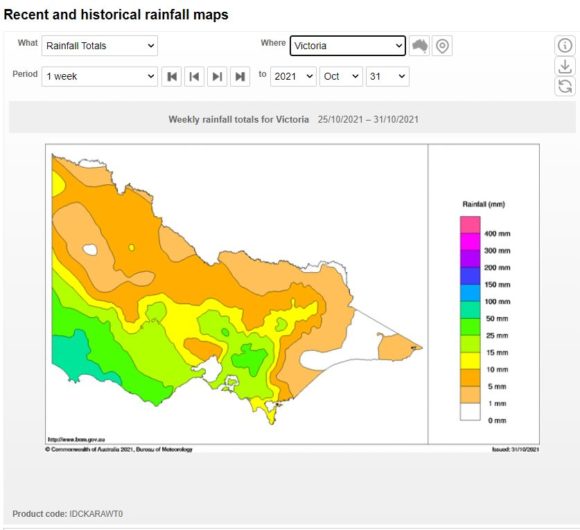 The weather system largely missed northern Victoria and appears to have been confined to the south west and southern areas of the state.
Forecasts were made of storms to impact much of the inland area of south west New South Wales and the Sydney region however this generally never eventuated.
Another weather system 2 - 4 November 2021
Another weather system is forecast for the period Tuesday to Thursday 2 to 4 November 2021 which is expected to impact many of the areas most affected by the recent storm events.
This system is also expected to produce rain and storm activity across much of inland New South Wales but it is not expected to have a significant impact to the coast and North East New South Wales at this stage.
Rainfall models for this event vary widely but accumulative totals are suggested to reach 25 to 50 mm across large areas of the inland and southern areas including much of Victoria in coming days. For many areas, this will be the second major weather event within the space of one week.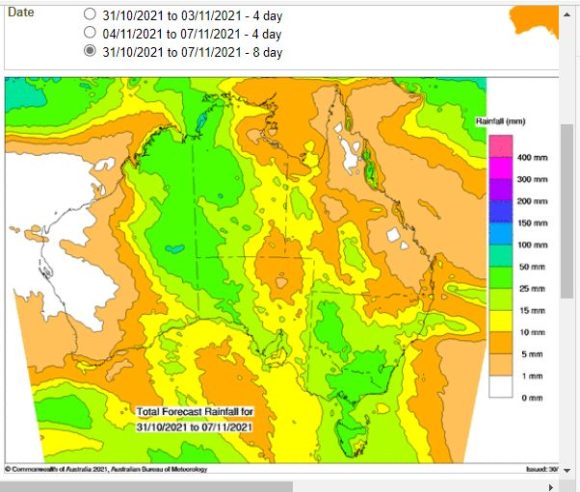 The METEYE rainfall plots for Wednesday and Thursday shows that the heaviest and greatest rainfall chances are expected to occur across much of Victoria and later into southern and Central areas of New South Wales.
With this system following so close to the last system, this would have potential to create further havoc in areas still recovering from last weeks storms.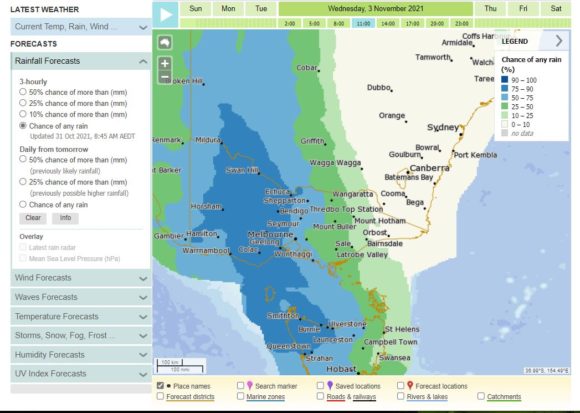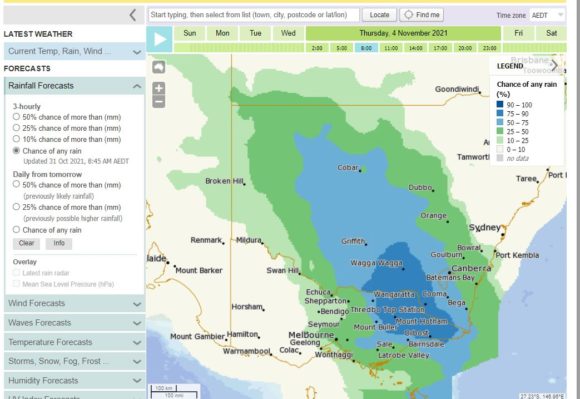 Related Terms: