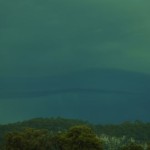 Saturday morning 23 November, I left Sydney at 6 am and was afforded light traffic leaving Sydney. This permitted me to reach Hornsby rather quickly. I headed up the F3 freeway and I was stunned to be chasing an early storm by 7.30 am approaching Cessnock.
I reached Cessnock a little after 8 am where I reached the southern edges of that storm cell. By now it had become a large complex, was high based but only producing anvil crawlers. I proceeded to the southern side of town where I photographed new updraft towers rising on the southern side of that cell. These eventually weakened and I let the whole storm complex go.
That gave me time for breakfast.
After 10 am following some sunshine, I was stunned to see strong cumulus cloud towers to the south west and noticed a storm cell building rapidly. I drove to the southern side of town where I saw two thunderstorm cells maturing with one to the south and another to the west south west.
The storm to the south west was intriguing with a dark cloud base that was broadening and becoming larger and larger.
As it approached, it exhibited a green tinge and began to produce a few strong cloud to ground lightning strikes including a couple into clear air ahead of the storm. I knew that this had to be a strong storm, unusually strong for this time of day (10.30 am).
The base of the storm was stunning for the time of day. Realizing its strength, I relocated my car under the porch of a nearby soccer ground change room which was just large enough to fit it.
The base exhibited stunning shapes and colours and some big lightning strikes. The core passsed right over me 3 km south of Cessnock bringing very significant gales, a near whiteout, such heavy rain and much hail.
I was too busy taking photos to worry about its size so I do not know how big they were. The rain and hail was blowing near horizontal which made it very difficult to take photos.
As I moved around the shelter, I was hit on the head and back by blowing hail which stung my back. The rain was such intensity that water was soon overflowing the parklands and fields.
The storm lasted roughly 10 minutes before easing as it passed east and it was over. I was dumbfounded of what I had experienced and I was left wondering why was this storm so strong for this time of day. It was all over by 11 am.
This would have caused some chaos in the locality. I have since checked the BOM rainfall figures and noted that Cessnock Airport had 8 mm and a peak wind gust of 33 km/h. The storm appears to have skirted the airport. The nearest rain guage to me was nearby Pokolbin (18 mm). The core passed between the two rain guages and unfortunately it did not pass over a weather station that I could find to determine the strength of the wind or the amount of rain that fell.
Related Terms: