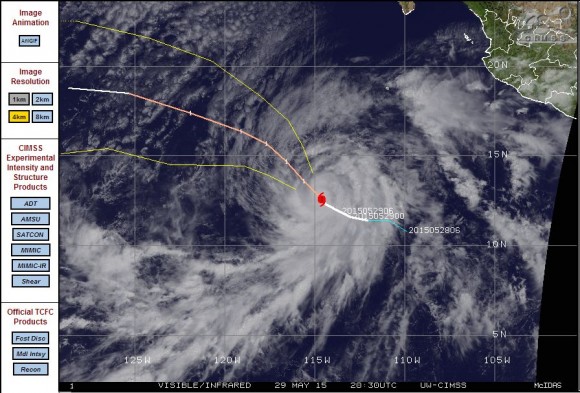 The satellite photograph identifies a newly developed Pacific Ocean hurricane now called Hurricane Andres situated well south east of Hawaii. The storm has just developed and currently a Category 1 Hurricane.
The storm is out in open ocean and there are currently no surface based observations.
The storm appears to be tracking north west as seen in the attached forecast track which would take it closer to Hawaii in coming days assuming the course is maintained.
Limited observations show the storm position being at Latitude 12.6 degrees north and 114.6 degrees east with an intensity of 983.2 millibars and with wind speeds of at east 65 Knots at the centre.
This would be the first such storm for the USA Hurricane Season. Currently it is not impacting any population centre due to its location.
Related Terms: