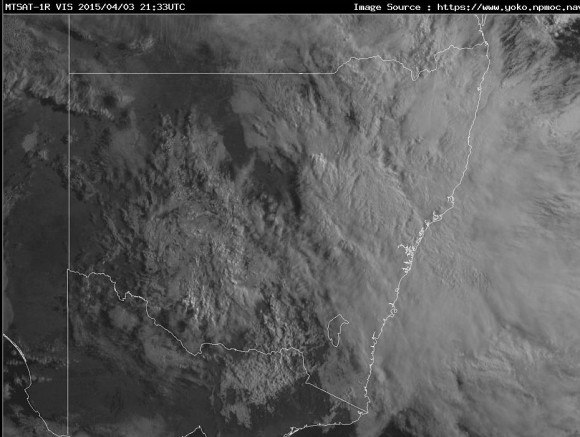 The satellite photo attached identifies a significant cloud mass occupying the eastern half of New South Wales as at 9 am / 10 am Saturday morning with some of that cloud spilling into the eastern central parts and parts of south west New South Wales. A moist onshore air stream and an eventual east coast low is creating this setup leading to a widespread rain event across the state of New South Wales. As identified in an earlier post, such a setup or rain event was anticipated.
The far west of the state and Victoria currently miss out on the rain event.
Rainfall is widespread and there are some isolated heavy rainfalls but it is interesting to note that to 9 am 4 April, rainfall is relatively uniform across the affected area.
Here in Sydney, the event started on the 3/4/2015 with light drizzle which tended to light steady rain during the afternoon. This continued overnight into Saturday morning. By 9 am 4/4/2015, the highest totals were:-
43 mm at Waitara.
39 mm at Hornsby.
35 mm at Chatswood.
32 mm at Richmond.
Across most of Sydney, rainfalls tended to be within the range of 10 to 30 mm with the higher totals of 30 to 40 mm around the hillier northern suburbs.
Further north on the Central Coast, some rainfall totals reached 50 to 99 mm for the same period including 87 mm at Blacksmith, 69 mm at Jilliby Creek, 66 mm at Wyee and 64 mm at Dora Creek.
Further north there are falls of 61 to 74 mm in and around Narribri (74 mm at Narribri and 73 mm at Narribri West).
On the north coast there is a very isolated fall of 175 mm at Bellingen and 90 mm at Dorrigo.
Given the size of the cloud mass covering New South Wales as seen in the satellite picture, it is clear this event will continue throughout Saturday with more rainfall to come.
Related Terms: