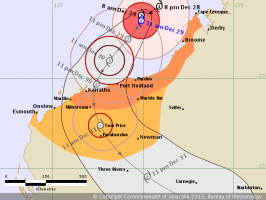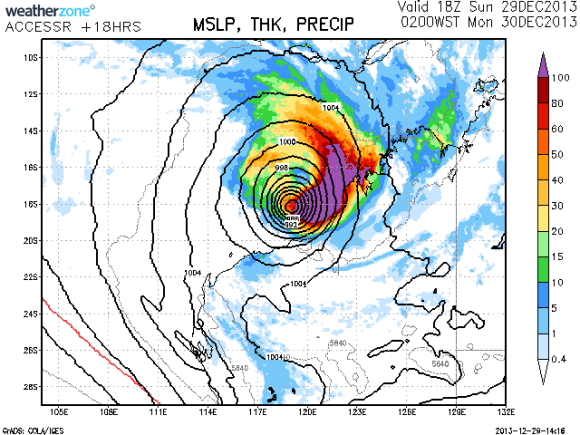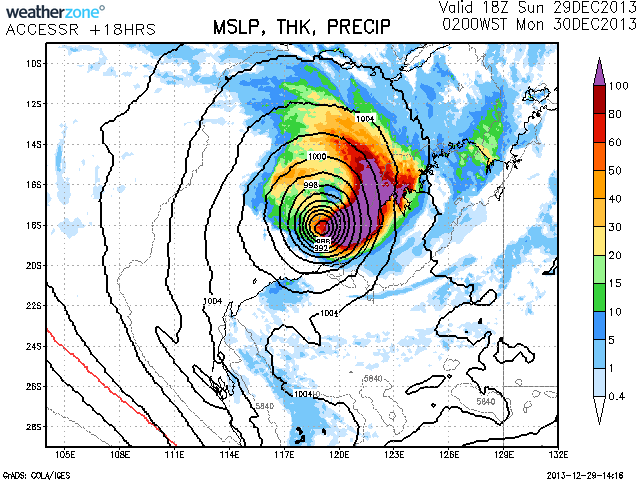 Tropical Cyclone Christine has been named as it developed off northwestern Australia. It is intensifying rapidly.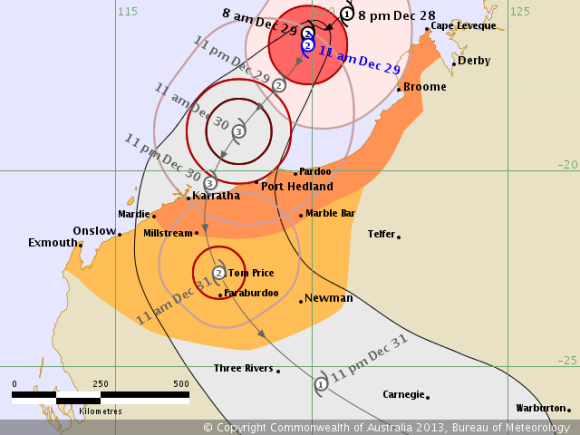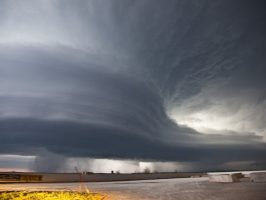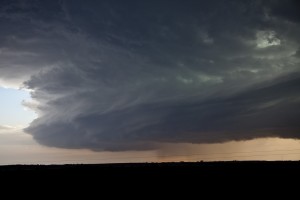 Michael Bath and I targeted NW Oklahoma - in fact we dropped down from Kansas.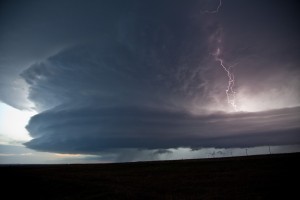 It annoyed me because we had no coverage and no data at all for the entire chase! Back to the old days! The first cells struggled whilst we looked at the cells on the Kansas border. A lot of pressure to head up north but we remained on our target.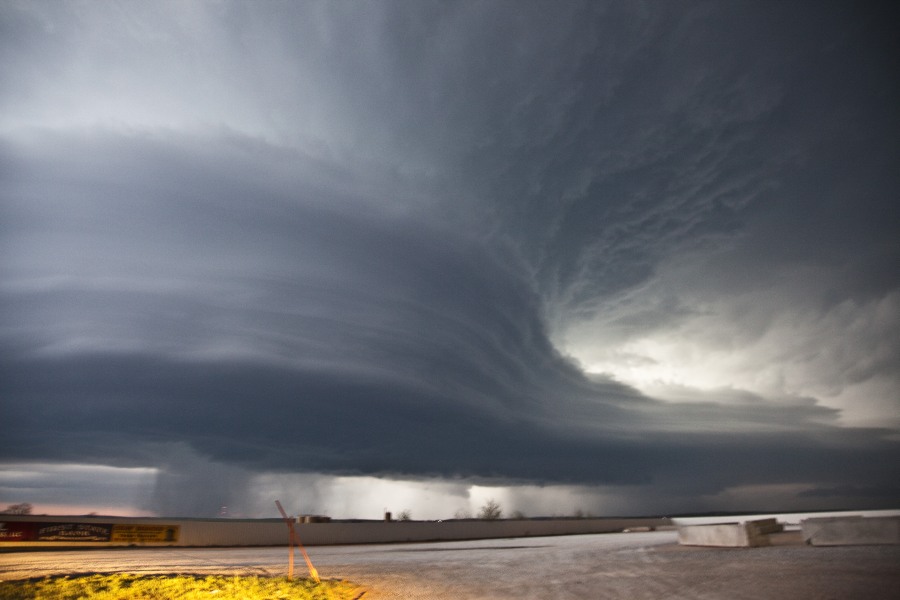 The issue was that the anvils were raining on the updraft air for the first and then second and finally the third storm which favoured a left moving environment. In the distance to the WSW was the struggling cells with structure we liked. So took the gamble and headed towards it.Just NE of Arnett. we had to turn south to escape the hail. I did not realise whilst driving at the time, but our photos showed the split! Nevertheless, our target was always going to be the southern structure. We stopped E of Arnett and filmed the storm with possible wall cloud and beaver tail and it was this time the storm first weakened into a linear structure. We headed east and photographed the storm periodically. The southern section improved and we spent the next 4 hours side stepping the anvil rain south east all the way to Clinton and Weatherford. It exhibited the best structure near Highway 34 north of the intersection with 33 (Leedey). It was here I photographed the vault and thankfully we could remain east to east southeast of the storm. It was one incredible chase and the structure awesome!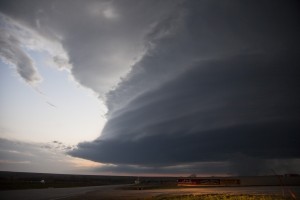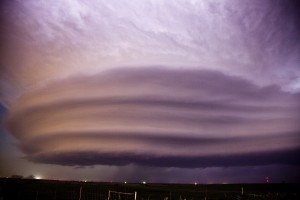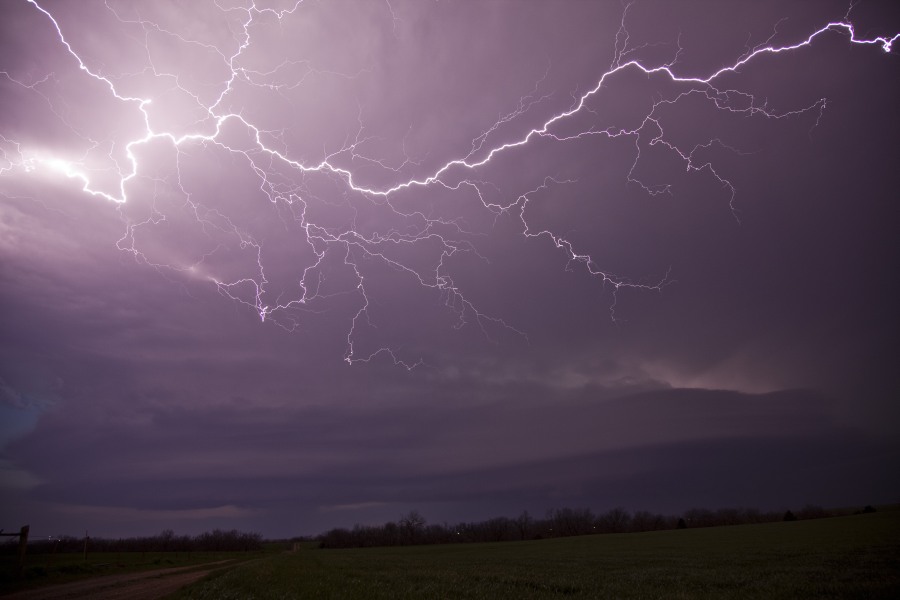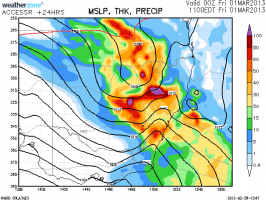 The Bureau of Meteorology has issued a flood watch for the Hawkesbury Nepean River System with probable flooding 28th February to 1st March 2013 period. With Warragamba Dam at capacity water has been released but any further rain in the catchment can increase the likelihood of further flows and flooding in the Hawkesbury Nepean River Region.
IDN36609
Australian Government Bureau of Meteorology New South Wales
FINAL MINOR FLOOD WARNING FOR THE NEPEAN-HAWKESBURY RIVER AND THE COLO RIVER
Issued at 8:47 am EDT on Tuesday 26 February 2013
Flood Warning Number: 15
River heights in the valley have now fallen below minor flood level.
Spill is continuing from Warragamba Dam, however rivers will remain below minor flood level.
FloodSafe advice is available at www.ses.nsw.gov.au
For emergency assistance call the SES on telephone number 132 500.
For life threatening emergencies, call 000 immediately.
Weather Forecast:
For the latest weather forecast see www.bom.gov.au/nsw/forecasts/
Next Issue:
This will be the final flood warning for this event.
Latest River Heights:
| Location | Height of River | Date/Time of Observation |
| --- | --- | --- |
| Nepean R at Menangle Br | 1.37m steady | 08:44 AM TUE 26/02/13 |
| Nepean R at Camden Weir | 1.74m steady | 08:41 AM TUE 26/02/13 |
| Nepean R at Wallacia Weir | 1.02m steady | 08:36 AM TUE 26/02/13 |
| Nepean R at Penrith | 2.44m steady | 08:27 AM TUE 26/02/13 |
| Hawkesbury R at Nth Richmond WPS | 2.89m rising | 08:43 AM TUE 26/02/13 |
| Hawkesbury R at Windsor SWC | NA | NA |
| Colo R at Upper Colo | 4.71m steady | 08:43 AM TUE 26/02/13 |
| Hawkesbury R at Sackville Ferry | 1m falling | 08:44 AM TUE 26/02/13 |
| Hawkesbury R at Lower Portland | 0.64m steady | 08:33 AM TUE 26/02/13 |
| Macdonald R at St Albans | 2.09m steady | 08:37 AM TUE 26/02/13 |
| Hawkesbury R at Wisemans Ferry | 0.53m rising | 08:39 AM TUE 26/02/13 |
For latest rainfall and river level information see www.bom.gov.au/nsw/flood/