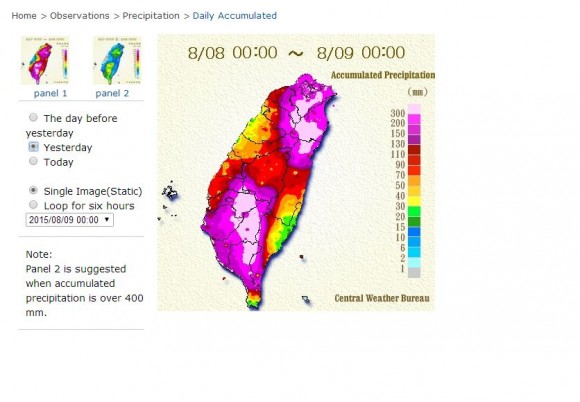 The impact of Typhoon Soudelor across Taiwan and parts of Eastern China is becoming obvious following the powerful storm. As a summary from Accuweather, the following is identified:-
1 - There are currently 6 known fatalities and at least 185 injuries.
2 - Up to 35,000 military personnel were deployed across Taiwan to deal with the natural disaster.
3 - Up to 4 million people lost power.
5 - All domestic and internal flights were grounded.
In China, it is difficult to obtain readings from local weather stations but it is known that as many as 185,000 residents were evacuated across Fujian Province and forecasts of 200 to 300 mm rainfall totals were made across some coastal area.
Using Accuweather as a guide, it appears that a weather station in Weng Cheng District in Zhenjiang recorded 420 mm of rain however a review of this weather station shows gaps in the data. It is even suggested that a wind gust of 131 km/h was recorded at Fuzhou (This is difficult to verify).
Taiwan Final rainfall:
Across Taiwan, the weather network has withstood the onslaught of both rain and wind and as a result, an excellent analysis of rainfall data is available from all monitoring stations. Some incredible rainfall totals "Accumulated totals" are observed especially within mountainous areas.
A station at Datong Township in Yilan County called 01U56 - Taiping Shan 1 has recorded a total of 1,303 mm (1.3 metres) of rain. This is a mountain top station and is the highest official rainfall across the county. This includes 819 mm on the 8/8/15 and 368 mm on the 7/8/15 with the remainder falling on the 9/8/15 before easing. Other accumulated rainfall include Station Name (Then City):
Kaohsiung City - 932 mm (Maolin District Kaohsiung City).
New Taipei City - 863 mm (Sanxia District New Taipei City).
Pingtung - 789 mm (Taiwu Township Pingtung County).
Hualien - 648 mm (Xiulin Township Hualien County).
Taoyuan - 643 mm (Fuxing District Taoyuan City).
Chiayi - 632.5 mm (Dongqu District Chiayi City).
Taipei City - 631 mm (Wenshan District Taipei City).
Hsinchu City - 577 mm (Dongqu Hsinchu City).
Tainan City - 522 mm (Baihe District Tainan City).
Nantou - 420 mm (Zhushan Township Nantou County).
As being the highest figures. The mountain range has intensified the rainfall and there have been flash flooding and recorded mudslides compounding the disaster.
The worst is now over allowing the clean up to commence.
Related Terms: