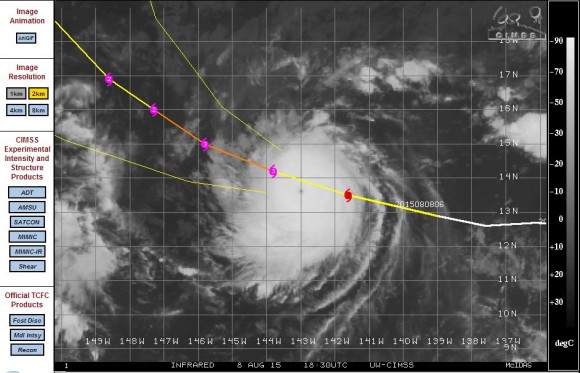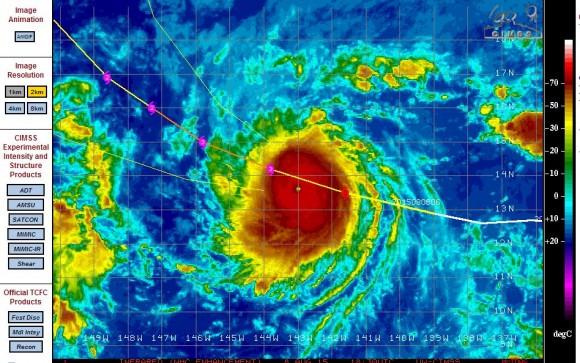 The Pacific Ocean is certainly active for tropical storms and while all attention is focused on the impact of Typhoon Soudelor, two new storms have developed over recent days that should be identified.
Storm Number 1 - Hurricane Hilda
Hurricane Hilda has developed over open waters well south east of Hawaii. The storm rapidly intensified into a Category 2 hurricane after developing into a tropical storm during August 6. The storm according to the CIMSS Model (Acquired August 8 2015) could develop into a Category 3 hurricane. The storm is currently passing over waters of 29C but its movement north west will result in the storm travelling over cooler waters in coming days which will eventually help to weaken it.
However, the storm is a threat to Hawaii and it will be interesting to see what happens over coming days.
A satellite photo identifies a very small eye at the centre.
This is a small hurricane with winds at the core currently estimated at 95 knots (Approx 176 km/h). Maximum forecast winds at Category 3 is estimated at 105 knots (Approx 194 to 200 km/h).
The storm is currently located at 13.5 degrees north and 141.6 degrees west and tracking somewhat closer to Hawaii.
Storm Number 2 - Tropical Storm Molave
Tropical Storm Molave is unusual as it has formed south of Japan but north of the Tropic of Cancer. The storm is located 27 degrees north and 141.5 degrees east but is over warm waters of 29C. The storm could approach the threshold of a typhoon in an unusual location but models suggest maximum wind gusts of 55 knots (Up to 101 km/h) at its peak before it weakens. The storm should remain out to sea.
The Worldview MODIS satellite photo (Acquired from NASA 8/8/15) shows the location of the tropical storm. Typhoon Soudelor is to the west (Left hand side) while Tropical Storm Molave is to the east (Right hand side) but south of Japan.
Storm Number 3 Hurricane Guillermo
The storm approached Hawaii but weakened as it passed over cooler waters east of the islands. The storm reached a Category 2 Hurricane during its brief life span but it decayed and sheared apart. The storm sustained peak winds of 90 knots at maximum strength which is approximately 166.5 km/h during its brief life span.
Possible Storm Number 4
The CIMSS is monitoring a new cluster of storms for potential future development. Should the cluster of storms currently located east of Hurricane Hilda develop further, this too will be reported.
Related Terms: