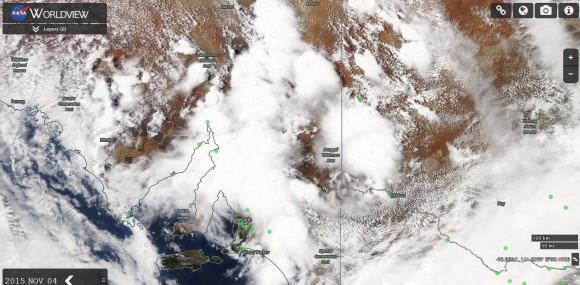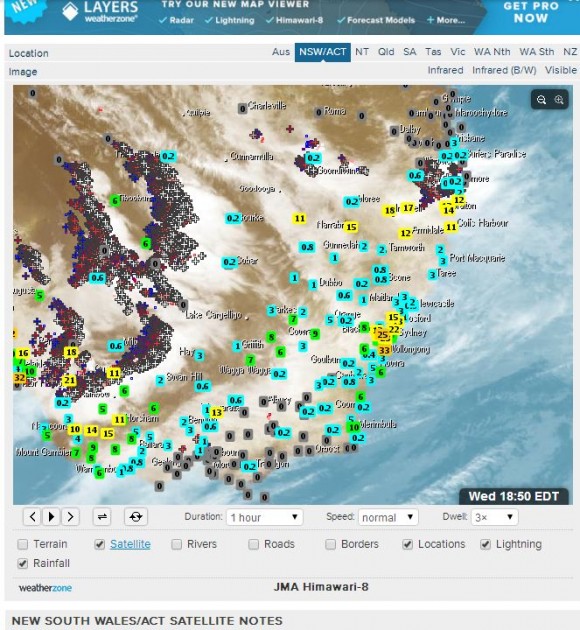 As seen on the attached MODIS Worldview image of south east South Australia, significant thunderstorms are a feature. For the past 2 days, thunderstorms have impacted parts of the state producing an array of weather from flash flooding, heavy rain, strong winds and even a tornado at Monarto.
The tornado event appears in a Bureau of Meteorology "Severe thunderstorm bulletin" with the event occurring approximately 65 km from Adelaide. The tornado has been documented by locals in that area.
Another storm event at Port Pirie resulted in 87 mm of rain falling (Figure to 9 am 4/11/15). In particular, at 9.20 pm 3/11/15, the rain gauge had recorded 21.6 mm. However, by 10.20 pm, this had swelled to 68.2 mm being a fall of 46.6 mm in 60 minutes.
A storm at Tarcoola produced 4.4 mm of rain within 6 minutes between 6.24 pm and 6.30 pm 3/11/15.
Storms at Cleve produced as much as 61 mm to 9 am 4/11/15.
Other significant rainfalls include Darkes Peak 67 mm and Redhill 55 mm.
There were a number of strong wind reports including:-
Woomera - Peak wind gusts of 76 km/h at 2 pm.
Whyalla - Peak wind gust of 80 km/h recorded at 4.50 pm and 4.56 pm. Thunderstorms affecting Whyalla produced as much as 57.6 mm to 9 am 4/11/15.
Significant thunderstorms affecting portions of eastern South Australia during the 4/11/2015, especially north and east of Adelaide has resulted in sudden rainfalls affecting localised areas including 32.2 mm at Clare and 33 mm at Mt Mary.
Significant thunderstorm activity is moving into western New South Wales and the weather station at Fowlers Gap has recorded peak wind gusts to 120 km/h between 6.32 pm and 6.34 pm. In addition, a weather station at White Cliffs recorded a peak wind gust of 111 km/h at 4.37 pm and a weather station at Broken Hill has recorded strong wind gusts of 89 km/h at 2.56 pm and 3 pm.
Thunderstorms passing through far western New South Wales are expected to produce heavy rain, winds and significant number of lightning strikes and local flooding cannot be ruled out.
A layered satellite image of New South Wales (From Weatherzone) is showing no less than 5 bands of storms affecting far western New South Wales and eastern South Australia with each band relatively active in terms of lightning strikes. At 6.50 pm 4/11/2015, the storm system is located generally within sparsely populated regions although Broken Hill and Mildura and a few smaller centres are being impacted to some degree by the weather system.
Credits
1 - NASA Worldview image (South Australia with overlays) showing storm activity acquired 4/11/2015.
2 - Weatherzone (Satellite image acquired 4/11/2015).
Related Terms: