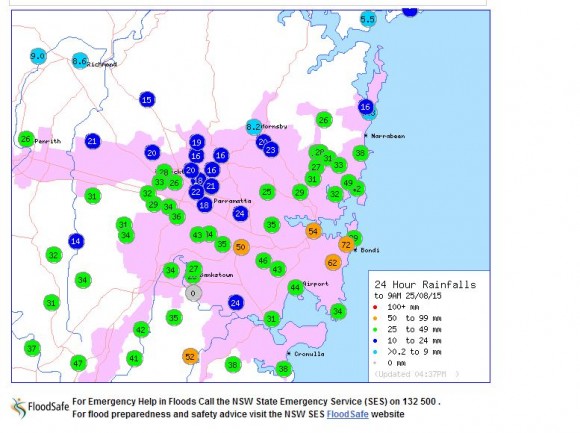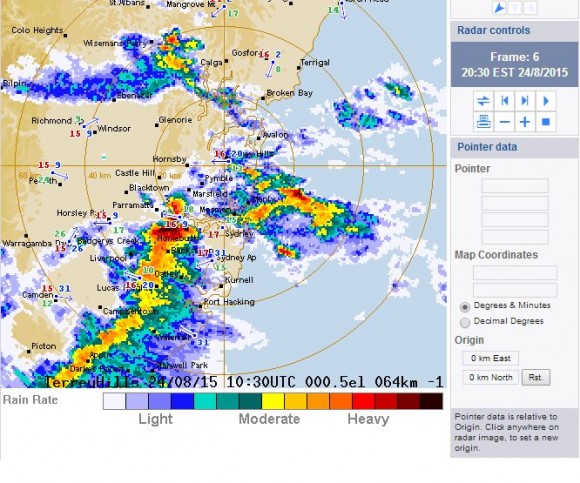 During the course of Monday 24 August, a number of thunderstorms passed over Sydney, each one producing heavy showers and even hail events.
During the evening, an intense thunderstorm passed over large areas of Sydney as shown in the two radar images attached (Acquired from the BOM 24/8/2015). The storm was fast moving but produced intense rainfall similar to the storm that passed through during the 12 noon to 1 pm period.
The storm passed over Blacktown producing strong bursts of wind and intense rain which included sheet lighting.
Generally the storms resulted in at least 600 calls to SES crews mainly for flooding and property damage. There were also 35 flood rescues during the events.
This morning when driving to work, I noted a large area around Wentworthville without power and a set of traffic lights not working. Upon driving back through the same area late afternoon, I passed a number of trees in the same area that were uprooted and lying on their sides.
The storms through Sydney were significant and strong rainfall was recorded as shown in the rainfall plot attached (Acquired from BOM 25/8/15). The heaviest totals to 9 am 25/8/15 include 72 mm at Rose Bay, 62 mm at Randwick, 54 mm at Observatory Hill, 52 mm at Lucas Heights and 50 mm at Strathfield Golf Course.
Large areas through Western Sydney received from 25 mm to 50 mm during the passage of the storms and heavy showers.
Related Terms: