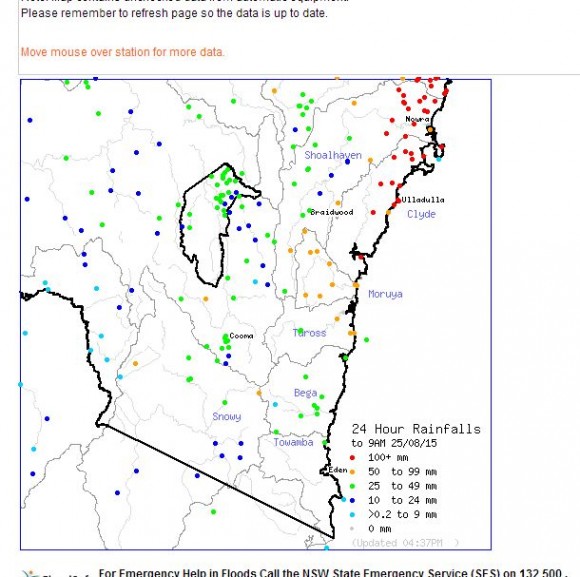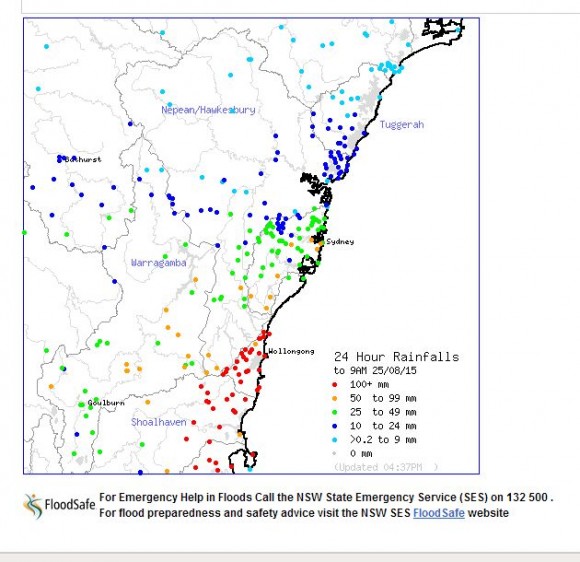 The development of an east coast low south east of Sydney and off the New South Wales east coast has resulted in concentrated rainfall within an area stretching from Wollongong in the north to Batemans Bay in the south.
The rainfall has created a number of issues including flooding of low lying areas and a situation where an old water reservoir near Kiama that was being decommissioned now in danger of total failure. Any such failure of the old reservoir known as Jerarra Dam would result in a localised flood event for the area. Property owners have been requested to leave due to a potential disaster close to the dam.
There are also flooding issues around Ulladulla and Lake Conjola.
Heavy rain has been a feature for the affected coastal areas which includes the following up until 9 am 25/8/15:-
Wollongong, Illawarra and Nowra
Kiama - 230 mm.
Tomerang - 197 mm.
Vincentia - 189 mm.
Glenely Creek - 176 mm.
Beaumont (The Cedars) - 175 mm.
Nowra - 162 mm.
South Coast
Fishermans Repeater - 232 mm.
Ulladulla - 205 mm.
Lake Conjola - 202 mm.
Batemans Bay - 103 mm (On the southern edge of the area affected by the heaviest falls).
The heaviest falls for the period occurred around the Ulladulla area.
Much of the Illawarra and South Coasts have received more than 100 mm of rain for the 24 hour period as shown in the attached plots (Acquired from the BOM 25/8/15).
For the period 9 am to 6.30 pm 25/8/2015, the east coast low continued to produce heavy concentrated rainfall along the coastal fringe of the South Coast with the heaviest falls including:-
Tomerang - 134 mm.
Brooman - 117 mm.
Island Point Road - 109 mm.
Ulladulla - 100 mm.
Further heavy rain is continuing across the region which is exacerbating the flooding situation.
Related Terms: