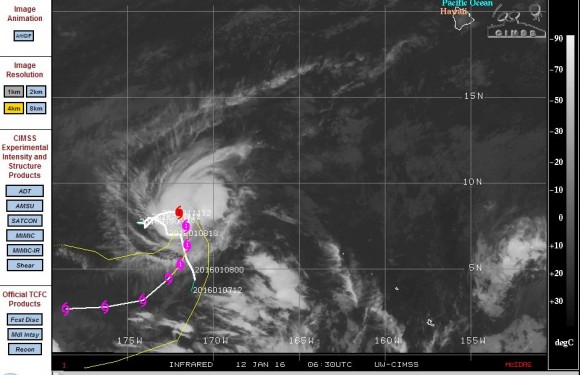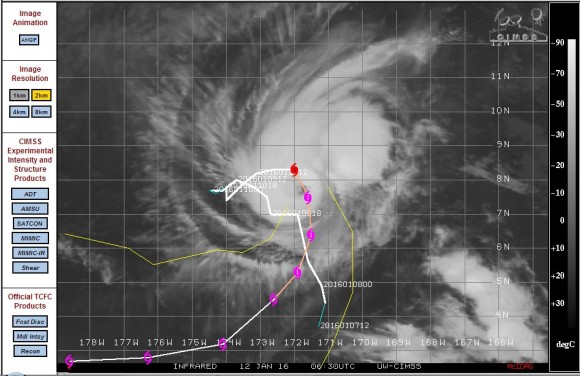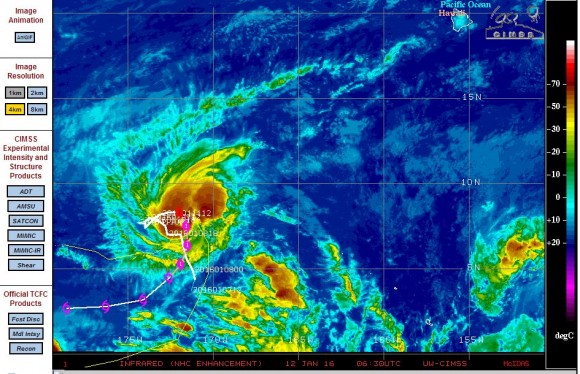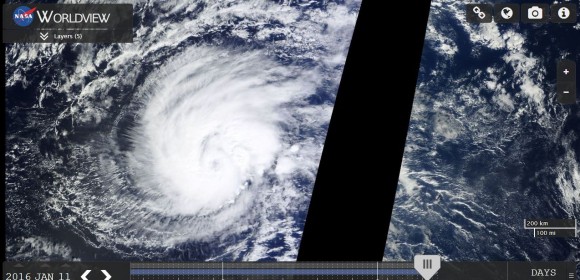 This appears to be surreal but a hurricane has formed in the Central Pacific Ocean early to mid January. This storm is officially named and could be the first ever hurricane to form in the Central Pacific basin north of the equator this early in a calendar year.
What makes this storm even more unique and unusual is that it has formed just 8.3 degrees north of the equator and 172 degrees west. The forecast model from CIMSS suggest that the storm will track south or south west close to the equator over coming hours.
Notwithstanding the timing and location, it is generally regarded that a hurricane, cyclone or typhoon cannot form closer than 5 degrees to the equator because the Coriolis force along the equator is too weak to influence such storms.
Should the storm move closer to the equator as forecast, then it is likely that the storm will weaken because it will move too close to the equator.
This is only a Category one storm on the Saffir Simpson Scale but appears to be sustaining winds of 75 knots or approximately 139 km/h close to the core. The storm is not expected to impact any population centre due to its location well south west of Hawaii (Approximately 1,450 km south west of the big island).
The storm is currently over waters of 28C but its track to the south, south west would take it over waters of 29C. The storm has a small but clear visible eye.
The development of such a storm is most unexpected but it does show that in weather, the unusual must still be expected.
CREDITS
CIMSS Forecast plots of Hurricane Pali dated 11/1/2016.
NASA (Worldview with overlays) Satellite image acquired 12/1/2016.
Related Terms: