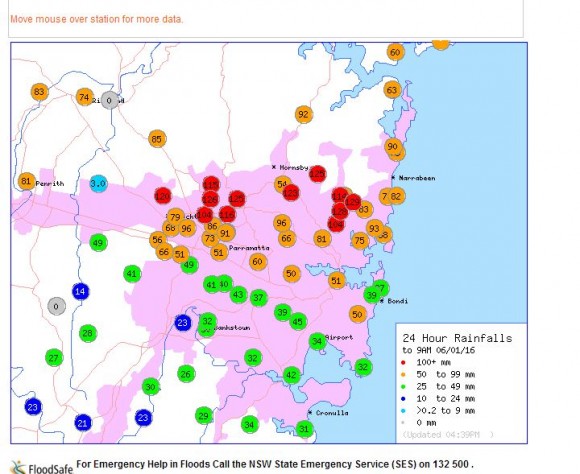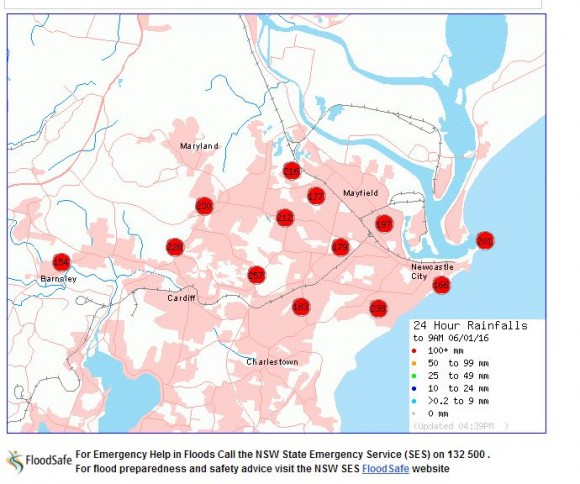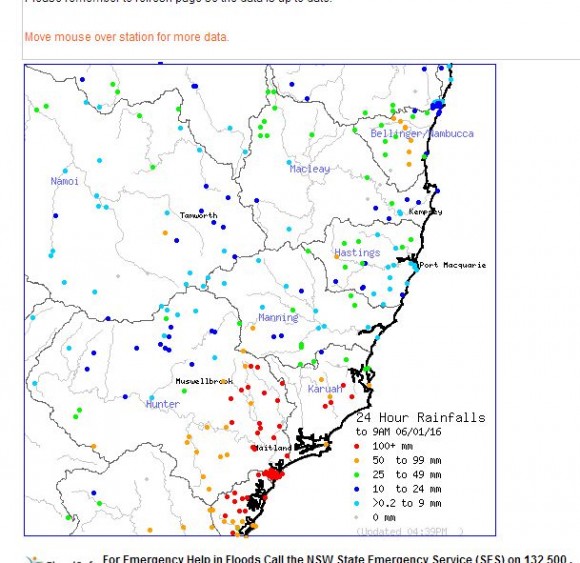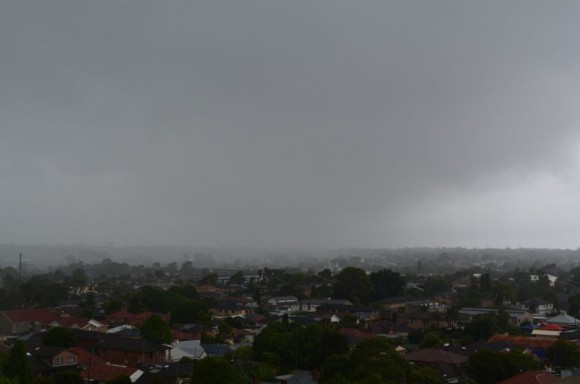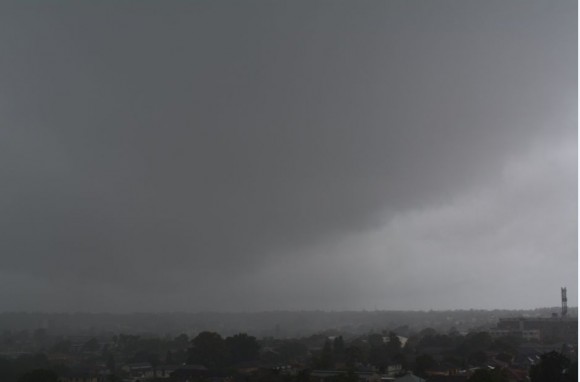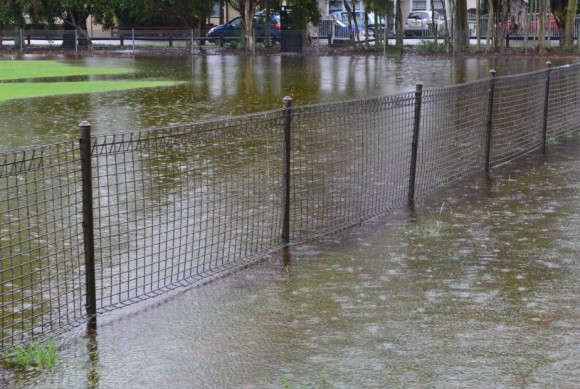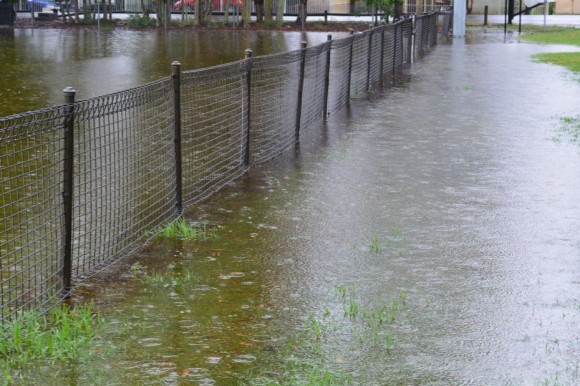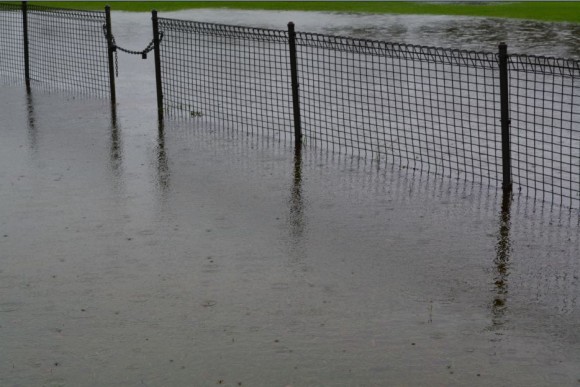 The development of an east coast low along the New South Wales coastline from Sydney to the Hunter Valley has resulted in some heavy rainfall totals during the 5 and 6 January 2016.
Especially within the lower Hunter Valley and Newcastle, some rainfall totals have exceeded 230 mm.
Another area where heavy falls have occurred is within a small pocket centred on Blacktown to Baulkham Hills and Rouse Hill where falls reached 120 mm or more for the 24 hours to 9 am 6/1/2016.
Major flooding is occurring on the Bulga River and at Patterson within the Hunter Valley.
At Auburn, I had the opportunity to observe and document some local flooding across the Duck River Parklands at around 6 am and again at 4.30 pm where a number of photos were taken at various angles to highlight what was occurring. Some of my favourite images are attached.
I had the opportunity to photograph heavy rain squalls sweeping across the city from the south east from the rooftop of the Auburn City Council Car park at 1.20 pm during my lunch break which clearly shows the weather conditions being experienced.
Heavy rain has again been a feature and it is now day 4 where such rain has been occurring. It is unusual to experience such conditions during early January. In addition to the rain, maximum temperatures have been well below the average for January. It only reached 18.3C at Holsworthy and 18.6C at Sydney Observatory Hill which is more akin to winter rather than early January.
Following further rainfall, it appears conditions are starting to ease and there appears to be a clearing trend in sight. Depending on location across Sydney, there has been 11 to 33 mm of further rain during the 9 hours from 9 am to 6 pm across Sydney with lighter falls towards the south west.
Maximum rainfall for the 24 hours to 9 am 6/1/2016 include the following:-
SYDNEY
Frenches Forest - 129 mm.
Forestville - 128 mm
Baulkham Hills Pool - 126 mm.
St Ives and West Pennant Hills - 125 mm.
Kings Langley - 120 mm.
Blacktown - 79 mm.
There is a narrow east to west corridor across northern Sydney where falls reached 100 mm during the period.
In outer Sydney, there were two other locations that had 100 mm falls being Kurrajong (102 mm) and Faulconbridge (101 mm).
HUNTER VALLEY AND NEWCASTLE
The heavy falls across Sydney look insignificant when compared to what has occurred within the Lower Hunter and City of Newcastle. Within this region, falls have reached in excess of 250 mm including a fall of 257 mm near Cardiff and 238 mm close to the city centre of Newcastle.
Major totals excluding Newcastle include:-
Upper Chichester - 239 mm.
Williamstown - 223 mm.
Seaham - 210 mm.
Dungog - 188 mm.
Maitland - 165 mm.
Such large totals explains the reason why rivers are in flood and the havoc being created across the region including Newcastle and Dungog. Homes are without power and roads are closed.
It appears the worst is now over and with the clearing trend, a clean up is likely to commence.
The rainfall plots from the Bureau of Meteorology "Water and the Land" are provided below and dated 6/1/2015. The photos provided were taken at Auburn using my Nikon DSLR 5300 camera showing the wet, some flooding and general weather conditions.
Related Terms: