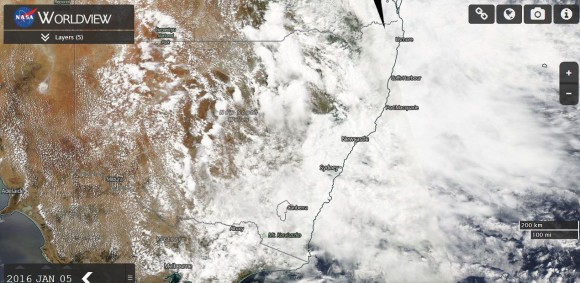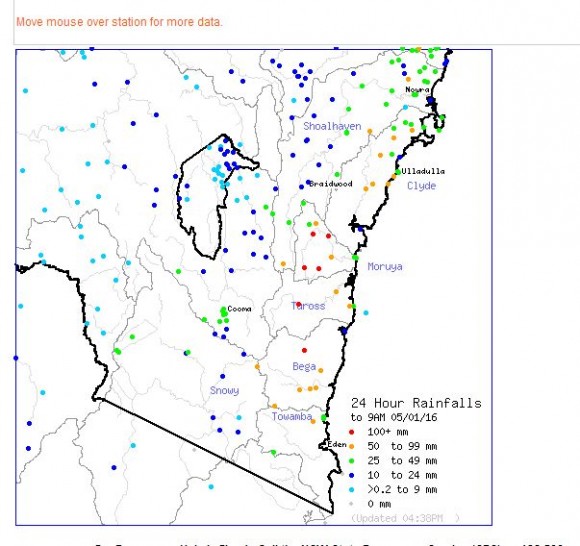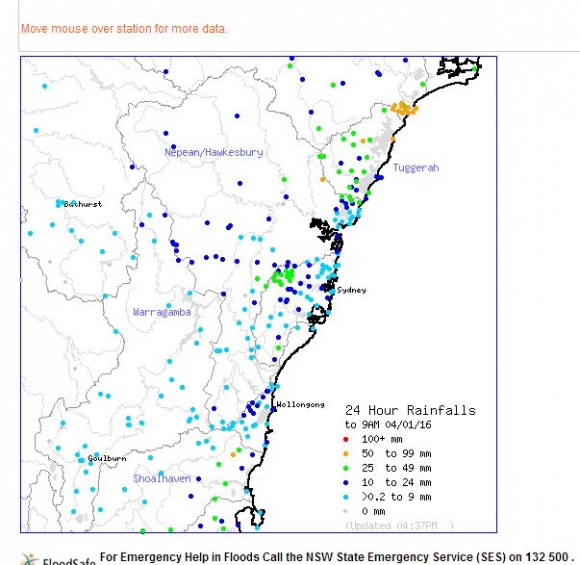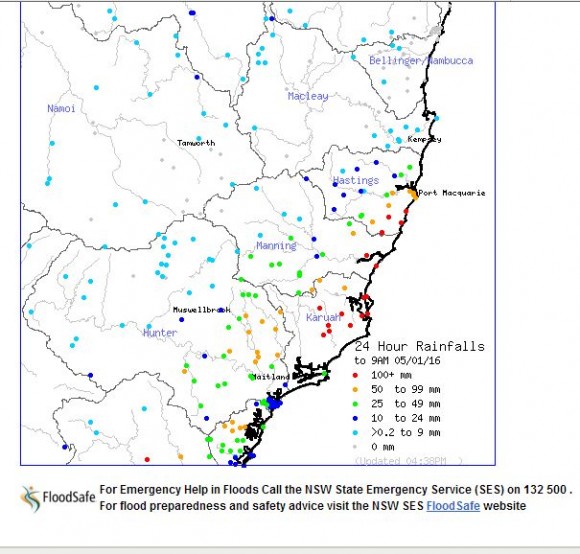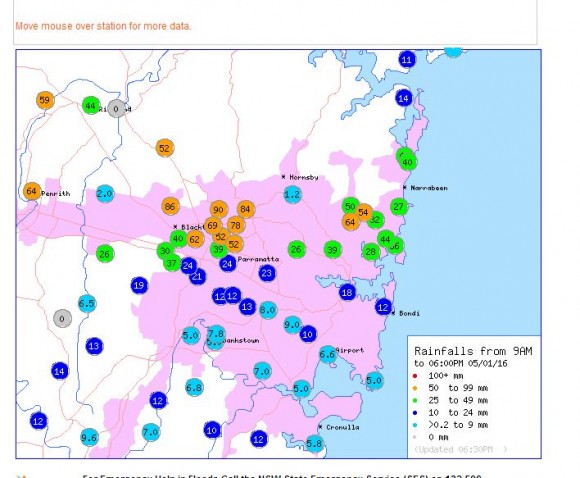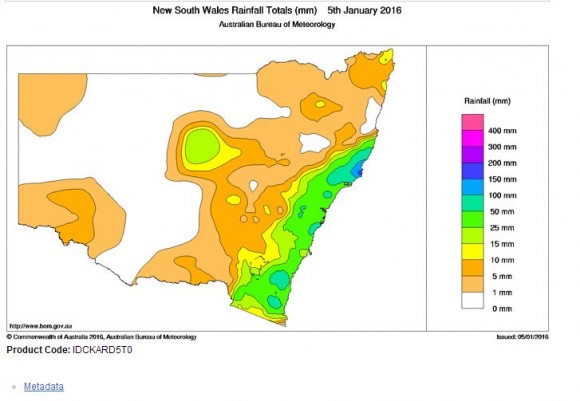 The large cloud mass continues to produce a substantial rain event. The latest satellite image from
NASA (Worldview) and dated 5 January 2016 is attached showing large areas of eastern Australia affected.
The cloud mass is responsible for producing some significant rainfall totals across portions of New South Wales and Queensland for the past 24 hours. Up until 9 am 5 January 2016, the following rainfall totals are evident.
NEW SOUTH WALES.
1 - The south coast has again received a soaking as follows:-
Moruya (Plumwood) - 230 mm.
Belowra - 142 mm.
Bendethera - 124 mm.
Brogo Dam - 113 mm.
There are now areas that has received in excess of 200 mm during the past two days and minor flooding is occurring along the Bega River. However, it appears that river levels have plateaued and may even be falling.
2 - Sydney, Central Coast and Newcastle
An interesting situation is now emerging because there are areas across northern Blacktown and Baulkham Hills where as much as 80 to 90 mm of rain has fallen between 9 am and 6 pm 5/1/16. This includes:-
90 mm at Baulkham Hills Pool.
86 mm at Kings Langley.
62 mm at Toongabbie.
There is a fall of 64 mm at Penrith and a fall of 40 mm at Seven Hills 2WS radio station. This could potentially lead to local flooding in low lying areas should the rain continue at this rate. It is known that at Blacktown where I live, 30 mm, 37 mm and 40 mm has already fallen since the rain set in (Total 107 mm). This has exceeded the monthly average for January. The rain appears to have set in especially across northern areas of Sydney.
Up until 9 am 5/1/2016, the following significant falls occurred across the Sydney region and adjacent areas:-
Wells Creek (Wisemans Ferry) - 114 mm.
Colo Heights sawmill - 101 mm.
Kurrajong Heights - 87 mm.
North Richmond - 77 mm
Sackville - 73 mm.
Windsor PWD - 68 mm.
Even though the weather models suggested heavier falls to the north of Sydney, it is identified that some of the heavier falls are occurring within small areas of Sydney.
3 - Mid north coast
Substantial falls are occurring or have occurred across areas of the Mid North Coast. For the 24 hours to 9 am, the following falls have occurred:-
Crawford - 215 mm.
Buladelah - 194 mm.
Redoak - 189 mm.
Whoota - 176 mm.
Laurieton - 163 mm.
Bungwahl - 160 mm.
Logans Crossing - 156 mm.
Forster - 125 mm.
Old Bar - 116 mm.
For the period 9 am to 6 pm 5/1/2016, isolated heavy falls have continued including 162 mm at Bungwahl and 158 mm at Upper Chichester.
The combined 33 hour fall at Bungwahl is 322 mm.
As a result, the Myall River at Bulahdelah is in minor flood with river levels rising. There is also minor flooding on the Bulga River.
There are also significant falls around Newcastle from the same event.
QUEENSLAND
Further big falls fell around and near Bundaberg to 9 am 5/1/2016 including:-
Barnetts Road Alert - 200 mm.
Branyan - 156 mm.
Splitters Creek Alert - 128 mm.
Bundaberg City -111 to 127 mm.
Recent rain has resulted in major flooding of the Bulloo River at Quilpie with flood levels reaching 5.5 metres and the Langlo River near Warilda where moderate flooding is occurring.
The various plots from the Bureau of Meteorology "Water and the Land" showing the recent falls are provided below.
Related Terms: