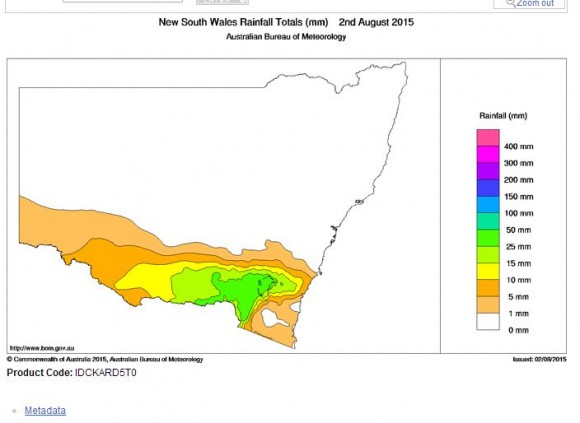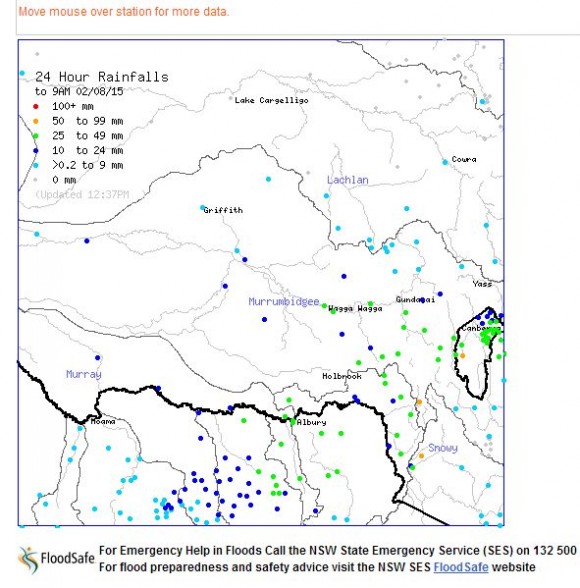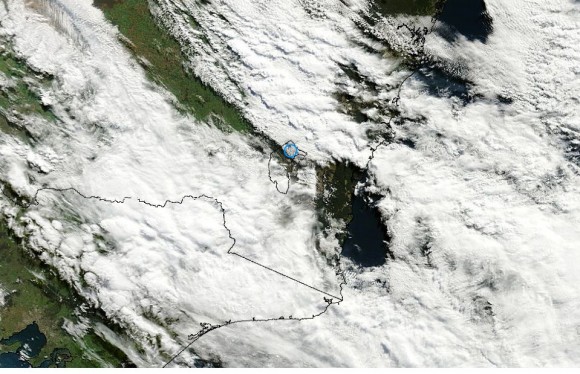 Cloud streaming across southern Australia from Western Australia has delivered some reasonable rainfall for the period 1 and 2 August 2015 across the ACT, southern New South Wales and areas of North East Victoria. In many instances, more rainfall than expected occurred with some falls being moderate to heavy for the period.
A particular feature of this event is that the larger falls were localised and rain cells were training over the same areas for several hours. During Saturday, rain cells were developing around Yarrawonga, then travelling east and dropping much of their moisture around the hills surrounding Lake Hume all the way to Corryong. Large rain shadows were evident east of Corryong and Khancoban. As a result, rainfall totals were boosted within this area.
Another feature of this event was the width of the rain band being relatively narrow during much of Saturday. By Sunday morning an area around the ACT was receiving moderate to heavy rainfall bursts but little reaching the coast. By 9 am Sunday morning, the hilly areas of North East Victoria, southern New South Wales around Albury and Wagga and east to the Snowy Mountains and areas to the north east to Canberra enjoyed a reasonable soaking of rain.
Saturday was a particularly cold day for the affected region with temperatures struggling to reach 10C. There was also snow on the higher elevations with the snow depth reaching as much as 97 cm at Perisha Valley. The highest rainfall totals as shown in the attached plots for the 24 hours to 9 am 2/8/15 (Water and the Land - Bureau of Meteorology 2/8/2015) include:-
Cabramurra (NSW Snowy Mountains) - 55.2 mm.
Corin (ACT) - 53 MM.
Perisha Valley (NSW Snowy Mountains) - 52 mm.
Carwoola (Molonglo River) (NSW) - 40 mm.
Geehi Airstrip and Tooma Dam (NSW Snowy Mountains)- 39 mm.
Tuggeranong (ACT) - 39 mm.
Hunters Hill (NE Victoria) - 37 mm.
Rosewhite (NE Victoria) - 37 mm.
Argalong and Woolshed Creek (ACT) 37 mm.
Mt Buffalo Chalet and Eurobin (NE Victoria) - 36 mm.
Yackandandah - (NE Victoria) - 33 mm.
Batlow - (Northern edge of the Snowy Mountains NSW) - 32 MM.
Canberra City (ACT) - 31 mm.
Wagga and Wodonga - 29 mm.
Albury Airport - 27.2 mm.
The attached satellite photo for the area acquired from NASA 2/8/2015 (MODIS) is showing substantial low cloud across the affected area. As a result ongoing and continuing shower activity is still a feature. Cabramurra has received a further 8 mm to 1 pm (2/8/15) and falls of 2 to 5 mm around Albury to Corryong has occurred.
Effective rain shadows are identified in the attached satellite photo especially along the coast. So while Sydney is enjoying relatively warm maximum temperatures of 21C and 22C for Sunday and early August, areas affected by the rain are under low cloud, experiencing cold cloudy conditions with temperatures struggling to reach 10C to 12C for the second day in a row.
Related Terms: