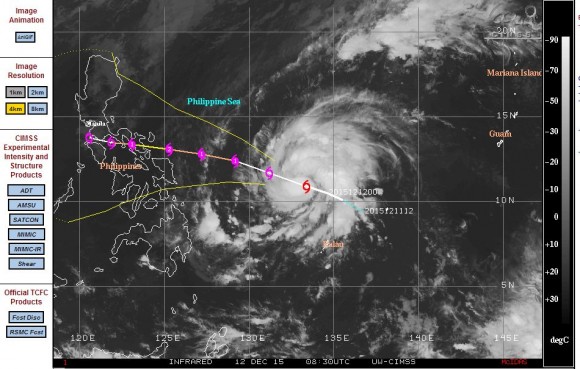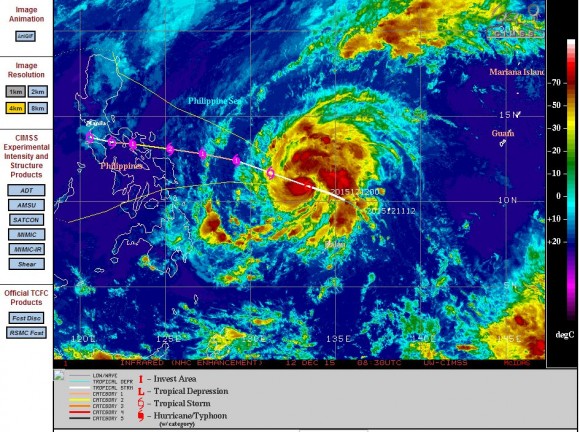 Incredible as it seems and so close to the summer solstice for the southern hemisphere, a typhoon appears to be developing south east of the Philippines. The named storm "Melor" is undergoing transition from a tropical storm towards a Category 1 typhoon south east of the Philippines at latitude 11.7 degrees north and 131.2 degrees north.
PAGASA has named the storm "Nona" with Melor being its international name.
The storm is expected to track west north west at 11 knots (Approximately 20 km/h), intensify to a category 2 storm then weaken as it commences landfall over southern Luzon Island. At peak intensity, the storm is forecast to sustain winds of 85 knots (Approximately 157 km/h) with peak gusts to 105 knots (Approximately 194 km/h).
The storm is forecast to make landfall over southern Luzon Island within 3 days. PAGASA is forecasting the storm to be located in the vicinity of Lucena City (Quezon) within 72 hours.
Despite the time of year, it is clear that a typhoon can still form over the north west Pacific Ocean. Ocean waters around the Philippines are still 29C to 30C which is above the minimum temperature of 27C to support such a storm. This shows that tropical storms or typhoons are still capable of threatening population centres across parts of South East Asia.
Once landfall occurs forecast models show the storm dissipating fast and breaking apart.
CREDITS
1 - CIMSS (Forecast model for Typhoon Melor) acquired 12 December 2015.
2 - PAGASA (Forecast update for Nona (Melor) 13 December 2015.