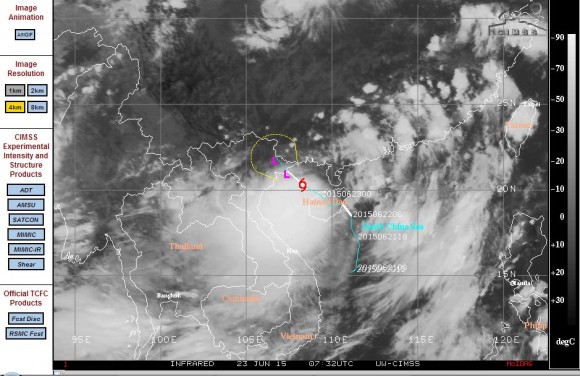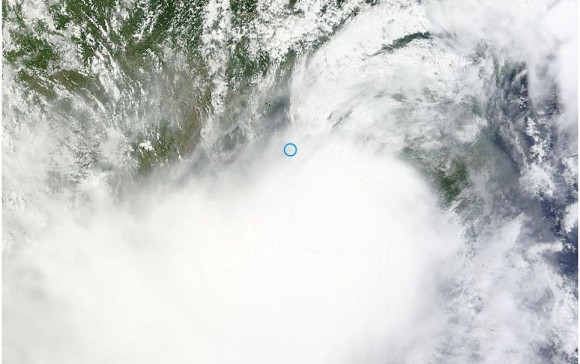 The tropical depression in the Gulf of Tonkin east of Vietnam intensified as it tracked northwards towards Hainan Island (China). On the 22 June, this storm was given Tropical Storm status and named Kujira and throughout the 23 June, the intense rainstorm / thunderstorm complex passed over Hainan Island but changed course. The storm appears now to make landfall over the Vietnam / China border.
At peak intensity, this storm had sustained winds of 45 knots but according to the Thai Meteorological Department, the storm appears to be weakening as it makes landfall. Winds close to the centre have eased back to between 65 km/h and 74 km/h.
Tropical Storm warnings are now issued for coastal areas of Vietnam near the city of Hai Phong and rainfall modelling provided by the Thai Meteorological Department is suggesting upwards of 120 mm of rain falling at landfall, capable of bringing flooding.
The model by CIMSS (June 23 2015) is attached which is showing its location at 20.3 degrees north and 108.3 degrees east which is between Hainan Island and landfall over the border of Vietnam with China.
The satellite image RAPID LANCE - MODIS (Acquired from NASA 23/6/2015) is showing the storm clearly. It is a compact storm system but with no eye. It is not a typhoon but embedded thunderstorms are visible within the storm complex. It appears that the main threat is heavy rain and flooding in coastal areas as landfall commences. It is expected that the storm will weaken as it crosses the coast in coming hours.
Related Terms: