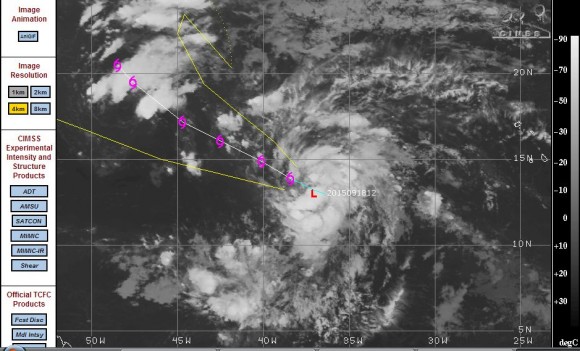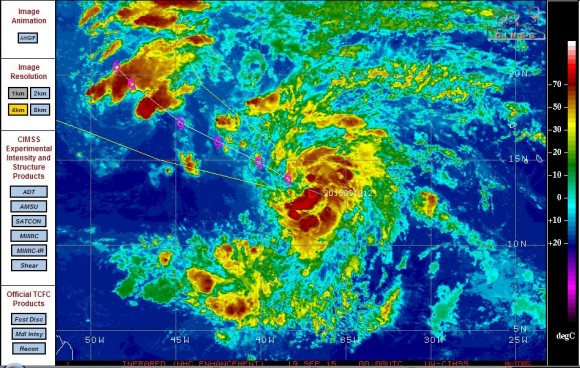 The CIMSS model acquired from CIMSS and dated 18/9/2015 is showing an interesting tropical storm that has potential to become an Atlantic Hurricane in coming days. This storm is named Ida with the model suggesting that it would track north west towards the United States.
The storm has formed within an area where ocean waters are 28C to 29C which would support a hurricane.
The storm has been organising and it is suggested that the storm would strengthen in coming days.
Winds currently at the centre reach 35 knots (Approximately 65 km/h) however the model anticipates winds of 60 knots within 72 hours (Approximately 111 km/h). This is approaching the threshold of a hurricane. There is even the chance that it will pass over warmer waters of 30C which lie to the west and there is even a chance that it will strengthen further.
The forecast model is still unclear for the latter part of the forecast period.
It does appear that the storm will remain out to sea during its lifespan but there are uncertainties in the forecast so the model seen is not certain.
Despite a small number of tropical storm events and a few reasonably weak hurricanes, this has been a quiet season for hurricanes in the Atlantic Ocean. This season, a hurricane has not made landfall onto the United States notwithstanding a few tropical storm events that have occurred.
This is one storm that will be monitored over coming days to see what occurs.