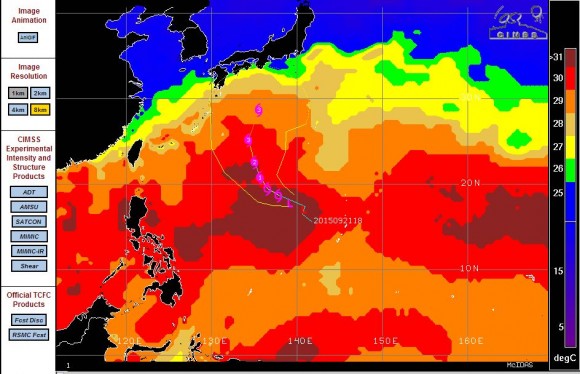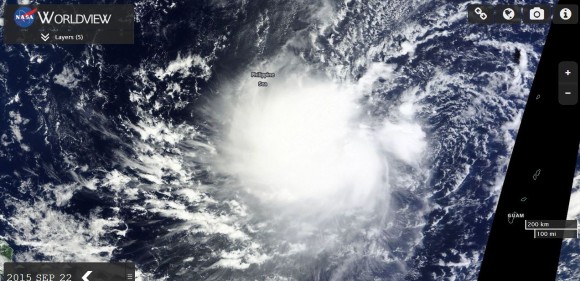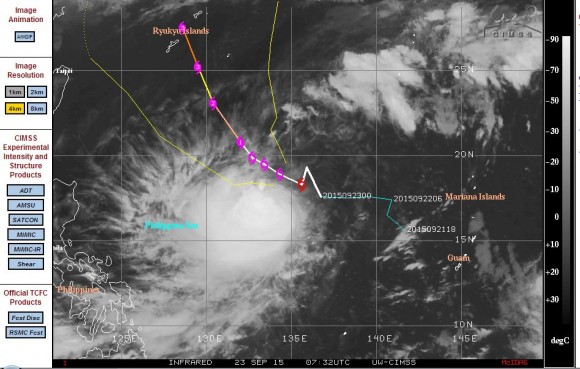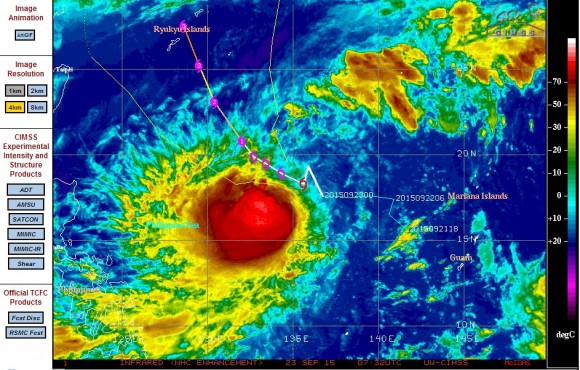 A new tropical storm has developed north west of Guam or approximately 2,120 km east of the Philippines. The storm is now located 1,570 km east of northern Luzon Island (Philippines) and has been named Dujuan. The storm is intensifying and now exhibits a circular shape with intense convection occurring near to the core. The storm is expected to become a Category 1 typhoon within 48 hours.
With the recent demise of Typhoon Krovangh over waters south and east of Japan, this storm is following close on its heels across a similar region.
The Philippine Atmospheric Geophysical and Astronomical Services Administration (PAGASA) is expecting to name the storm "Jenny" once it crosses into Philippine waters.
The storm is forecast to traverse west north west at 13 knots or approximately 24 km/h then turn more north west towards southern Japan. However there may be a threat to Taiwan should the storm deviate from the forecast model. When reviewing the model, it is evident that the storm is further west than what the model anticipates and hence the storm is tracking closer to Luzon Island than suggested.
As shown on the CIMSS model for "Sea Surface Temperatures", a vast area of very warm water lies across the north west Pacific Ocean with waters reaching 31C or higher. This provides a favourable environment to support a typhoon. Another feature is that the very warm waters reach well beyond the Tropic of Cancer and hence the storms are capable of reaching Japan or making a serious approach to the country.
It appears that the typhoons or tropical storms are training over the same region. Once one storm decays a new one takes its place however fortunately not all of them are making landfall.
The latest storm is expected to at least reach a Category two and possibly a Category three typhoon within 3 to 4 days with wind speeds of 95 knots (Approximately 176 km/h) and higher wind speeds of 105 knots or approximately 195 km/h.
This storm has the potential to make landfall.
The satellite image shown does not show any eye feature but it shows a storm with strong convection and a classic circular shape.
The latest CIMSS longwave infra red NHC colour enhancement is showing a very intense core and it is only a matter of time before the storm transitions into a new typhoon.
This is one storm that should be watched given its proximity to South East Asia.
CREDITS
1 - CIMSS for the model of the sea surface temperatures and the plot for the typhoon acquired 22 and 23 September 2015.
2 - NASA (Worldview) with overlays for the satellite image of the storm and dated 22 September 2015.
Related Terms: