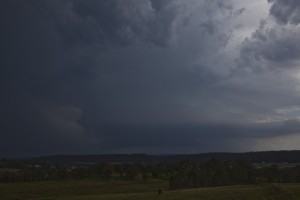 Chased the supecell and storms with Colin Bryant and Corey, Jeff Brislane, HarleyPearman and Michael Keene. It started with false promises as cumulus and showers collapsed west of Penrith. One cell tried down south west of Warragamba but it collapsed. A cell took off after that in the same vicinity but feeling hungry myself, we headed to MacDonalds. It seemed the only show in time trying to anchor into the moisture were the cells down near Warragamba.
Jeff Brislane did suggest a nice spot to view these areas so we decided to head down there to investigate. Timing could not be more perfect! I would think that records were broken of people getting out of the car to photograph! The storm had separated from the rain and become organised rapidly whilst we had just arrived! The supercell probably was in a nice structure for about 20 minutes before it went linear. After being smashed by hail to golf ball size (hail easily measured to 3.5cm), we headed north.
The storms near Penrith split but also weakened given the pressure of other cells behind. So we headed with an intercept for Bilpin. Nearing Richmond, we decided to head for Kurrajong and alas, an awesome structure developed once more! This time no issues about perfect contrast!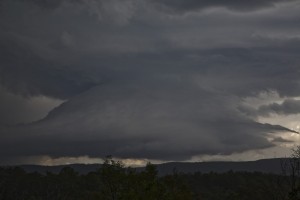 The arcus cloud was amazing and relatively close! Timelapse and photographs were gathered but this storm again rained and hailed itself out. Hailstones from this storm probably maximised about to 2cm.
Related Terms: