Who would have thought April would produce something like this? The setup on the 8th April was quite amazing with an upper trough moving in from the W -14c @500mb, LFTX values around -5 to -6, 35-40 tks @ 700mb, and 50kts 500mb. There was also ample moisture up to 750mb, with a large dry slot in the uppers thereafter. Perfect conditions for supercells. I targetted the Hunter valley, aiming to sit somewhere on the convergence of the NE and NW winds where I believed the drier storms from the W would perk up and become more active. Not exactly what happened, but I got onto a storm coming in from out near Dunedoo near Singleton. Unfortunately the storm was 10km N of Singleton, and with the road towards Lostock Dam having terrible views, I sat just east of town on the Gresford road. An originally interesting base quickly turned into a wall cloud and exhibited supercellur structure for an hour or so, before becoming outflow dominant on nightfall as it tracked east towards Gresford.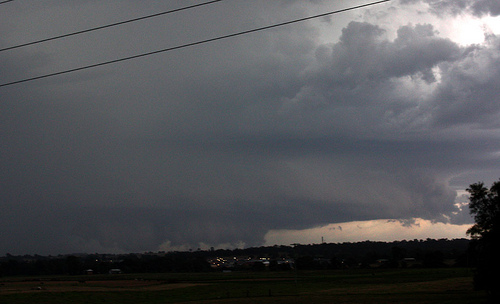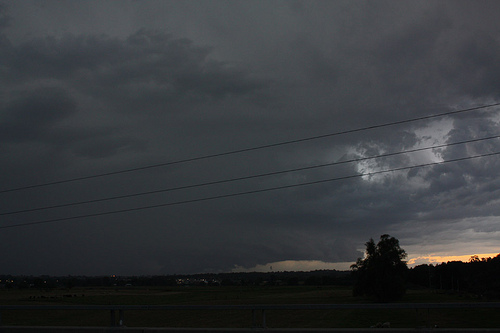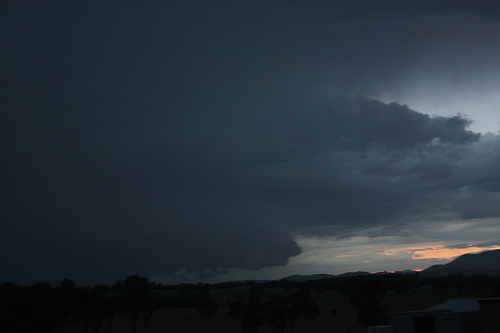 I aimed to get ahead of it and tried out the Gresford road, which actually wasn't too bad. Unfortunately I hit a pothole coming off a tight corner, and blew my front left tyre, spinning off and ending up in a paddock. Very scary. Some lovely people assisted me by helping with the tyre and towing me out, and I somehow managed to get ahead of the storm which was not definitely outflow. Some amazing crawlers and CG's were to be on show, but towards Gresford there were too many trees. The corepunch yielded some strong winds 80-90kmh, and some brief 1-2cm hail. The lightshow after the line had passed was also spectacular.
When I arrived home I heard reports of a tornado in Asquith, my suburb. I had seen no damage and was pessimistic. So after hearing from my friend Steve whos house was in the middle of it, I had a looked around, quite amazing! Most of the damage was in the Mills Park area. I would say it is definitely a tornado, in the F1-F2 range. Huge gum trees down, through peoples rooves, jacarandas uprooted, some trees have been half eaten up. It is amazing how the damage stopped so suddenly. I spoke to 2 residents in the path. They said the winds lasted no more than 30 seconds and it sounded like a freight train. The damage also does not look linear, there is no one direction that it tracked. One resident, who had a trees in his yard uprooted and thrown through the neighbours house roof, said he was watching TV, and all of a sudden the wind picked up, the TV reception flickered and it got ridiculously windy for about 30 seconds, and then went dead calm thereafter. And he stepped outside and saw the chaos. Simply amazing anyway, I will try and get photos of the damage in the morning if it is still around.
Doppler radar at around 7:30pm is very interesting http://www.theweatherchaser.com/radar-loop/IDR71I-sydney-terrey-hills/2012-04-08-08/2012-04-08-13 just north of Hornsby
Related Terms: