A four day weather event has unfolded across south east Australia encompassing south Australia, Victoria, New South Wales and Queensland including the Australian Capital Territory. Given the widespread nature of this event, the most significant events for each day are considered as separate statements.
Day 1 - Tuesday 28 September 2021
Rain and thunderstorms developed across western New South Wales that has brought some significant events. For the 24 hours to 9 am 29/9/21, the heaviest rainfalls included:-
Jingellic (Upstream of Lake Hume) on the New South Wales / Victorian state border - 54 mm.
Jingellic Creek - 50 mm.
Portable - 45 mm.
Hillston - 42 mm.
Falls of 20 mm to 30 mm were common across the south west slopes including areas around Albury Wodonga and Lake Hume being the heaviest falls for the period.
Thunderstorms developed across a wide swathe of New South Wales but generally concentrated across the western and north western areas with some moving across the Riverina.
None of this activity reached coastal areas or the Sydney region.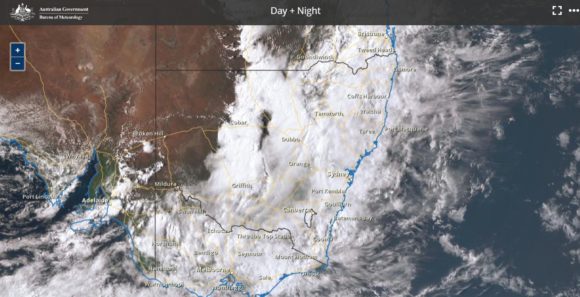 Day 2 - Wednesday 29 September 2021
Significant thunderstorm activity occurred across north west New South Wales with the stronger storms producing hail events. Bourke in particular was heavily affected by one storm event in which 24.4 mm fell in 30 minutes between 12 noon and 12.30pm. The town had received 42 mm by 4 pm and 43.8 mm by 5 pm. Interestingly, the weather station did not register significant gales from this storm with peak winds reaching just 43 km/h.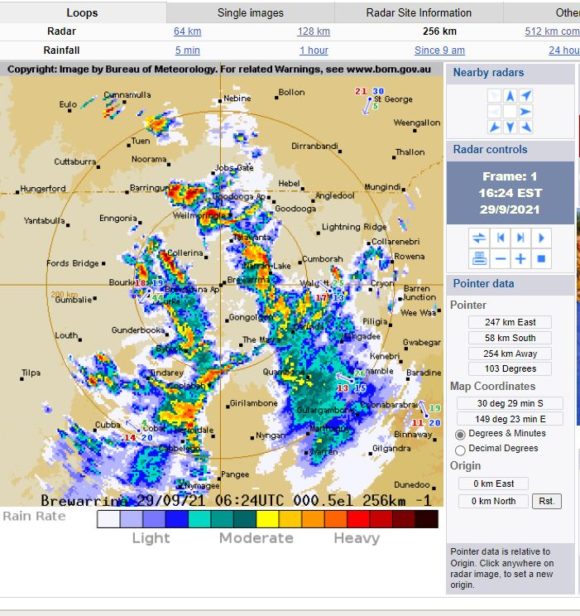 This event would have caused some flash flooding due to the intensity of the rain.
The small town of Walgett to the east has also received thunderstorm activity with 60 mm falling including 30 mm in 1 hour from one storm between 5 pm and 6 pm.
The same system also produced hail events from the strongest cells.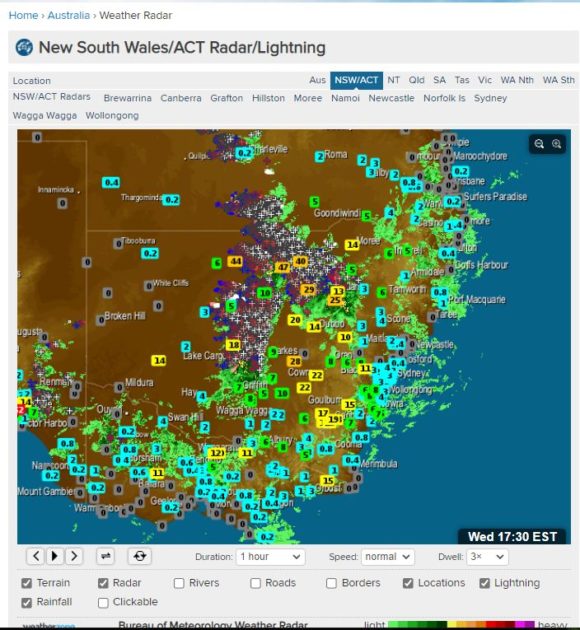 Pallamallawwa recorded 63 mm, nearby Pilliga recorded 62 mm, Krui Plains recorded 61 mm and Mungindi recorded 58 mm being amongst the highest totals across New South Wales. The highest totals were all recorded on the inland hills and plains of the North West Slopes. Many other areas within the region received between 25 and 49 mm of rain from showers and storms.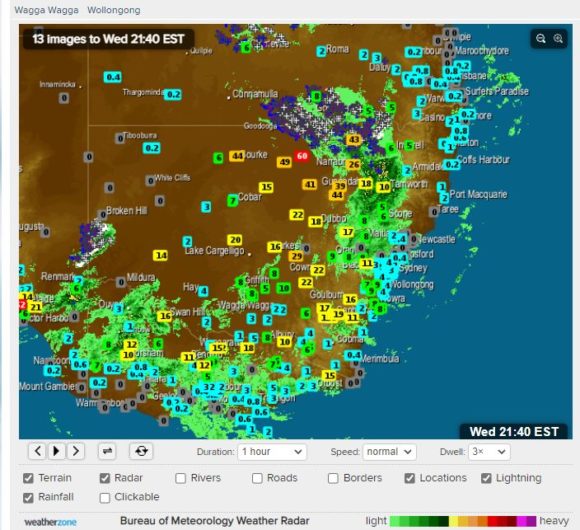 There was also an isolated fall of 51 mm just to the south of Queanbeyan adjacent to the border with the Australian Capital Territory.
None of the storm activity impacted Sydney with only very light rainfall totals being recorded from passing showers.
Day 3 - Thursday 30 September 2021
For the 24 hours to 9 am Friday 1 October 2021, thunderstorm activity reached the Sydney region. One late morning cell (Thursday) developed or passed over the southern Penrith region while during the evening, two storm cells developed over North West Sydney as shown in the attached photos taken from Doonside looking north. With COVID restrictions in place, it was not possible to chase these.
Rainfall was relatively light although I have been shown photos of small hail of 10 to 15 mm in size falling at Kings Langely (Northern side of Blacktown). It is likely that larger hail fell further north.
They were the first storms in Sydney for the spring and summer season.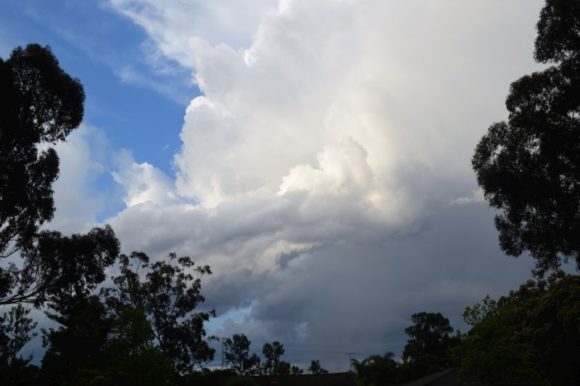 Thunderstorms also developed over North east New South Wales and one particular thunderstorm near Meadow Flat west of Lithgow on the Great Western Highway was reported to have produced a tornado which has damaged homes. This event was recorded and filmed by local residents with news footage also showing the tornado including the damage that it caused to homes. It is suggested that the tornado formed near Clear Creek and travelled 25 km south east towards Meadow Flat.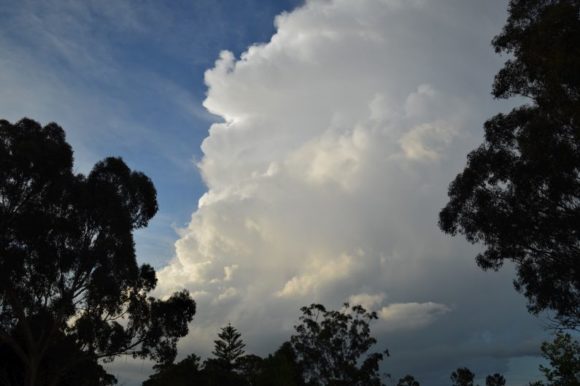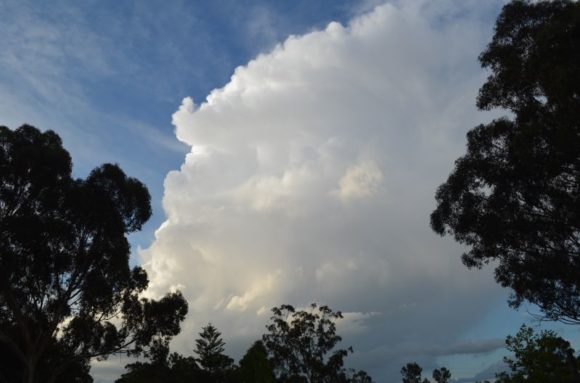 It appears that there were two other tornado events near Mudgee and Narribri as shown in news reports.
There were also storm activity around Kandos and north east New South Wales.
High rainfall totals were not common. The heaviest totals occurred around the Tweed River area where 25 to 49 mm were common. A fall of 52 mm occurred at Glenarbon Weir situated on the New South Wales / Queensland State border.
Day 4 Friday - 1 October 2021
There has been further thunderstorm activity including those within the Sydney region. Generally, this will be treated as a separate item given that during the late afternoon, a significant thunderstorm passed over Western Sydney with intense rain and gales. A detailed severe thunderstorm warning was issued for this cell for wind, hail and heavy rain.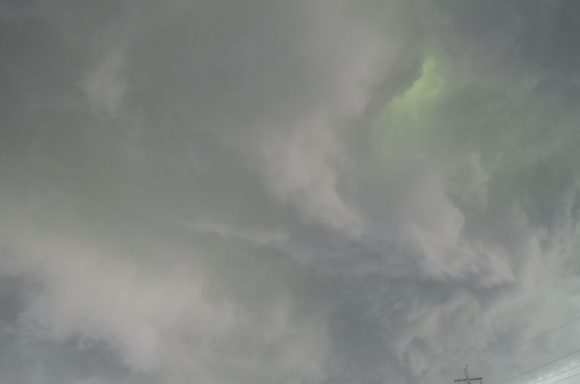 I managed to photograph the base which included various signs of a green tinge (Attached) before it dropped significant rainfall and probable hail to areas further to the east of Doonside.
Related Terms: