Following a mostly warm weekend in which maximum temperatures reached 31.9C at Penrith on Saturday and even 33C at Richmond on Sunday, a significant change passed through Sydney and eastern New South Wales during Sunday afternoon.
The arrival of the change resulted in a two non severe thunderstorm cells developing and passing over Western Sydney. One cell passed to the south over Liverpool while a larger cell passed over Blacktown. The cell that passed over Blacktown was non severe and did not produce hail or any significant wind however it did produce two bursts of heavy rain.
The attached radar image shows the storms as being disorganized as they travelled across Sydney.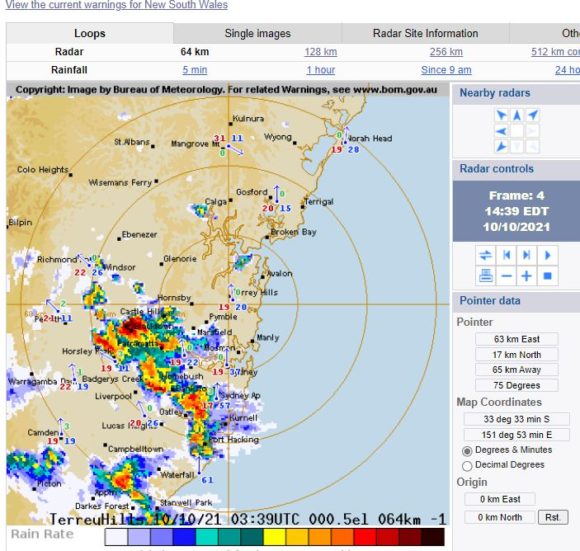 Following this, light rain later set in for the evening period.
The photos attached show the storm cell looking west (2 photos - Its approach) with the third showing its structure looking east after it had passed over (Western edge). I observed two cloud to ground lighting flashes for the entire period with all other flashes confined within the cloud.
As a result of the storm activity, some rainfall totals across Sydney were reasonable which included 20 mm falling at Seven Hills and nearby Toongabbie Creek for the 24 hours to 9 am Monday morning.
For the same period, strong rainfall totals were recorded across portions of the Upper Hunter Valley and the North West Slopes which included 68 mm at Nundle and 51 mm at Taroona (Peel River).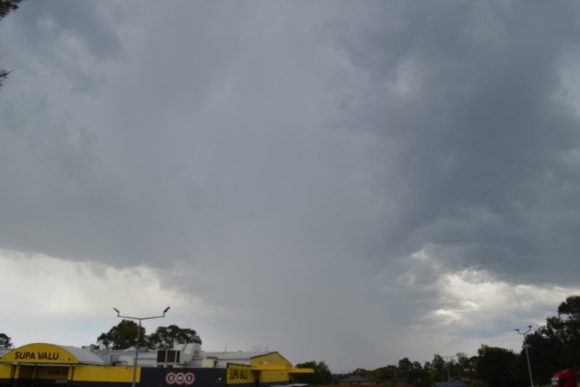 Falls of 26 to 42 mm were common around Newcastle north of Sydney and falls of 26 to 45 mm fell across the Upper Hunter Valley including areas near Tamworth. All totals quoted are for the 24 hours to 9 am Monday 11 October 2021.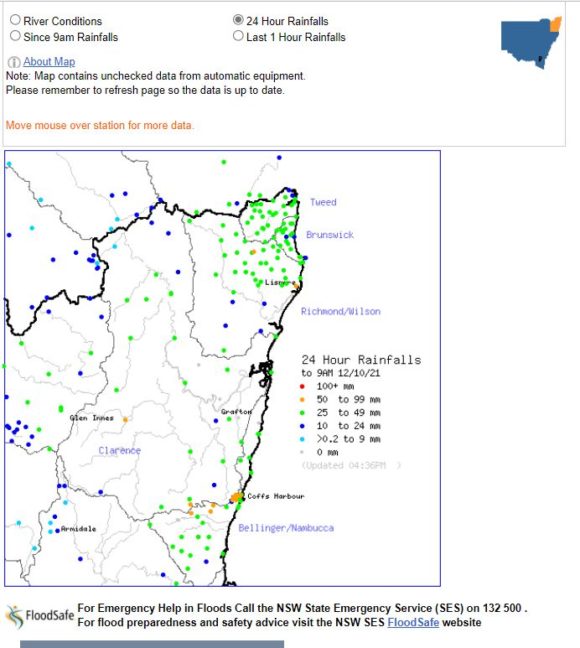 A feature of Monday was the cold being experienced with maximum temperatures struggling to reach 14C to 16C across Sydney including 13.6C at Richmond. Richmond in outer North West Sydney went from experiencing a maximum top of 33C on Sunday to just 13.6C on Monday being a sharp contrast of 19.4C. A maximum of 14C was common across western Sydney for Monday.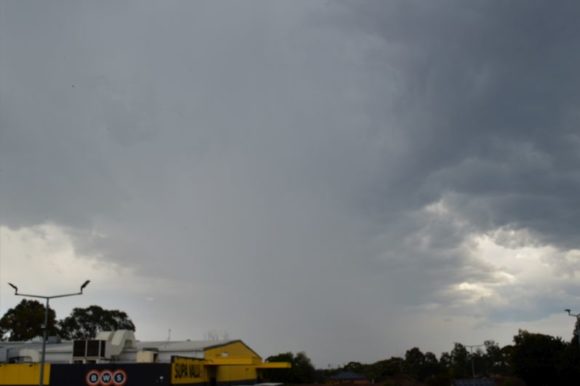 For the 24 hours to 9 am Tuesday morning, further strong rainfall totals occurred over parts of the North Coast including 53 mm at Ballina followed by 46 to 59 mm around Coffs Harbour. The Tweed River Valley also received falls of 25 mm to 53 mm.
Further strong rainfall totals have occurred across North East New South Wales for the 24 hours to 9 am Wednesday morning including 112 mm at Nambucca Heads, 97 mm at Evans Head, 75 mm at Minnie Water Pump Shed and 52 to 81 mm across the Coffs Harbour region.
Some catchments across North East New South Would now be saturated following some of this rain and further rainfall could start to result in minor flooding along rivers.
Second weather event - Wednesday to Saturday
A second rain event is now passing over south west New South Wales and weather models indicate strong rainfall totals across the inland south east and southern areas of New South Wales being those areas that have missed the first event. The Himawarri satellite image attached shows the position of the first front passing over Western Victoria into southern New South Wales with an associated intense low pressure cell situated south west of Adelaide.
There is now a risk of significant thunderstorm activity especially across the northern inland areas of the state and storm activity may again approach Sydney during Thursday afternoon.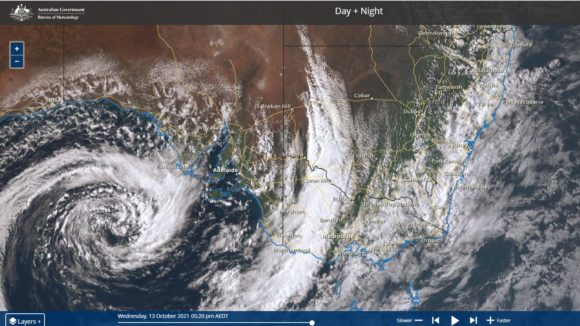 Following 3 unusually cool October Days across Sydney where maximum temperatures have failed to reach 20C with regular showers, this system is expected to intensify the rainfall already experienced with potentially another 30 mm falling.
This system is expected to last until Saturday for the southern inland areas of the state.
Related Terms: