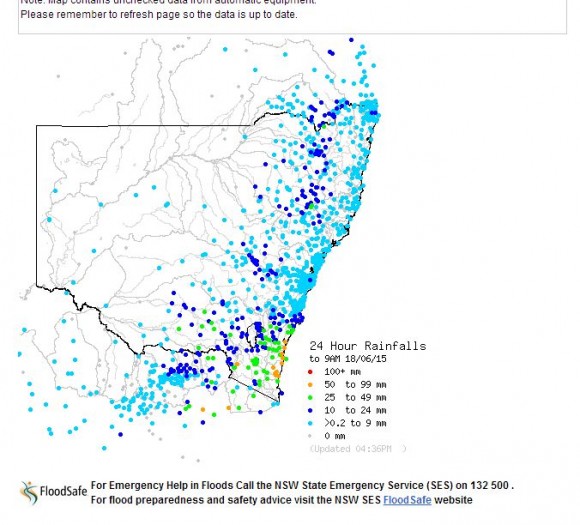 The rainfall plot for 18 June 2015 to 9 am is showing further widespread rainfall across New South Wales. In particular, a low pressure area across southern New South Wales resulted in rain training across the same area for many hours. This resulted in some reasonable totals accumulating in a region that included Wagga Wagga to the north, Albury to the south, Khancoban to the east and Yarrawonga to the west. Any centre within this region experienced what was effectively two days of constant light to moderate rain on the 17 and 18 June. This did break apart during the evening of the 18 June.
For the 24 hours to 9 am 18/6/2015, the highest rainfall totals in this region included:-
The Rock - 43 mm.
Urana - 31 mm.
Batlow, Coolamon and Yambla - 28 mm.
Wagga Wagga - 25 mm.
Hume Dam wall - 24 mm.
Albury Airport - 22 mm.
Up until 9 am 18/6/2015, there was also good rainfall within the Cooma and Jindabyne region which included 53 mm at Perisher Valley (some of which would have fallen as snow at higher elevations) and 39 mm at Mc Laughlin River (The Hut). This region experienced falls of 25 mm to 39 mm.
In addition to this, another region that experienced strong rainfall totals was the New South Wales South Coast. The best falls in this region were:-
Angledale - 74 mm.
Batemans Bay - 72 mm.
Bega - 68 mm.
Bodalla - 66 mm.
Moruya - 58 mm.
There was also good rainfall across Gippsland of Victoria during this period which included:-
Mt Wellington - 83 mm (This is approximately 25 km west south west of Dargo).
Mount Elizabeth - 77 mm.
Reeves Knob - 72 mm.
Mt Nowa Nowa AWS - 57 MM.
During the period 9 am to 6 pm, further cloud and rain training across southern New South Wales resulted in the following rainfall totals:-
Wagga Wagga - 31 mm.
Yambla - 24 mm.
Albury Airport - 16 mm.
During this period, there was a fall of 28 mm at Belmore Bridge and at Yass.
The states rainfall plot to 9 am 18 June is provided and generated at the Bureau of Meteorology (Water and the Land).
Related Terms: