A storm appears to be gaining strength off the North East Queensland coast which according to the Bureau of Meteorology could develop into a tropical cyclone in coming hours or days. It is known that this storm is tracking south east at approximately 10 km/h toward the coast and likely to cross the coast north of Cooktown.
At the present time, it is an unnamed tropical storm.
The Australian weather forecasts are suggesting a category 1 storm under the Australian Tropical Cyclone Intensity Scale and with landfall near Coen.
Interestingly, the CIMSS models only have this storm "Under investigation" and a tropical storm watch has not been issued under the Saffir Simpson Scale. The Australian system for categorizing such storms is inconsistent with the Saffir Simpson Scale and is confusing when measuring the strength of such storms.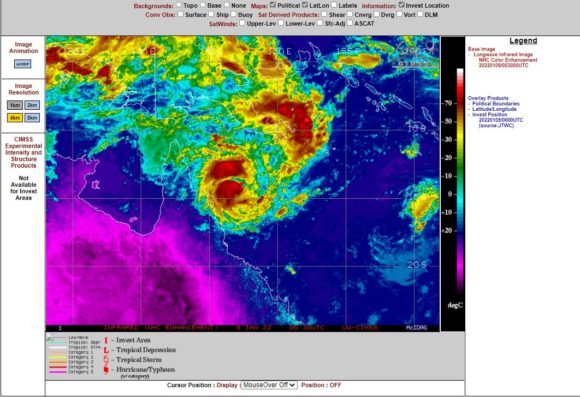 A forecast model has not been prescribed by the CIMSS at the time of writing.
However, it is clear that a small storm is circulating off the North East Queensland and tracking towards land. Forecasts are being made for peak wind gusts of 100 to 110 km/h and heavy rainfall at landfall. This would be less than a Category 1 storm using the Saffir Simpson Scale (Generally at tropical storm strength).
At the time of writing, the nearest weather station being Holmes Reef is experiencing peak wind gusts of between 41 and 59 km/h which is not significant.
The storm is expected to cross the southern Cape York Peninsular then cross into the Gulf of Carpentaria. The storm would weaken somewhat as it makes landfall then redevelop. Waters in the Gulf of Carpentaria are 30C to 31C when compared to 29C off the North East Queensland Coast. Such waters would be able to support a strong storm. Fortunately, the coastal region is sparsely populated and flooding rains would be occurring mainly over remote regions.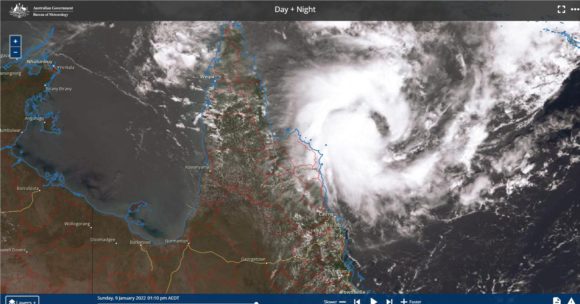 Generally, forecast models are presently not available Sunday afternoon as to what will happen should the storm cross over into the warmer waters of the Gulf of Carpentaria.
Related Terms: