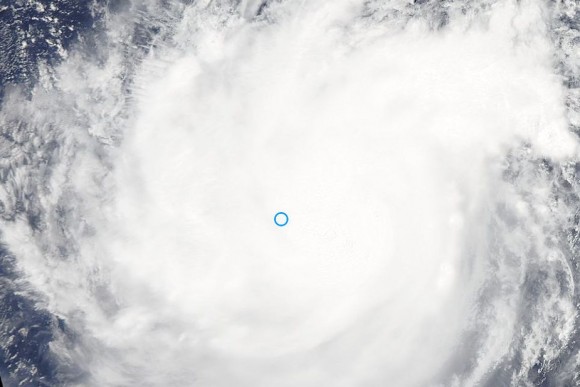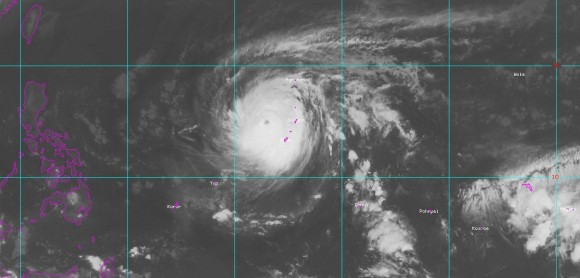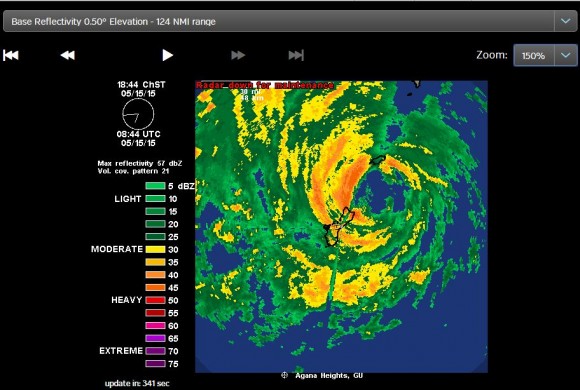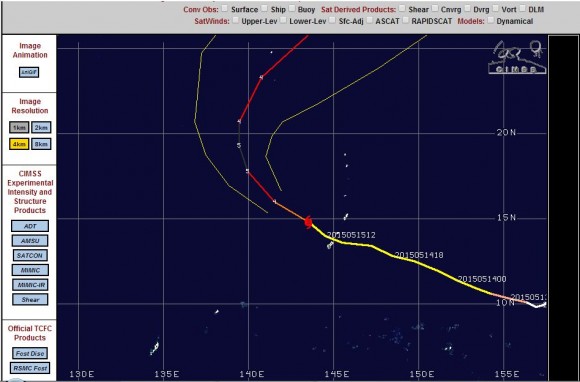 Typhoon Dolphin is the next Western Pacific Ocean typhoon for the season. This typhoon is currently not threatening the Philippines and it appears that it will track north west then north away from the country across open ocean. At the present time, it does not threaten any population centre in south east Asia.
The storm is at least 3,000 km east of the Philippines. At 1 am 16 May 2015, the storm was located at latitude 14.3 degrees north and longitude 144 degrees east or 80 miles or 128.7 km west of Rota and 75 miles or 120.6 km north west of Guam (USA). It is currently moving north west at 16 km/h with estimated wind speeds of 110 miles per hour or 177 km/h.
Notwithstanding this, the storm has passed very close to Guam (USA) with the eye passing just to the north of the island. As a result, a weather station located at the US Anderson Air Force Base has collected accurate data as the storm passed by. This is the closest station to the eye wall. The station recorded a maximum wind gust of 170.4 km/h at 6.58 pm (56.6 metres per second) on the 15/5/2015. Peak wind gusts exceeded 100 km/h at 2.02 pm (15/5/2015) being 105.6 km/h (29.3 m/s) and dropped below 100 km/h at 9.16 pm being 127.8 km/h (35.5 m/s). This station also recorded 236.2 mm of rain.
Another weather station located at Agana Guam International Airport recorded a peak wind gust of 81 miles per hour or 129.6 km/h at 6.40 pm 15/5/2015. This station is located south of Anderson Air Force Base and as such, peak wind gusts were lower being further away from the eye wall.
There are no other weather stations currently in its path due to its location in the Western Pacific Ocean.
A satellite photo of the storm from MODIS (Rapid Lance) is attached taken 15 May 2015 as well as a more general satellite photo showing its general location relative to the Philippines.
The Dopplar Radar at Guam is currently down however the last image of the storm is provided showing the storm and eye wall relative to the island of Guam.
The forecast track of the storm is also provided. This suggests that the storm is unlikely to threaten the Philippines.
Related Terms: