Following a 24 hour reprieve from the rain of recent days, two thunderstorms have impacted Western Sydney especially within an area encompassing Blacktown, Camden and Glenorie (Eastern side), Penrith, Richmond and Warragamba Dam area (Western side) and all suburbs in between. It could also be argued that the storms impacted areas further south such as Picton but falls are lighter.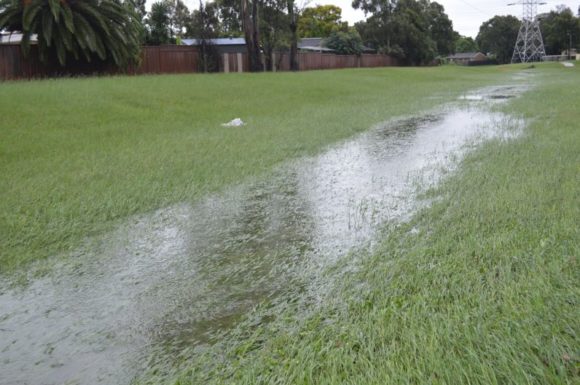 The first storm passed over late Saturday after 9 pm reaching Blacktown by 10 pm. This storm featured a large shelf cloud. While lightning was not prolific, its arrival was pronounced with a sudden colder south westerly wind change. The storm was accompanied by a period of very heavy to torrential rainfall lasting for several minutes.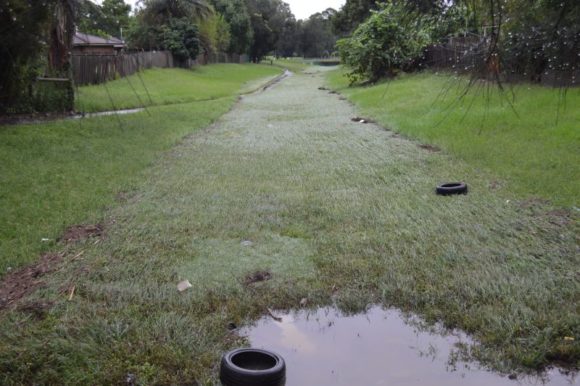 The second storm occurred between 4.30 am and 6 am Sunday morning and was accompanied by a sustained period of heavy to torrential rain.
By daybreak, the rainfall eased and began to clear south. I went out for a walk to a local creek and noticed evidence of a flash flood occurring. During my walk, I noticed shopping trolleys even a bar fridge had been washed downstream by the volume of water that had passed through.
I then inspected a second local creek being Bungarribee Creek on Doonside Road and local parklands. I also noted that a flash flood had also passed down along a small creek that empties into Bungarribee Creek. Further, Bungarribee Creek was in flood.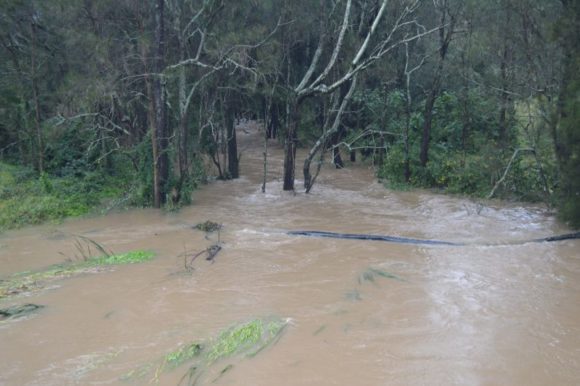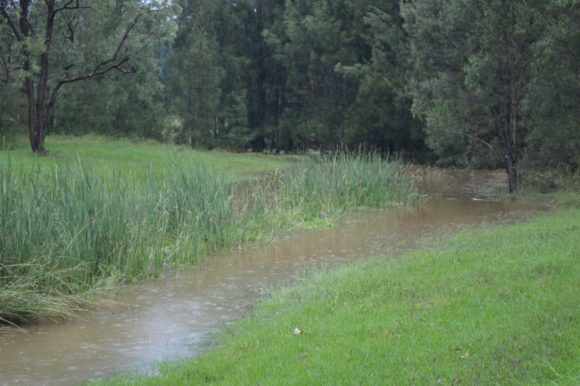 As such, the intensity of the two storms had resulted in local flooding of local creeks. All the creeks of the area empties into the Hawkesbury River which is where further flooding issues are occurring.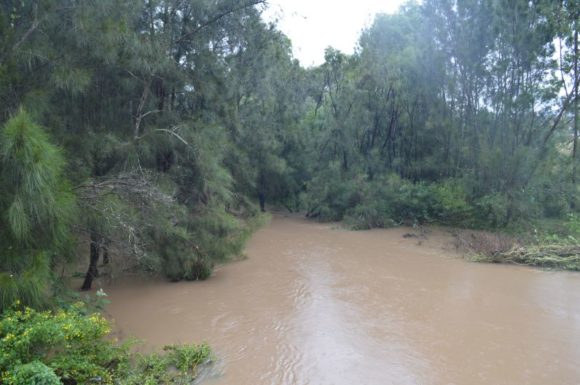 As a result of such high rainfall intensities from both storms, renewed flooding is occurring and the Hawkesbury River is rising again at Windsor.
At the Windsor PDW gauge:
1 - Minor flooding occurs 5.8 metres.
2 - Moderate flooding occurs at 7 metres.
3 - Major flooding occurs at 12.2 metres.
As mentioned in the previous post addressing the flooding at McGraths Hill and Windsor, I was at Windsor Friday afternoon just after the passing of the flood peak which was 11.99 metres (Recorded at 2.30 am Friday morning). During my time at Windsor, the flood levels were dropping toward 11.69 metres which was between 20 and 30 cm lower than the peak.
The river level had fallen to 9.62 metres however following the storms, the river levels have risen back to 10.31 metres and a second flood peak will now occur. As such, the flooding of the local creeks and streams around Western Sydney is resulting in renewed flooding around Richmond and Windsor.
This will prolong the flood crises across the Hawkesbury River basin.
Overnight rainfall to 9 am Sunday morning include:
116 mm at Richmond.
112 mm at Box Hill and Shanes Park.
97 mm at Erskine Park.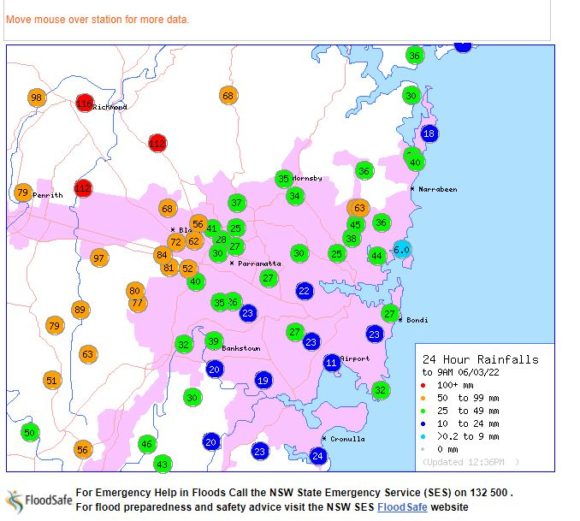 I have a rain gauge in the rear yard which was showing 95 mm from the storms but it is not an official gauge. However, it does provide an idea of what occurred overnight.
The photos attached to this post were taken Sunday morning after daybreak showing the aftermath of what occurred around Doonside. They provide an idea of what is again occurring at Richmond and Windsor to the north west.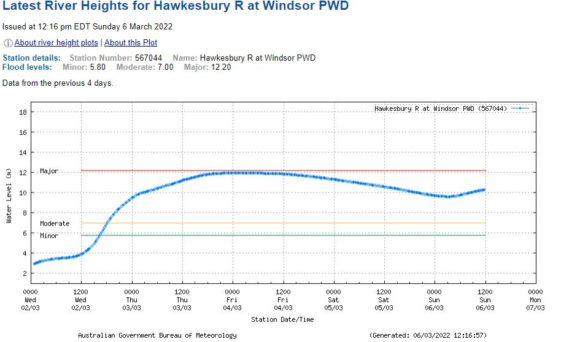 Related Terms: