The month of May 2022 was another wet month across large areas of New South Wales and Queensland but when compared to previous months, rainfall totals have eased at least for some regions.
In Queensland, several severe weather events occurred but in New South Wales, the number of significant weather events were significantly less than that of previous months.
The most significant rain events for the month of May across eastern Australia include:
1 - Heavy rain fell around Gympie, Harvey Bay and Nambour (Queensland) on the 14 May producing 119.6 mm at Gympie and 151.8 mm at Hervey Bay and 113.6 mm at Nambour.
2 - Heavy rain fell at Rainbow Beach (Queensland) on the 18 May producing 155 mm.
3 - A rain event along the Queensland coast during the 21 May between Bundaberg and Mackay resulted in moderate rainfall totals overall with localised heavy rainfalls including 125 mm at Mt William (West of Mackay) and lesser totals of 78 mm at Captain Creek Alert and 67 mm at Clarke Range 2 Alert.
The same weather system produced 121 mm at Maroochydore Depot Alert and 109 mm at Bli Bli Alert. Generally maximum daily total rainfall fell between 50 and 99 mm around the Maroochydore region.
4 - Moderate to heavy rainfall fell across the Brisbane region on the 13 that resulted in relative high rainfall totals such as 83 mm at Archerfield.
The above mentioned events did result in minor to moderate flooding events.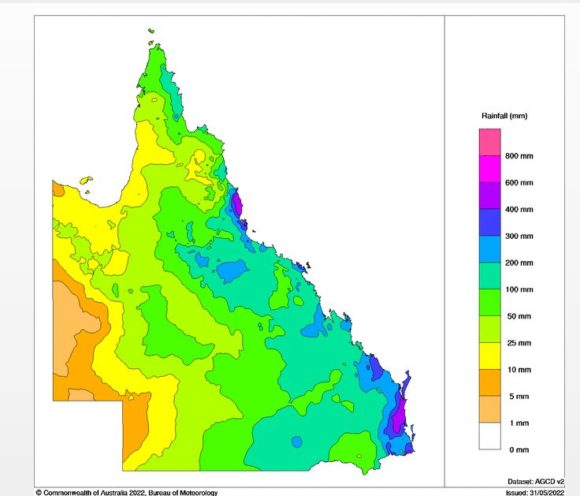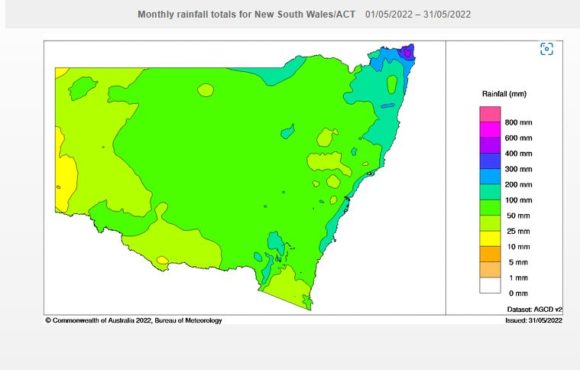 5 - Across coastal New South Wales, there were two rain events between the 9 and 14 May and the 20 to the 25 May but daily maximum totals were generally much lighter. For example, in Sydney (Observatory Hill), 187.2 mm fell across 16 days but instead of falling as significant downpours, the rainfall was more evenly spread out with the wettest day being the 12 May where only 31.4 mm fell.
Further west and west of Blacktown, monthly totals fell between 40 mm and 65 mm which is the driest month for 2022. Despite the lower rainfall, it was still a damp month and the ground has not dried out.
Along Sydney's eastern coastal strip, cumulative monthly totals easily reached 100 to 200 mm but such falls tapered away sharply especially in areas west of Parramatta.
6 - Heavy rainfall struck the Port Macquarie region on the 22 and 23 May where two day cumulative totals topped 148 mm including 86 mm on the 23.
7 - Minor flooding risks did exist between the 22 and the 24 May across the far north east corner of New South Wales following cumulative 3 day totals of at least 100 mm. This rainfall fell in areas already saturated from recent rain events.
8 - It is identified that large parts of coastal Queensland experienced a very wet month and cumulative rainfall totals have topped 500 mm at a few locations including:
Rainbow Beach 557.4 mm.
Nambour 594.2 mm.
Sunshine Coast Airport 621.8 mm.
As shown in the table below which is updated from the table of April, 2022 for the same New South Wales localities, rainfall across coastal centres is impressive for the first five months of the year and there are localities and towns that have received more than 2,000 mm for the January to May period.
| | | |
| --- | --- | --- |
| SYDNEY REGION | May 2022 | So far for 2022 |
| Parramatta | 91.4 mm on 17 days. | 1,194 mm |
| Penrith | 45 mm on 17 days | 1,105.8 mm |
| Richmond | 55 mm on 20 days | 1,002.8 mm |
| Sydney (Observatory Hill) | 187.2 mm on 16 days | 1,521.6 mm |
| Home (Comparison and guide only) | 61.5 mm on 16 days | 1,062 mm |
| NORTH COAST NSW | | |
| Ballina | 278.4 mm on 25 days. | 2,055.2 mm |
| Coffs Harbour | 166.8 mm on 21 days | 1,804.6 mm |
| Dorrigo | 202 mm on 21 days. | 2,034.9 mm |
| Grafton | 127.4 mm on 20 days. | 1,116.8 mm |
| Port Macquarie | 287.8 mm on 21 days | 1,600.6 mm |
| WHEAT SHEEP BELT NSW | | |
| Albury Airport | 68.8 mm | 488 mm |
| Dubbo | 75.8 mm | 494.4 mm |
| Forbes | 82.2 mm | 408 mm |
| Tamworth | 50 mm | 354.4 mm |
| Wagga Wagga | 78.2 mm | 299 mm |
The climate driver causing this is the current La Nina phase which is showing signs of easing but the possibility remains that it may continue into a third year. The La Nina has shown signs of weakening but its weakening effects is constantly being stalled.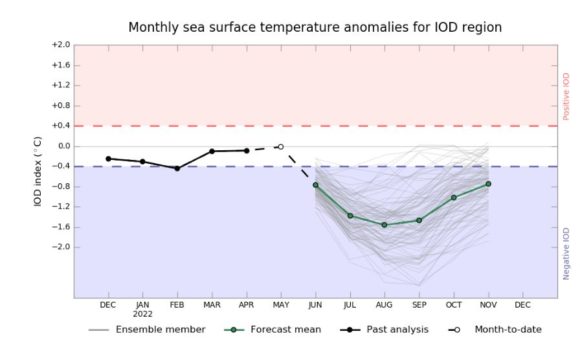 Of interest as attached, the Indian Ocean Dipole is showing strong evidence of entering a negative phased which is likely to augment winter rainfall across large parts of Australia and the Murray Darling Basin. Based upon modelling, the signs are evident for a wet winter.
During the second last and last day of May, the first significant cold front and rain band passed over the inland Murray Darling region that brought low level snowfall and strong rainfall totals especially across inland southern New South Wales and the ranges of North East Victoria. Falls of between 25 mm and 52 mm were common within this area especially on the 30 May.
Some snowfalls also occurred across the Central Tablelands such as areas around Oberon.
The same system reached Sydney late afternoon Monday that brought a brief period of heavy rain and wind gusts as high as 81 km/h as recorded across weather stations within the city. However, it is known that there were power outages and trees were brought down across northern Sydney. It is possible that stronger wind gusts occurred within the affected areas. Following this, there were two very cool but windy days across Sydney.
Peak wind gusts topped 85 km/h at Camden and Sydney Airport and 76 km/h on Sydney Harbour during Wednesday.
Attached are relevant Water and the Land Plots showing the rainfall for May 2022 with some interesting outcomes. Of particular interest:
Much of Queensland was wet and an area north of Brisbane received 400 to 600 mm of rain for the month.
Falls of 100 to 200 mm were common across Queensland and such falls penetrated well inland.
Only the far west close to the border of Northern Territory was dry for the month.
For New South Wales, the north east corner of the state was wet and wet conditions prevailed along the narrow coastal strip to an area just north of Batemans Bay.
Rainfall totals declined further inland although a large swathe of the state including the inland wheat / sheep belt did receive 50 to 100 mm for the month.
When viewing the five month rainfall deciles for January to May 2022, it is clearly shown that coastal New South Wales has been wet. However, in particular for Sydney and surrounds and for South East Queensland and North East New South Wales, it is suggested that rainfall is the highest on record for the period.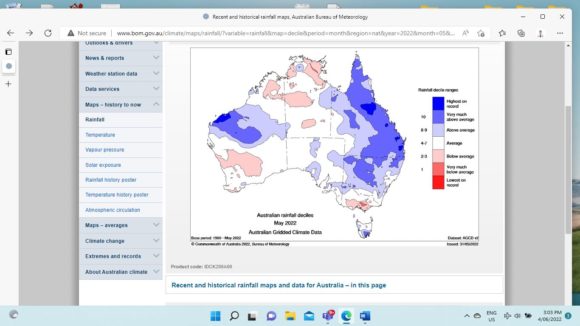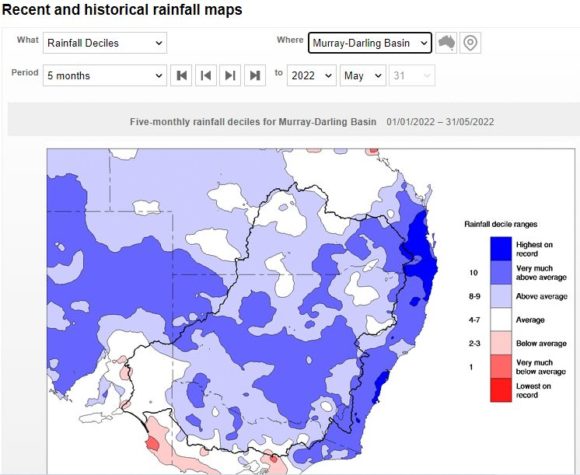 Notes
1 - All rainfall and historical rainfall used is sourced from BOM historic data and data from official weather stations.
2 - While I have a rain gauge set up in the rear yard, it is only being used as a guide but it is noted that it is relatively consistent with official figures occurring at nearby Prospect and Horsley Park where official weather stations are established.
Related Terms: